"Dreams can grow wild born inside an American child." – Phil Vasser
I believe it is really important that our children understand how and why our country was created. They need to know what struggles took place for them to have the freedoms we enjoy today and every day. I understand, however, that sometimes it can be hard to grab their attention for a topic so serious. The best way to get kids to grasp concepts is to engage them in the learning process. That means letting them use all their senses. Let them touch, see, hear and smell history!
It's wonderful to celebrate America on major holidays such as 4th of July and Memorial Day, but I believe it is important to celebrate our great country year round. That is why I came up with this list of 5 Brain Boosting Ways to Celebrate America. Each activity can be done anytime of year and will be enjoyed by your entire family.
5 Brain Boosting Ways to Celebrate America
Get Crafty
The easiest way to get kids engaged in the learning process is to make crafts. From painting your own flag to creating fireworks from toilet paper rolls to making a scrapbook, crafting is a wonderful hands-on approach to learning about America and celebrating its rich history. By exploring Pinterest you will find an abundance of craft ideas depending on what you want to celebrate and learn.
My son is currently interested in the Statue of Liberty so after looking at pictures of the Statue on the iPad and exploring different ideas on Pinterest, we came up with our own craft to celebrate and learn about the Statue of Liberty. I cut the bottom off of a plastic cup and slipped it over a paper towel roll. Then the kids painted it light green like Lady Liberty. Last, we added yellow napkins to symbolize the torch. We also made a crown out of a paper plate. It was fun AND easy!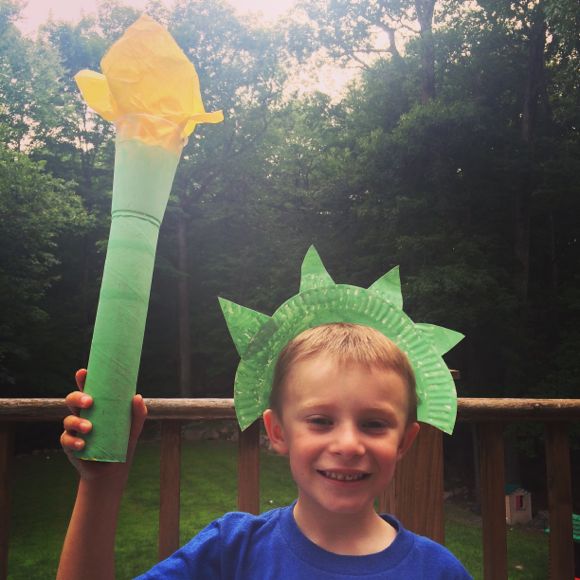 Advice: Don't feel pressured to make long and complicated crafts. I like to keep it simple with few supplies needed. I also try to make crafts from things I already have in the house like cups, napkins, paint and glue. By keeping it simple, you are taking out the stress and giving yourself more time to focus on the learning aspect.
Take a Road Trip
There are so many amazing historical places to visit throughout the United States especially right here on the East Coast. Pack up the kids for a few days and celebrate America on the road! I recently brought my kids to Philadelphia which offered a wonderful brain boosting journey into our country's history. My kids loved hearing stories about how our country started along with visiting the US Mint where they learned the history of money-making in America. We also loved looking at historic buildings including taking a trip to Betsy Ross' House.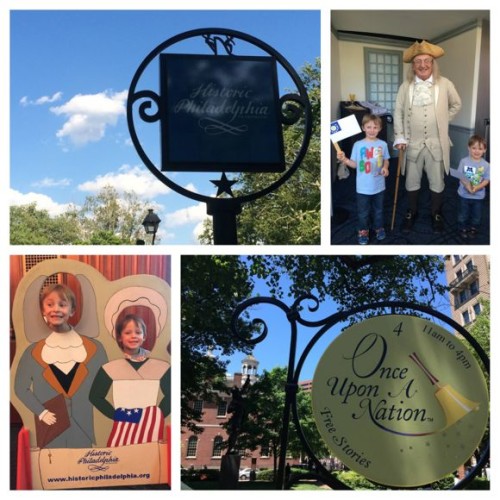 There are so many places that I would love to bring my boys to visit in the future so they can learn more about America and how it all began. Here are some places your family may really enjoy:
Read, Read, Read
A great way to get kids to understand the history of America is to read books. I recommend taking a trip to the library and letting the kids check out some books all about America. They can focus on specific states, the Presidents, historical events and more! If you are going on a road trip like the ones mentioned above, take out some books about that location so the kids can get even more excited about their trip.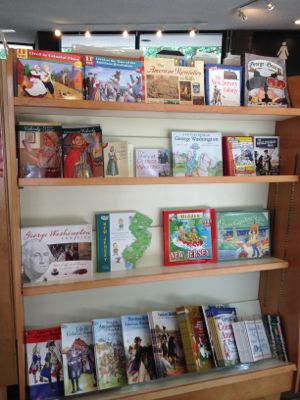 Want to make it even more fun? Put together your own story time. Invite some friends over and read some great books together. Then have all the kids make a craft based on the story. Another fun idea is to read the stories by a camp fire or with a flashlight under a homemade fort in the living room. You can even make your own Teepee and read books about the American Indians.
Visit a Local Historical Site
Although road trips are fun, they aren't always practical with our busy lives. Instead, you can take a day trip to a local historical site such as a museum, national park, historic village or monument. We are very lucky as NJ residents to have so many amazing historical sites all around us. They make for wonderful family fun days and hiking trips. Visiting a historical site or museum allows children to get a firsthand account of America's history. For example, exploring Morristown National Historical Park (see below) allowed my kids to get a firsthand look at the incredible role NJ played in the Revolutionary War! Here are some brain boosting places to visit in NJ: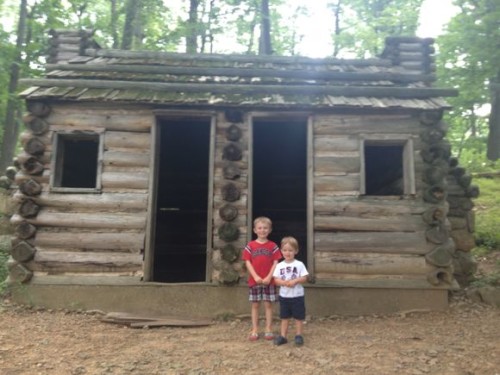 Write a Letter to a Soldier
There is no better way to celebrate America and the freedom we enjoy each day then to thank a soldier. I still remember writing a letter to a soldier in 6th grade during the Gulf War. I felt so proud and honored when he wrote me back. I think it is so important to teach our kids to appreciate the sacrifice others have made for our country. Writing to a soldier is a wonderful way to say thank you and show appreciation for their hard work and dedication. If your child cannot write yet, have them draw a picture. It will make a soldier's day!
Don't know a soldier? Here are some organizations that can help you mail a letter to a soldier: (Note: I have not used these websites so I cannot verify their validity. If you have experienced any problems with them, please let me know!)
You may also enjoy: