As my boys gets older, I find that they need to be more entertained especially during the summer. To help engage them I decided to develop themed days based on topics they really enjoy. I found that my boys really enjoyed having themed days and/or weeks. They loved helping me plan the activities and creating some of their own. In fact, even after summer ended, they continued to ask for various themed days and would even put them together themselves.
One really fun themed day we did last summer was Pirate Day. My boys love pirates and since we have so many pirate related toys, I knew it would be fun and easy to put together. In this article, I will share with you some exciting pirate themed adventures your kids will love. To start, get together all the pirate themed toys and products you have. This will help make the planning process much easier. This is also a task the kids can help with which will get them excited for the themed day! (Amazon affiliate links are included in this article.)
Mommy University Presents
Create Your Own Pirate Day
Dress Up as Pirates
To kick off Pirate Day, my boys put on their pirate costumes. Tyler had a Jake costume while Trevor was Captain Hook. If you don't have full costumes, pirate bandanas and eye patches will do. You can even go a step further by having the kids decorate their own bandana.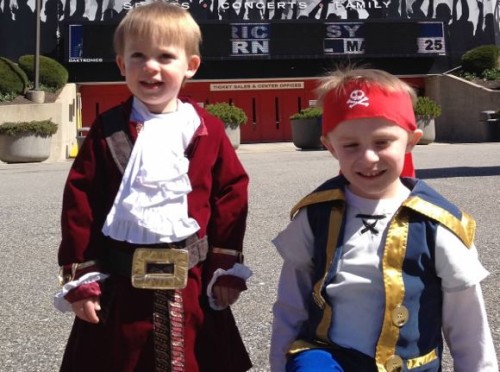 Sandbox Treasure Hunt
Over time we have collected a number of "gold doubloons" and beads from various pirate events and birthday parties. For Pirate Day, I decided that a treasure hunt was a must. I buried the beads and gold doubloons in the sandbox. The boys had a blast looking for all of them. Don't have a sandbox? You can also hide them around the house or in the grass. If you have a swimming pool, you can even put them in the pool and have the kids dive for them. (This is an activity for older kids and those that can swim!) Don't have a sandbox, you may like the Treasure Hunt Sand and Water Table from Little Tikes.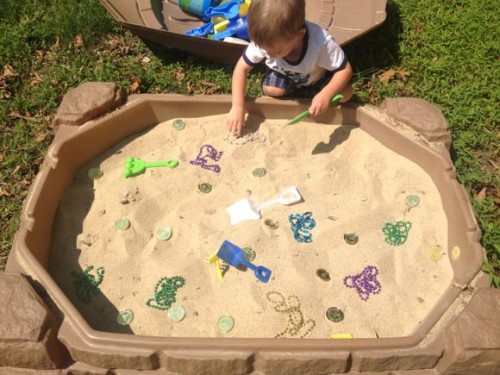 Pirate Table
As part of Pirate Day, we turned our train table into a pirate adventure island. We put our Jake ship, Captain Hook ship, palm trees and volcanoes (from our Animal Planet Dinosaur Tub). My boys had so much fun creating their own pirate adventure on the table. It was a great way to enhance their language and comprehension skills as well as spark their imagination and creativity. You can find a variety of pirate toys on Amazon to add to your table.
Read Books
For every theme day or week we embark on, we always include reading books in our schedule. Before (or even during) your Pirate Day, take a trip to your local library and borrow some fun and exciting pirate books. You can read books throughout the day or read them at night by a campfire. You can also read them in the dark by just using a flash light. A great flashlight would be Tick Tock Crock!
Pirate Games
For our Pirate Day, I happen to have fun pirate games for the kids to play, Super Pop Up Pirate and Don't Rock the Boat, so I incorporated into our day. You can also make your own games like Walk the Plank and Ring Toss. For Walk the Plank, place a long piece of wood across your kiddie pool and have the kids "walk the plank." For Ring Toss, attach hooks to a cardboard box. You can decorate the box with a pirate map or just wrap it in colored paper. Then have the kids toss rings onto the hooks!
Make Your Own Swords
We already had our own swords for our Pirate Day, but making swords is a fun activity kids will really enjoy. It also helps enhance fine motor skills and encourages creativity. You can make simple ones by painting or coloring paper towel rolls or more artistic ones using cardboard wrapped in tin foil.
For your own Pirate Day, you don't have to just stay at home! You can also explore parks with a pirate theme, visit the Tuckerton Seaport, take a boat ride or embark on a pirate adventure with Jersey Shore Pirates!
Pinterest Board
For more ideas, printables and coloring pages check out our Pirate themed Pinterest board here!
You may also enjoy: