Get outside and get active this spring and summer with some exciting brain boosting toys!
Kids learn so much by exploring the outdoors and having fun in nature. They engage all their senses and learn life lessons they can't get from staying inside all day. Sure, a good book is great for learning, but being actively engaged in the learning experience helps kids truly grasp concepts in all subject areas.
At Mommy University, we love toys that offer opportunities for learning through play. This spring and summer, we are really excited about all the toys that offer learning experiences OUTDOORS! After reviewing toys we have played with ourselves, learning about toys at Toy Fair NY 2015 and researching brain boosting toys available at your local stores (and Amazon), we have come up with a list we are sure you and your children will love! Although some toys have been provided to us for reviews, it was not required for them to be included in this guide. We included them because, well, they are awesome! (affiliate links are also included)
Play and Learn Outdoor Toy Guide 2015
Green Toys Dig and Discover Set
Like all Green Toys products, the Dig and Discover Set is made from 100% recycled plastics AND it is made in the USA! What makes it stand out, however, is that this set benefits NatureBridge, an organization dedicated to using hands-on learning to foster environmental literacy. With the help of the included Outdoor Activities for Kids book, kids can explore nature while developing skills in so many areas. The Dig and Discover Set comes with a bucket, rake, shovel and activities book. It retails for around $24.99. To purchase your own Dig and Discover Set you can use this amazon.com affiliate link.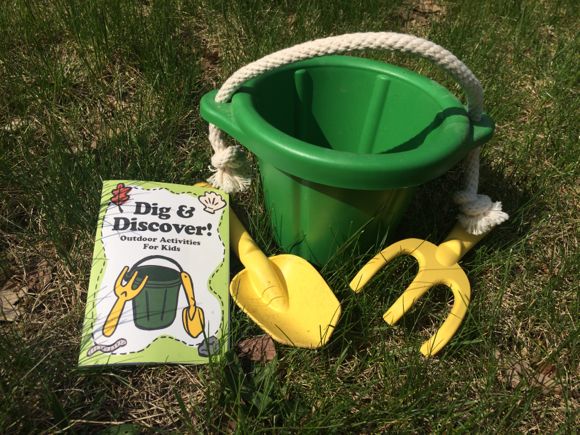 Little Tikes Lean to Turn Scooter
The Little Tikes Lean to Turn Scooter is perfect for beginner riders ages 2-4 years old. Kids will not only boost gross motor skills, coordination and balance, they will also increase self-confidence and independence. Kids will have hours of fun playing outside and racing around the driveway. The Lean to Turn Scooter retails for $39.99 but can be purchased for less on amazon.com.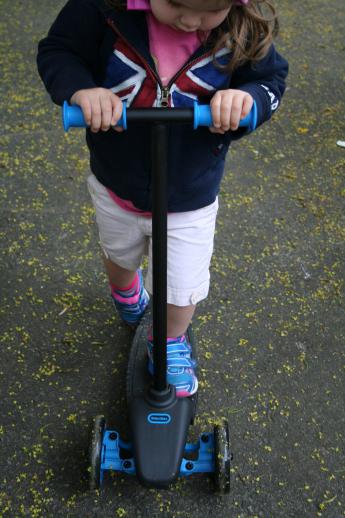 Educational Insights GeoSafari Jr.
We love the GeoSafari Jr. Collection by Educational Insights as it combines outdoor play and science in a way that makes learning fun and easy. We especially love the Science Utility Vehicle. This super cool truck has a magnifying glass on the bottom which allows children to explore nature while they push the truck around. The Science Utility Vehicle retails for only $21.99 and can be purchased on amazon.com. We also love the BugOpticals and Sneak & Peek Periscope. Both offer a fun hands-on learning experience that will encourage kids to explore the outdoors.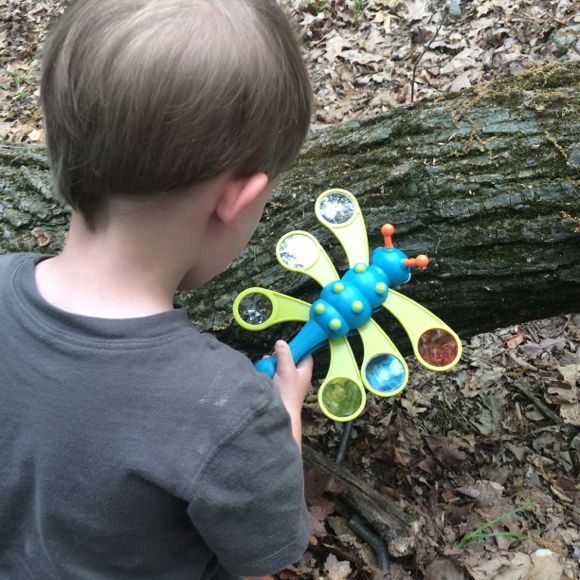 Green Toys Watering Can
The Green Toys Watering Can is a durable and sturdy tool making it easy to introduce children to gardening and yard work.  They can use the rope or the handle to carry the can around the yard, and it is easy for them to fill it up with water. The included rake and shovel also add to the interactive fun. Having a tool that is easy to use gets kids excited about planting seeds and watering them each day. In turn, through gardening, they will learn about science, nature and math! You can use this affiliate link to purchase it now for under $20 on amazon.com!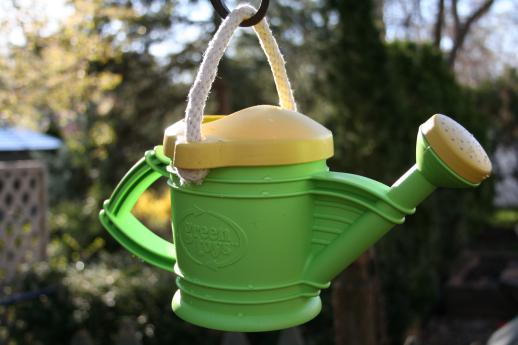 Air Hogs Hyper Disc
We first saw this exciting outdoor toy at Toy Fair NY 2015. It's light weight design makes a perfect toy for young kids. Its large size also makes it easier for kids to visually track and catch. The Hyper Disc is a the perfect toy to take to the park, enjoy at family parties and toss around in the yard. It gets kids excited about playing outside while also boosting gross and fine motor skills. The Hyper Disc comes in a variety of designs (Dot, Spiral, Swirl); however, my favorite is the UFO design which has aliens all around it! This toy is only $9.99 on amazon.com.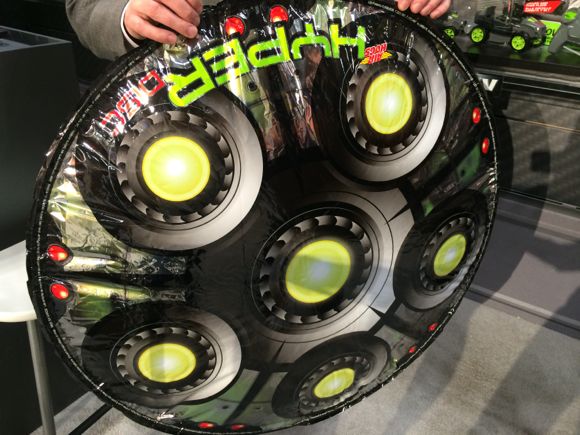 Sports Games
The summer is the perfect time to introduce your kids to new sports. It's also a wonderful time to help enhance their skills in their favorite sport such as baseball, soccer and street hockey. The Little Tikes TotSports T-Ball set and Fisher-Price Triple Hit Baseball are great for your little athletes. For multiple sport play, try the Step2 Soccer Goal and Pitch Back that is great for soccer, hockey and baseball. Another great set to expose kids a variety of sports is the Little Tikes Easy Score Soccer, Hockey, Lacrosse Set with Net.
Little Tikes Treasure Hunt Sand and Water Table
The Little Tikes Treasure Hunt Sand and Water Table is a bright and colorful set that is easy to put together AND pack up when done playing. In fact, the water basin doubles as the cover! It is also well-made, sturdy and durable which is a must for little ones. There is one section for sand and one for water, but there's no rule saying you can't switch it up or combine the two. That's the beauty of play! This set also comes with 13 accessories that can be used in the sand and water. This includes a rake, sifter, shovel, boat, treasure and more! The attachments for the water basin and sandbox also add to the fun as they allow for even more interactive play.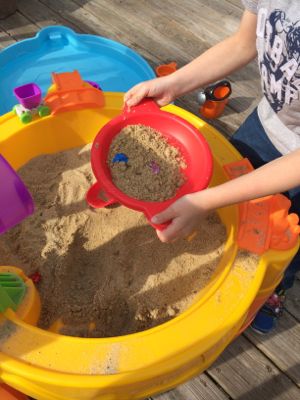 Crayola Sidewalk Chalk
Sidewalk chalk offers so many benefits such as enhancing fine motor skills, increasing academic knowledge and encouraging an appreciation of art. This season, explore the benefits of sidewalk chalk with your children by using the new Crayola line, Special Effects! It takes everyday chalk and adds even more spark and creativity. Available in Tie Dye, Neon, Glitter and Color Core, this chalk will offer new and unique ways to color and create! Neon, Glitter and Tie Dye can all be found on amazon.com for around $4.99.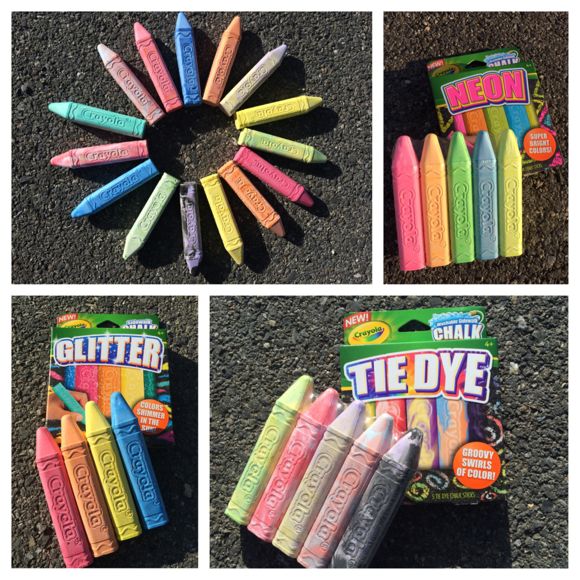 Golf Clubs
Playing golf has amazing benefits! It increases fine and gross motor skills, builds confidence, improves balance and enhances problem solving skills. This summer let your little ones explore this great game with their very own set of golf clubs. My son really loves his Kids Wilson Golf Jr. Set. It includes a golf bag which he proudly carries. It also includes a driver, hybrid, 2 cavity backed irons, putter and blade style wedge. It's perfect to take to the driving range or pitch-and-putt course.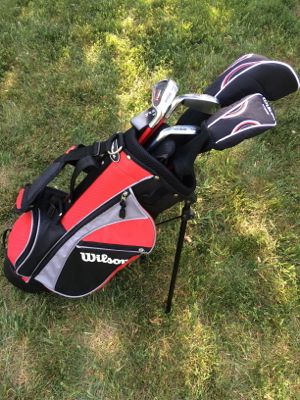 Bubbles
Blowing bubbles offers many opportunities for development. In fact, many speech and occupational therapists use bubbles as part of their therapy sessions to help strength important developmental skills. For instance, blowing bubbles help build oral motor strength which, in turn, improves speech development and articulation. In addition, popping bubbles helps improve visual scanning and eye-hand coordination. I recommend the Little Kids Fubbles No-Spill Big Bubble Bucket or even the Fisher-Price Bubble Mower.