In full disclosure, we received a Mama Box sample in exchange for our honest review.
As a first time "soon-to-be-mom", looking at all of the different products geared towards pregnant women seemed a little daunting. Every time I walked into the grocery store I saw a new product that seemed to be the latest and greatest pregnancy item known to mankind. Not to say I don't like shopping, I just don't like buying many items that are all supposed to accomplish the same thing.This leads me to my "ah ha" moment. The Mama Box.
For those of you who don't know, Mama Boxes are care packages full of goodies for the mom-to-be in your life. Each box is filled with up to 10 sample and/or full size products that moms will LOVE. A package is available for each trimester of pregnancy focusing on what a woman needs during that phase of gestation. Moms will enjoy products such as body creams, remedies for morning sickness, safe cleaning products, yummy treats and even products for the new baby!
There are many benefits to gifting Mama Boxes to the important mom-to-be in your life from showing them love and appreciation to allowing them to try new products.  For me, most of these products were ones I have never heard of before (first time mom here), so I was happy to have the opportunity to try them out before buying them. I was extremely pleased with my Mama Box and had a blast exploring all the products.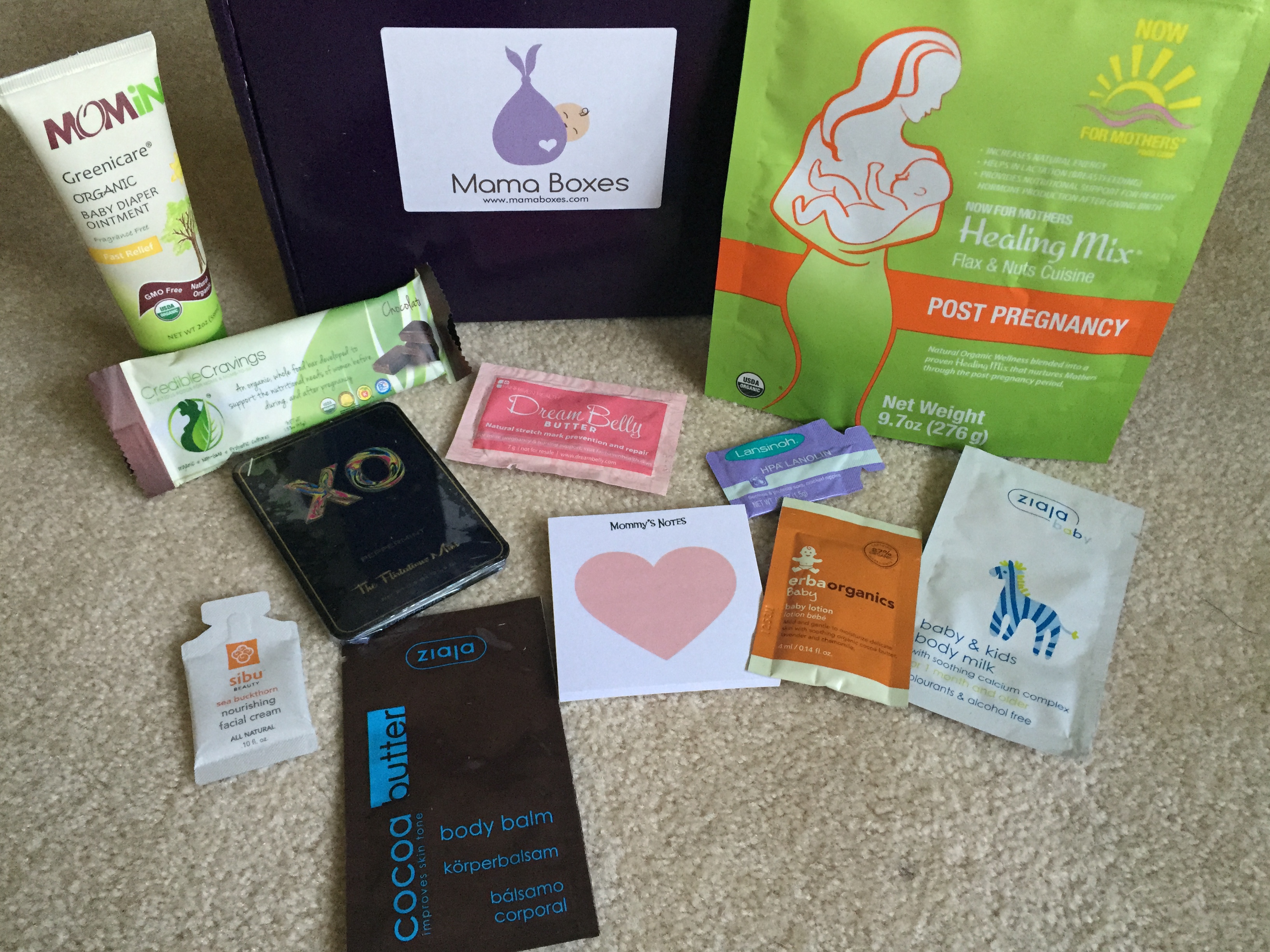 For my Mama Box, I chose the "Third Trimester Box" which was filled with goodies for me as well as for the baby after he's born. My box came with the following products:
Dream Belly Butter
Credible Cravings Organic Power Bar
XO Mints
Sibu Facial Cream
Ziaja Body Balm
Post Pregnancy Healing Mix
Momin Organic Diaper Baby Ointment
Ziaja Baby Body Cream
Lansinoh
Baby Organics Baby Lotion
Mini Mommy Notepad
After trying all of these amazing products, I would like to share my thoughts on my favorites in case you too may be looking for new products to try during pregnancy.
My Top 3 Mama Box Products
Dream Belly Butter
Brought to you by Fairhaven Health, Dream Belly Butter is designed to help prevent and reduce stretch marks. I was pleasantly surprised with the size of the sample I was provided and I was actually able to apply the butter once a day for a full week. I absolutely love that this butter is all natural and contains all of the good stuff that skin needs to stay healthy and elastic. Even the smell of this butter is very nice. Another added bonus is that my hands don't feel greasy after I apply the butter to my belly like some of the others do. I am also happy to say that I currently have no stretch marks thus far, and hope it stays that way!
Ziaja Cocoa Butter
I have to admit I was a little skeptical to try Ziaja's Cocoa Butter because of my skin allergies to certain cocoa butters. Again, I am pleased to tell you that my skin loved this butter and had no reactions whatsoever. I was very pleased to see that this brand was dermatologist and allergy tested which made me more eager to try it out. I would definitely recommend this product to anyone who has sensitive skin like I do. I could tell that over the course of a few days, my skin seemed to be full of moisture and all the dry itchy skin I had previously disappeared. I will definitely be looking for the full size container of this so I can keep it in my daily skin care routine.
Credible Cravings Chocolate Bar
With only 15 grams of sugar and 5 whole grams of protein, this all organic power bar really did the trick on those days when I was completely wiped out from work. If I'm being completely honest, I usually shy away from foods that are 100% organic because they just don't taste as good as some of the other stuff out there. This bar, however, made me wish I had a full box of them at home.
I chose to eat this bar on a day that I knew I'd be on my feet for hours with barely any breaks. I had reached the point in the day where I just needed a boost of energy to get me through. When I first tried the bar, I was pleasantly surprised at how delicious it tasted and how full of flavor it was. What's even better is that it offered sustained energy that left me feeling ready to take on the rest of my day. Definitely no sugar rush followed by a crash with this product.
Overall I loved trying the Mama Box and if I have more children I will definitely try one per trimester. This box would be good for women like me who are new to the realm of pregnancy or any woman that wants to try products before making a commitment. There were a few items in my box that are geared towards the baby, so once I deliver my little guy and try out some of those products, I'd be happy to let you know what I think!
To purchase your own Mama Box, you can visit their website or Etsy Shop. Each Mama Box sells for an affordable $22.99 or you can purchase all 3 boxes for $59.99.