There are fun toys and there are educational toys and when the two intersect endless possibilities occur. Safari Ltd. produces Toobs which are miniature figurines organized into tube shaped containers by theme. You might have noticed that I use Toobs frequently in my sensory bins; however, there are many ways these toys can be maximized for learning through play.
Toobs are grouped together by themes such as Penguins, Marine Life, Butterflies and even inanimate objects such as Instruments or locations such as Ancient Egypt. What you may not realize is that on the bottom of each hand painted figurine is printed the name of the object or creature. For example, if you are playing with the Arctic set and you think you are seeing a deer, when you check underneath it is actually printed "Carabou."
The cool factor does not end there as Safari Ltd. has created its own reference online tool, SafariPedia. You can use this tool to look up information with your children, if you want to refresh your memory, or you want to know facts about the replica that may capture your child's imagination. The database is updated as new information is released on creatures such as dinosaurs.
The Toobs are played with frequently in my home so I compiled a list of different ways you can play with your Toobs as these are toys that teach. You will find Amazon affiliate links throughout this article to make it easier for you to find and purchase your own Toobs!
10 Brain Boosting Ways to Use Toobs
Sensory Bin
Sensory Bins are about exploring different textures. Babies absorb information utilizing their senses. This information provides them with feedback that helps them to better understand the world that surrounds them. Children love to manipulate toys within sensory bins and if you like to create themed sensory bins, then Toobs are a perfect fit.  For example, in the dead heat of summer, we made a Frozen sensory bin where my children played with Arctic figurines.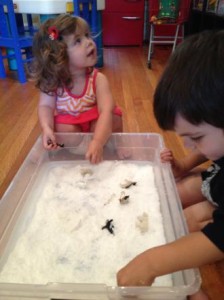 Story Play
Story time can add a new layer when Toobs are available that compliment your child's favorite story.  They are many replicas that reference the imagination such as Knights & Dragons, Cryptozoology, or Mythical Realms. Toobs can definitely appeal to children who enjoy mythological stories.  Children can utilize the replicas to act out different scenes from a favorite story or use them to create their own story.
Since my children love to visit farms, we have collected a large amount of farm-related books.  It was perfect that the children recognized the animals from Farm Babies and found them in Margaret Wise Brown's Big Red Barn.  They could pull out the animal from this Toob, identify them, match the specific figurines to the page where they are represented, and then play with the animals as the story unfolds.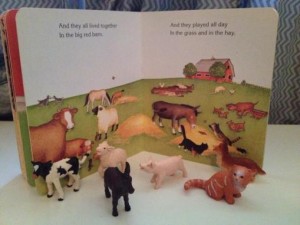 Flashcards
While I have not utilized flashcards to help reinforce identification, Toob replicas are great for matching to pictures or flashcards.  You may need to create your own cards but remember that the names are on the bottom of the replicas.  When we read "Boats" by Byron Barton I found a lot of the boats in the In the Water Toob matched the book. Often times, my son will pull out his "Boats" book and match the boats to the pages we are reading and act out the story.
Research
Since Safari Ltd. has its own database of information on all the replicas included in the Toobs, you can actually research information if your child demonstrates interest.  There are two methods to handle this, you can look up data on the figurine yourself or you can look up the replica on SafariPedia and read the information to your child out loud.  If you remember, another strategy to encourage a love of reading includes reading out loud to them which does include this research activity.  If your child is proficient in reading and they want to take the lead, let them read to you.  You can also build a diorama for animals in your Toob to help reinforce what was learned during the research.
Go USA!
There are many Toobs that can appeal to the budding patriot or the curious historian. For example, if a child demonstrates interest in Geography then USA is a perfect fit with iconic monuments or North American Wildlife for the child interested in nature. If your summer vacation remains within the United States, there is a Toob to boost the academic learning that will take place. The USA Presidents Toob can be an interactive toy where children can match the President to the money where their image is represented and then have the children identify the coin or the value of the dollar.  Children interested with presidential timelines can line the Presidents in order from oldest to most recent. Please note, the Toob contains eight US Presidents.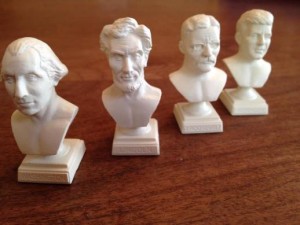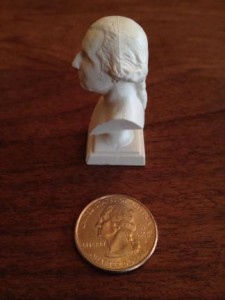 Language Development
As you are playing with your child and the Toob set, you can identify each figurine in the set.  For example, if you have the Farm Toob, label each animal and then mimic the sound that animal would make.  For babies, this is a great game so have fun with the sounds.  "This is a cow, a cow says Mooooo."  As your child mimics the sound, you can expand the language.  Again, as your child says words, always add an additional word when you repeat what they said back.  Please note, due to the size do not leave replicas unattended with a baby or toddler who puts items in their mouth.
Go On a Safari
This activity is perfect for a rainy day, a snow day, or a day that you have to be indoors at home.  Put some of the figurines from Backyard Birds, Dinosaurs, or Wild Toobs around the home and provide your children with binoculars that they will use to find the hidden creatures.  This is great to burn excess energy, enhance observation skills, and increase animal identification.  Again, due to the size and honestly affordable cost of the Toobs they work perfect in an Easter Basket or Easter Eggs. Some of the replicas in the Toobs can fit into Easter Eggs as suggested in "All Things Easter: 10 Brain Boosting Easter Egg Hunts (without candy)".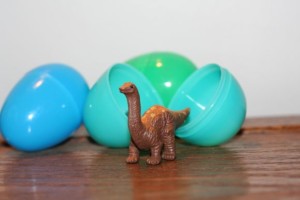 Reinforce Educational Trips
I first noticed Toobs when I visited an aquarium and realized that this is the perfect gift shop purchase.  When we picked up the Ocean Toob during our aquarium visit, it helped reinforce and remind my children about all that they saw during the trip.  Instead of my daughter walking out the door with a pink penguin (which don't exist last time I checked), we opened up the Toob and played with the octopus and turtle.  Still to this day, the Ocean Toob is a favorite that has been played with for sensory and science experiments. The flip side to this suggestion is to pick up the Toob prior to your visit to help children understand what they might see.
Science Experiments
We had froze our Ocean creatures in a big block of ice last summer and had the kids apply warm water to see how long it would take the ice to melt.  While this was a great sensory activity it was also expanding their scientific understanding of ice and water.  You could take some of the figurines and freeze in ice and experiment with salt.  There are plenty of options to include them in your home-made experiments.
Conversations
Lastly, you can talk about the figurines.  Safari Ltd. keeps all their replicas up to date when new information is released.  For example, "Feathered Dinosaurs" is based on new information that some dinosaurs had feathers.  This is an interesting controversial topic as some dinosaur enthusiasts don't want to accept feathers on the prehistoric creatures.  What are your child's thoughts on the matter?  What dinosaurs do they think had feathers? Do they feel the T. Rex is less intimidating if they had feathers? Creating conversations is a great way to help enhance your child's analytical and critical thinking skills.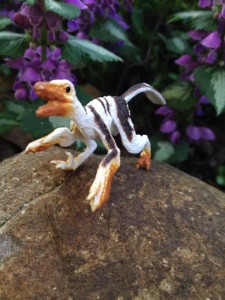 We actually can't stop thinking about how Toobs are toys that teach.  The possibilities of learning through play is endless!
How would you play with your Toobs?