In full disclosure, we received the Ball Blast Bouncer from Alex Brands in exchange for our honest review.
Throw, bounce, catch! There is so much fun to be had with the Scientific Explorer Ball Blast Bouncer kit from Alex Brands, but the REAL fun starts with making them. That's right! You and your kids can make your very own bouncy balls!
My boys love science experiments. They also love making and creating new things. The Ball Blast Bouncer combines those interests into one fun and exciting activity. Developed for kids ages 6 and up, the Ball Blast Bouncer offers a wonderful introduction to science. It also offers a hands-on learning experience that kids will love. It's a BLAST!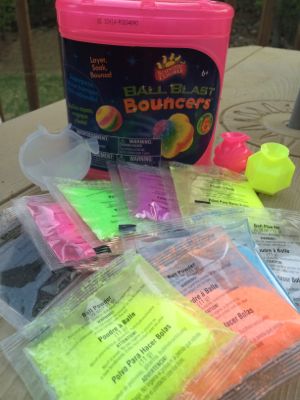 The Ball Blast Bouncer kit comes with 3 ball molds and 9 packets of colored ball powder. Colors include yellow, blue, orange, black, white, pink, purple and green (there are 2 packets of yellow). The directions are simple and easy to follow. After only 7 easy steps (but it feels like less), your child will have a bright and colorful bouncy ball that they will be so proud of. When done playing for the day, you can even store your bouncers, molds and left over powder right back in the container!
How to Make a Ball Blast Bouncer?
Step 1: Let your child choose the mold and colors they want to use. Then carefully add the colors to the mold. I recommend putting it over a plate, newspaper or napkin to catch any excess powder that doesn't make it in the mold.
Step 2: Gently shake the mold to make room for more powder.
Step 3: Add more powder until it reaches the top.
Step 4: Fill the container with water and swirl the mold around in the water for a few seconds.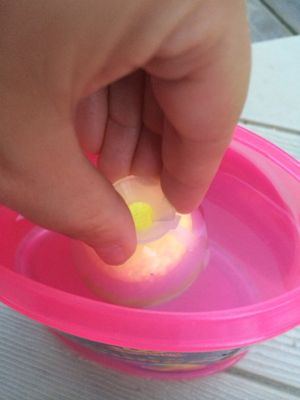 Step 5: Immerse the mold in the water and let soak for 2 minutes.
Step 6: Remove the mold and let it sit for 3 minutes.
Step 7: Remove the ball from the mold and PLAY!
We had so much fun making our Ball Blast Bouncers that we used all 3 molds the first night. The boys had a great time choosing their colors and pouring them into the molds. They loved watching the stop watch and waiting for the moment their ball was ready. It was a great multi-sensory experience that offered wonderful opportunities for learning!
4 Benefits of Playing with the Ball Blast Bouncer
Sparks Curiosity
What I love about this science kit is that it sparks curiosity. My boys asked so many questions while we were making the bouncers. They wanted to know what would happen if they combined two colors, why the bouncer was sticky when it came out of the mold and which ball will bounce the highest. It had them creating hypothesis and testing their ideas. Curiosity is needed to engage and learn about science. The Ball Blast Bouncer kit definitely encourages this need to know!
Encourages Creativity
My boys had so much fun deciding which colors to use, how much to pour and when to use them in the pattern. Each ball we made was different which added to the fun. Letting them choose their own colors encourages a love of art and sparks their creativity.
Enhances Listening Skills
In order to make each bouncer, kids need to follow each direction  as stated to them. Kids have to listen carefully or their ball may not come out quite right. For instance, if they don't fill the mold to top with powder than the ball will not be completely round. Also, if they do not allow the ball to soak for 2 minutes or rest for 3 minutes then it may not form completely and possibly fall apart. Kids learn that they have to listen in order to have a great final result!
Engages All the Senses
The Ball Blast Bouncer set allows kids to use all their senses in creating their own bouncer. They get to see and feel the powder as well as physically poor the powder into the mold. They also get to feel the textural difference of the material when it comes out of the mold. In addition, they can feel and see the shape and size differences of the various bouncers.
My boys and I had so much fun creating our own Ball Blast Bouncers. It is an activity that can be done inside or outside which makes it a year round activity. Making each ball is quick and easy, but offers hours of fun once the ball is made! We cannot wait to make more bouncers!
The Scientific Explorer Ball Blast Bouncer retails for only $12.99. To learn more, visit the Alex Brands website. If you like this activity, you may also enjoy Gross Glow Bouncers which you can find at this amazon.com affiliate link.