In full disclosure, we received the Dig and Discover Set from Green Toys in exchange for our honest review.
My boys love going on nature walks and creating scavenger hunts. They love collecting things such as sticks, rocks and flowers. With their love of nature growing each day, I wanted to find a toy that offered a fun learning experience. I also wanted something that provides multiple uses so we can engage in continued learning all year!
The Green Toys Dig and Discover Set offered everything I was looking for and so much more. Who knew that a bucket, shovel and rake could offer endless learning adventures? Exploring the outdoors is exciting and fun with this durable set. Like all Green Toys products, the Dig and Discover Set is made from 100% recycled plastics AND it is made in the USA! What makes it stand out, however, is that this set benefits NatureBridge, an organization dedicated to using hands-on learning to foster environmental literacy. Now that is something Mommy University can definitely stand behind!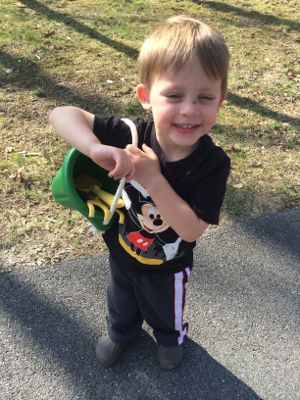 The Green Toys Dig and Discover Set absolutely offers the hands-on learning experience that NatureBridge encourages. With the help of the included Outdoor Activities for Kids Book, kids can explore nature while developing skills in so many areas. Kids can work alone or with others to complete activities and discover new sights, smells and sounds hiding in every corner of their outdoor world!
5 Learning Activities Using Green Toys Dig and Discover Set
Gardening
This set is perfect to encourage kids to engage in the gardening experience which, as we know, offers a multitude of developmental benefits. We recently started our first container garden for which this set was very useful. My kids used the sturdy and easy to hold shovel to scoop up the dirt and place it in each container. They also used the bucket to gather dirt in the yard as well as get water for the plants. Having their own tools that fit their hands made this experience easy and fun for my boys!
Drawing and Writing
We have all seen our kids use a rake to make designs in the dirt or sand, but did you know that this helps develop important skills needed for writing? Copying the designs in the activities book helps kids develop important visual scanning and copying skills needed for academic success. It also helps build fine motor control and strength. Copying straight lines, curvy lines and circles are prewriting activities that you can easily do at home without the kids even knowing they are learning!
Finding Shapes in Nature
The Dig and Discover Activities Book has a fun scavenger hunt that encourages kids to find shapes in nature. It provides a few shapes to find then the kids can add more shapes such as triangles, rectangles and diamonds. My boys had so much fun finding shapes in the trees, on mailboxes and in flowers while we went on a nature walk. As kids get older, they can even work to find the circumference of the circles they find as well as the angles of the triangles. It is a wonderful math lesson!
Scavenger Hunt
The Dig and Discover Bucket is perfect for collecting objects on a scavenger hunt. The activities book also provides suggestions for objects to collect. My boys had so much fun collecting sticks, rocks, leaves and flowers. As we collected each object, we talked about its size and compared it to the other ones collected. We also identified different colors, textures and shapes. This was a wonderful way to incorporate science as well as boost language development. At the end, we counted the objects to see which group was larger. This offered another wonderful math lesson.
Measure and Compare
Once you have finished your scavenger hunt, have the kids measure and compare what they have collected. Talk about the concepts big and little, long and short, light and heavy. Having them compare and label sizes not only boosts language, it also increases math awareness. To take it a step further, you can also measure the length of each stick collected and then calculate the differences from other sticks. This helps develop math calculation skills in addition to enhancing ruler skills.
We had so much fun exploring and discovering nature using our Dig and Discover Set from Green Toys. We loved all the fun hands-on learning activities recommended in the book provided as well as creating our own activities. We gained an appreciation for nature while also learning all about our environment. We learned that science, math and nature are not separate entities, but concepts the work together in harmony.
Kids are naturally curious and love to explore their environment. The Dig and Discover Set encourages kids to get outside and learn more about the world around them. Kids learn that science and math are fun and can be incorporated into any outdoor activity! We can't wait to continue to Dig, Discover and Learn with Green Toys Dig and Discover Set!
To learn more about Green Toys products please visit greentoys.com. You can also read our reviews on their Watering Can and Indoor Gardening Kit. The Dig and Discover Set retails for around $24.99. To purchase your own Dig and Discover Set you can use this amazon.com affiliate link. Have fun exploring!