There is a proverb that says, "Just when the caterpillar thought life was over it became a butterfly." There has always been a fascination with butterflies by artists, poets, and gardeners. In fact, there are some that grow gardens specifically designed to attract them.
Part of our fascination stems from the fact that they begin life as caterpillars to transform into butterflies that range from simple to stunning. The metaphors are infinite. However, what our children see is brilliantly colored creatures that are peaceful and interesting. We have decided to compile a list of places to bring the children to see these amazing creatures!

Mommy University Presents
10 Amazing Places to See Butterflies in NJ
Duke Farms, Hillsborough
Duke Farms is an expansive estate dedicated to conservation efforts, and families can visit to enjoy a stroll throughout the entire year. It is a magical location that holds a perfect place for the pollinators. You can pick up an activity sheet to explore the area independently or visit during their annual Monarch and Meadow Festivals where there are dozens of stations that educate on specific information about butterflies. My children especially enjoyed holding a monarch caterpillar in their hands.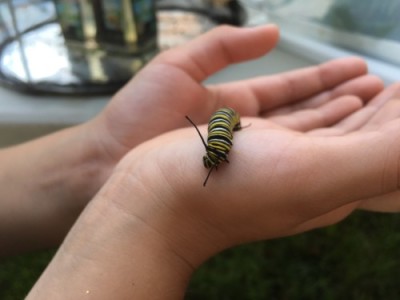 Essex County Environmental Center, Roseland
For various dates in July, the Essex County Environmental Center (ECEC) hosts a butterfly tent that is accessible with a nominal donation of $2. Prior to entering the tent, your family can explore a room that is set up with caterpillars, hissing cockroaches, and more insects as well as some drawing activities. The volunteers will help your family explore the room and direct you when the tent is available. A volunteer inside will help you attract butterflies using a brush dipped in a syrupy liquid. My children were fascinated with capturing butterflies and observing these creatures in flight.
Butterfly Garden at Trailside Nature & Science Center, Union
After visiting the Trailside Nature and Science Center, stop by the Butterfly Garden to see what native plants were used to create this oasis for the local butterflies. Explore to see the different stages of butterflies present and you can stop by the visitor center to learn more about the plants used and how to support these pollinators.
Butterfly Garden at Van Vleck Gardens, Montclair
Van Vleck Gardens is a FREE public garden located in Montclair which is a peaceful location that has stunning wisteria in the Spring. However, what we found during a recent visit was a butterfly garden with the layout of a butterfly wings. Within this garden are plants to attract and sustain butterfly population.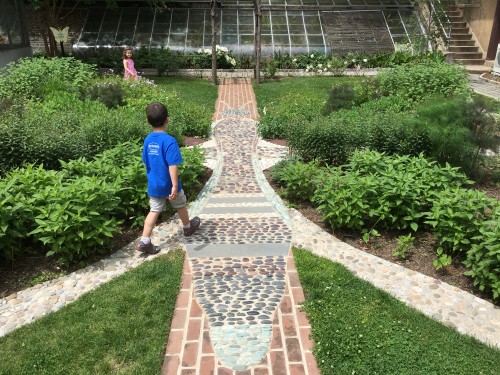 Turtle Back Zoo, West Orange
Turtle Back Zoo has been voted as the top zoo by NJ Monthly magazine and part of the reason is due to its stellar programming. From Memorial Day Weekend to Labor Day, Turtle Back Zoo contains a large walking space, filled with butterflies, which visitors can access with an additional fee. The Turtle Back Zoo space is much larger than the tent at ECEC, but it also does require admission into the zoo. Based on your interests will determine which option is best for your family. A trip to Turtle Back Zoo can also include train ride, playing at the Prehistoric Park, and of course seeing all the animals!
Sussex County Fair, Branchville
Last year, when we visited the Sussex County Fair a butterfly tent was present. With a nominal fee, my children were provided with a brush filled with juice to attract the butterflies. My son loved observing the winged creatures. This option was more expensive then the tent at Essex County Environmental Center but slightly larger. I think this is a fun option and break if you are visiting the fair.
The Nature Center of Cape May, Cape May
Nature Centers are a wonderful resource of information and connecting with nature for families and The Nature Center of Cape May offers so much! If not the children's garden, observation deck and tower, or the children's hands on activities, then come and observe the butterflies in the butterfly themed garden or the wildlife habitat meadow which includes a Monarch milkweed and wildflower garden. The best part? This is FREE.
Tenafly Nature Center, Tenafly
The Tenafly Nature Center has unique features including a story walk and animals that you can observe at the Visitor Center; however, now they have added the Butterfly House. This seasonal exhibit opens in June until October if the weather proves to be hospitable to these creatures. Open Wednesdays to Sundays from 11 am to 4 pm, it is recommended to book a specific time period to visit in advance. Staff and volunteers are on hand to answer questions and there is a small fee unless you are a member.
Camden Children's Garden, Camden
The Camden Children's Garden has made our list of 10 Places to See Dinosaurs and due to its unique spaces it is on this list as well. One of its popular attractions includes the amazing Philadelphia Eagles Four Seasons Butterfly House. This is a peaceful space filled with the tranquil sounds of water and the beautiful inspiration of butterflies. While we saw Monarchs at this location we also new varieties of butterflies that other locations did not have.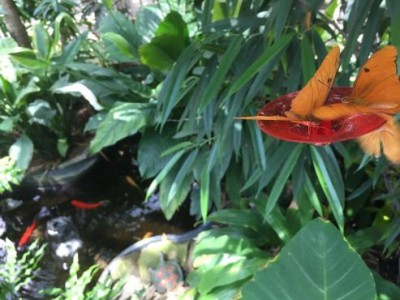 Stony Brook Millstone Watershed Association, Pennington
The Kate Gorrie Butterfly House opens from June until October. It offers a habitat that is native to central New Jersey, which attracts butterflies that are native to this area. Appointments are not required to visit the Butterfly House and it is FREE! Once you are done visiting the Butterfly House, you can take the children on a hike.
The Butterfly Charities, Brick
If you are looking for a new location to observe butterflies in an enclosed environment that also has water and flowers, then check out The Butterflies Charities. Located in the Jersey Shore, there is an admittance fee to enter which is donated to a different charity each week. This is also a great location if you interested in yoga, painting classes, or a birthday party.
Bonus: Academy of Natural Sciences, Philadelphia
What can be cooler than a T. Rex skeleton? For some it is the bright and colorful butterflies at the Academy of Natural Sciences. Don't worry, the Academy has both amazing dinosaurs and stunning butterflies. Children are greeted by an oversized flower and butterfly before they enter this contained space as butterflies flutter by you.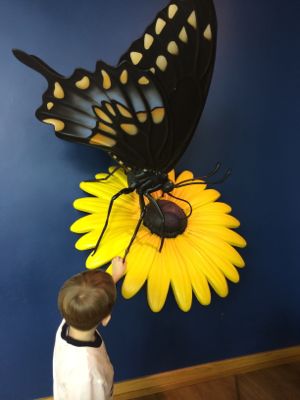 The Butterfly Atrium at Hershey Gardens , Hershey
Hershey Gardens is an experience you don't want to miss the next time you visit Hershey, PA. In fact, we included it in our list of 5 Educational Experiences in Hershey. In this article, however, we want to highlight their amazing Butterfly Atrium that is now open year round. This breathtaking experience is included in the garden admission price.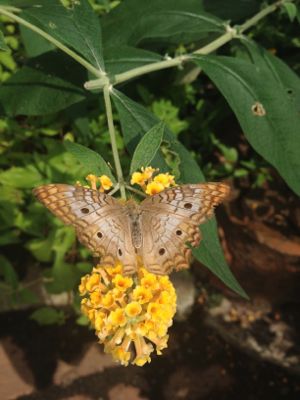 Where do you love to see butterflies?
If we missed any NJ butterfly experiences please let us know, and we will add it to the list!
If you like this post, you might like: