In full disclosure, we were provided the SmartLab Greenhouse in exchange for our honest review.
Each year I tell myself that I will start gardening. Yet each year passes without a single seed planted. As my kids get older, I see their interest in gardening unfold so I knew it was time. Since I have absolutely NO gardening skills, I wanted to start with something small and easy. I also wanted to find a gardening set that the kids would enjoy as well!
At Toy Fair NY 2015, I was introduced to the Get Growing Greenhouse by SmartLab and knew immediately that it would be perfect for my kids and I to begin our gardening journey. "Just add soil, water, sunshine and curiosity!" Those are the words you will find on the front of the box. It does not get much easier than that!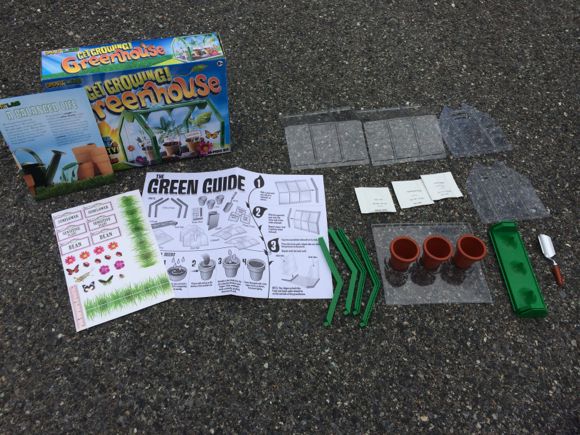 Get Growing Greenhouse is a 19-piece set that not only involves a gardening experience, but a building one as well. My boys and I worked together to put the plastic pieces together to make the greenhouse. I have to admit that it was tricky at times to get all the pieces to fit; however, I also have to admit that I am not very good at putting things together (that is usually my husband's job). Once assembled, my boys had fun using their creative sides to adhere the stickers all around the greenhouse. The butterflies, flowers, grass and ladybugs make the greenhouse even more adorable and unique.
Get Growing Greenhouse comes with 3 pots, a small shovel and 3 small bags of seeds to get your garden started. The directions were very easy to follow, and my boys had a blast filling the pots with dirt and adding the seeds. We used the enclosed seeds (sunflower, sensitive plant and mung bean); however, what is wonderful about this greenhouse is that you can use any seeds you want to get started or continue your gardening journey.
We  made the adorable included signs for the pots and placed them carefully in the greenhouse. Then we moved on to one of the coolest features of this greenhouse, the watering trough. Centered along the top of the greenhouse is a watering trough where kids can add the water carefully and watch it as it drips into the soil. Any water that overflows, will flow out the bottom of the pot and collect in the plastic tray. This trough makes watering the plants easy and allows for greater independence for kids.
Each day after planting our seeds, my boys monitored their growth. The first (and to be honest the only) plant that grew by the time this review was written was the mung bean. It was so exciting watching it grow each day. In fact, some days, we could tell that it grew between the time we left for school to the time we returned. It was the perfect first gardening experience.
Another wonderful feature of the Get Growing Greenhouse is the included booklet. This accordion style book provides information about each seed provided in the kit. It also provides a seed growth chart so kids can chart how much water was needed, how long the seed took to sprout, the height of the plant and number of days before transplanting was needed. This booklet also provides fun ideas for theme gardens you can start by using the Get Growing Greenhouse.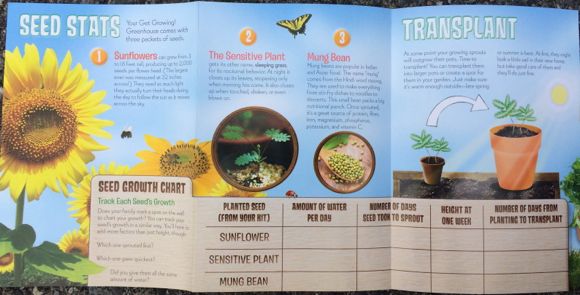 On the flip side of the booklet, kids and parents can read all about what seeds need to grow as well as the life cycle of a seed. There is also information about how certain plants protect themselves. Kids can also learn "how plants make babies." It's a wonderful learning tool that can be referred to even when you are not physically gardening.
So why is the Get Growing Greenhouse a wonderful first gardening experience?
1. Can Be Used Inside! What I love about this Greenhouse is that it allowed us to garden even though the warm weather had not fully taken over NJ yet. Although we put everything together on a beautiful spring day, the days that followed were not as pleasant. The greenhouse was placed in the middle of the kitchen table which obtained great sunlight from the sliding glass doors. We were able to easily water it each day and watch the seeds grow without worrying about the frost outside!
2. Perfect Size for Kids! The small size of the greenhouse makes the gardening experience not so overwhelming. Kids are able to easily manipulate the tiny pots and shovel as well as pour water into the trough. Kids can also hold the pot in their hand and really investigate the growth.
3. Can Be Use Over and Over Again! Once you have used the seeds provided, the Get Growing Greenhouse can be used again and again with other seeds your kids choose. For instance, we recently transplanted our mung bean and replaced it with basil seeds. The booklet provided also gives great ideas for gardens to start such as a Pizza Garden, Super Salad Garden and Rainbow Garden. This allows kids to learn through experimenting with different seeds!
Gardening with kids offers so many amazing developmental and educational benefits such as increasing fine motor skills, boosting planning and organizational skills, encouraging healthy eating and promoting family bonding. The Get Growing Greenhouse offers all of these benefits and more! My boys and I learned so much from using this SmartLab set including patience, persistence and responsibility. We also learned to work together as a family. I cannot wait to continue growing new seeds in our little garden and continue learning about the art of gardening.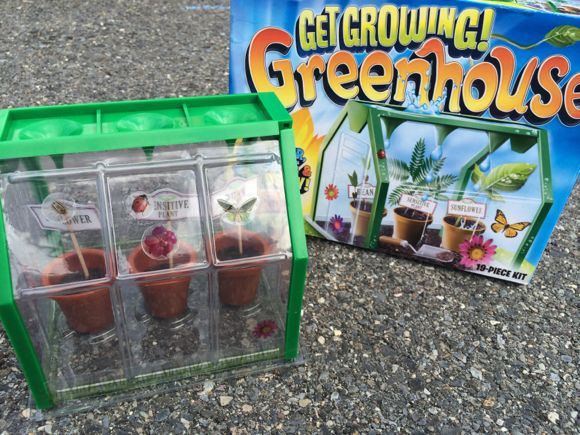 The Get Growing Greenhouse by SmartLab is also VERY affordable as it costs only $14.99 and can be purchased by clicking on this amazon.com affiliate link! So what are you waiting for? Let your gardening journey begin!