One summer, as part of our Educational Disney Countdown, my boys and I created a Dino Day at home. There are so many ways to explore and discover dinosaurs right in your own living room or backyard. In this article, I will share some easy and fun ways to create your own Dino Day!
The first step in creating a successful Dino Day at home is preparation. The night before the big day, I had my boys gather up all their dinosaur related toys and books. We also brainstormed some things we wanted to do. We then picked out dinosaur shirts to wear, and we were ready to go! To help make your Dino Day easier to plan, I have included several affiliate links to products you may want to include in your adventure.
Create Your Own Dino Day
Dinosaur Hunt
My kids love hiding things around the house and then finding them. For Dino Day, we gathered up all their dinosaur toys including a Big Tub of Dinosaurs and or Prehistoric Playset from Imagination Generation. I had the boys hide in another room while I hid all the dinosaurs around the house. On a nice day, you can also hide the dinosaurs throughout your backyard. My boys then grabbed their binoculars and safari hats and "hunted" for dinosaurs.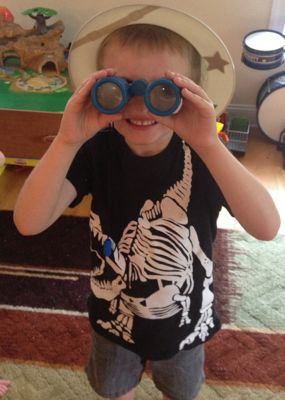 To make it even more fun, have your kids make their own binoculars. They are really easy to make. Just have them decorate two toilet paper rolls, glue them together and add a string so they can wear them around their neck. This is a fun activity that involves enhancing fine motor skills and creativity!
Fossil Dig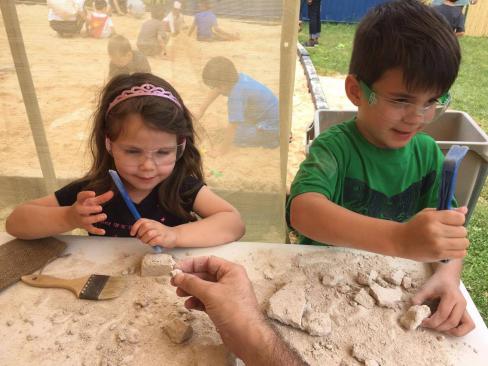 This task is easier done during warmer months as it involves a sandbox, but it can be done in a sensory bin in your house if you don't mind a mess. We had dinosaur fossil sand toys which I buried in our sandbox. The boys had so much fun digging for bones. Another fun activity is to hide tiny dinosaurs, such as those found in Toobs, in the sand and give the kids 3 minutes to find as many as they can. The person who finds the most wins a prize. My boys also enjoyed burying the fossils for each other which makes for a great opportunity for cooperative play and turn taking.
Read Dinosaur Books
We all know reading is an amazing brain boosting activity so of course it has to be included in Dino Day. Before the big day, take a trip to your local library and pick up some fun dinosaur books. You can also order some on amazon such as The Big Book of Dinosaurs, My First Dinosaur Book, The Berenstein Bear's Dinosaur Dig and Dinosaurs Love Underpants. We read books throughout the day and especially at night before we went to bed. To make story time even more exciting, use toy dinosaurs to help act out the story or read them in the dark using only a flash light.  Check out our recommendations of dinosaur books here!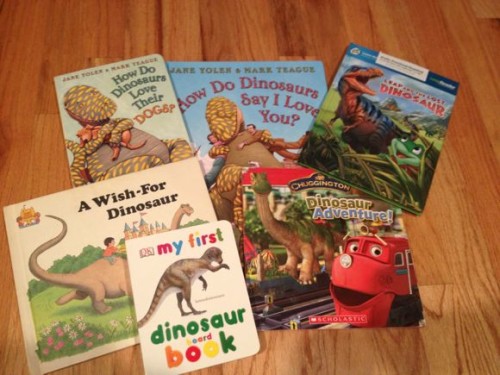 Make a Volcano
When we think dinosaurs, we often think volcanos. Making a volcano is a fun science experiment to add to your Dino Day. You can use a kit such as The Magic School Bus Volcano Kit, MindWare Science Volcano Lab, and Volcano Science Kit from National Geographic or make your own. We made our own using a paper cup, baking soda and vinegar. We covered the cup with play doh and created a dinosaur scene before the big eruption!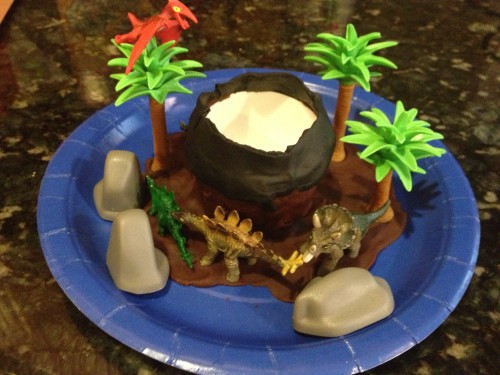 Create Your Own Dino Land
For our Dino Day, we turned our train table into a dinosaur land adventure. We took all our dinosaurs along with our Animal Planet Dinosaur Volcano Set and created our own dinosaur world. My boys had so much fun playing and making up their own stories. It helped enhance their communication skills, creativity, turn taking and fine motor skills as they moved the dinosaurs all around the table.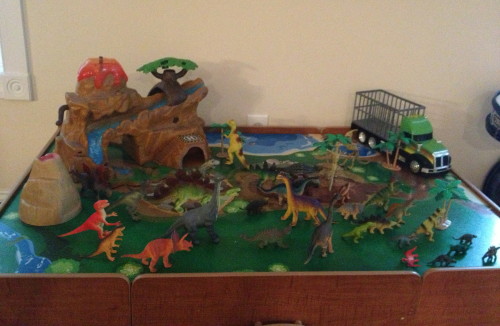 Make a Dinosaur Snack
There are so many fun dinosaur themed snacks you can make. We enjoyed making Dinosaur Jell-O from a mold I found at Walmart. The boys picked the color green which was a perfect choice. Making Jell-O is a great way to introduce kids to cooking and scientific concepts.
Another fun snack to make is Prehistoric Eggs from the book Snacktivities. This is an easy to make and fun snack that the kids will love to make. All you need to do is hard boil eggs, cool them in water, crack the shells a little, let them soak in dyed water, peel off the shell and, bam, dinosaur eggs! We put our eggs in a nest and created an adventurous dinosaur story to go with them.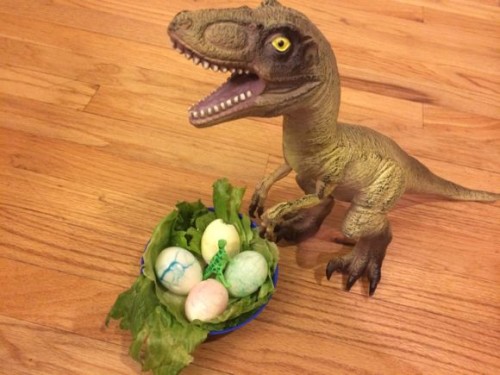 Dino Toys and Games
As I mentioned in the beginning, the first thing we did to prepare for Dino Day was take out all our dinosaur toys. It's so beneficial to just let kids play as it boosts their imagination, language, creativity and independence. Some dinosaur toys we love are: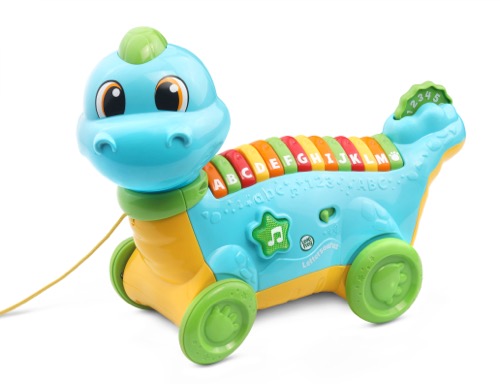 Learn How to Say Dino Names
I don't know about you but I struggle with saying dinosaur names all the time. Check out this cute video where Monica teaches her kids how to say various Dino names while explore Field Station Dinosaurs.
So there you go! Some fun ideas to have your own Dino Day at home. If you are looking to add more adventure, you can also visit a museum for part of the day such as Morris Museum or the Academy of Natural Sciences or step back in time at Field Station: Dinosaurs. You can also take a trip to the dinosaur playground at Turtle Back Zoo.
More ideas?
If you are looking for more ideas, activities, printables or coloring pages then check out our Dinosaur themed Pinterest Board.
You may also enjoy: