It could be that the first nearly complete dinosaur skeleton, Hadrosaurus foulkii, was found in Haddonfield in 1858 that inspires those in the New Jersey to dream big. Dinosaurs capture a child's imagination and make us think of a world that no longer exists.  At Mommy University, we love dinosaurs and are always on the prowl for opportunities that involve these prehistoric creatures. While the Garden State is known for the shore, sunflowers, farms, and much more it is also a phenomenal place to see and dream about dinosaurs.
This list comprises of places for academic information like museums, spaces that are inspired by dinosaurs and places that encourage us to imagine. It may be titled "10 Places to See Dinosaurs in NJ" however it is more accurately 10 places to get excited about dinosaurs!
Mommy University Presents
10 Places To Get Excited About Dinosaurs
Field Station: Dinosaurs, Leonia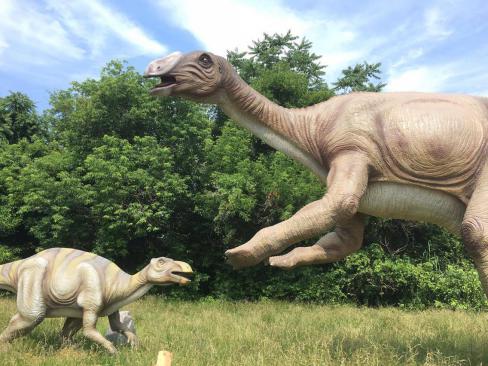 One of the perks of living in New Jersey is that we have the pleasure of Field Station: Dinosaur in Overpeck Park (Bergen County) that is part attraction, part dinosaur zoo, and complete educational opportunity that will wow your family. Equipped with a map, children can follow the path to see and learn about many of these creatures. They can also participate in a fossil dig and of course everyone's favorite activity is to take a photo with a T. Rex (or should we say Jerseysaurus) about to attack. Since this is an outdoor location it does close down for winter and some younger children might be frightened.
The Stone Museum, Monroe Township
While it may traditionally been known for its mineral exhibits, the Stone Museum in Monroe Township is also host to several fossils which are accessible to visitors for FREE. Whether it is a dinosaur egg or a leg from the African Spinosaurus, children will find hands on learning opportunities indoors as well as outside. If the 20-foot replica of a dinosaur, Dino, that roars doesn't capture their imagination then the three dinosaur sculptures will probably inspire your children. Jim Gary created the anatomically correct sculptures which are made out of automobile parts.  Other members of the family might enjoy the popular fluorescent room that is filled with rocks that glow in the dark.
Fossil Discovery Center at Sterling Mining Hill Museum, Ogdensburg
At Sterling Mining Hill Museum, there is a focus on rocks, dirt and all things geological which is why if you stroll through their Zobel Hall you will see a T. Rex skull. Many fossils have been retrieved from coal mines so it should not be surprising that the Sterling Mining Hill Museum also boasts a Fossil Discovery Center where children can dig up to ten possible types of fossils. Check the website for dates when this is available.
Dinosaur Garden at Camden Children's Garden, Camden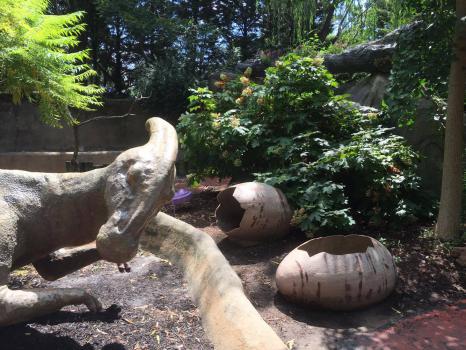 Contained inside the Camden Children's Garden exists a Dinosaur Garden which offers inspiration to those who love dinosaurs in a whole new facet. Surrounded by lush plants, dinosaur sculptures create a surreal and imaginative world that invites children to explore and play. Children can imagine themselves hatching from the eggs of a Hadrosaurus or marvel at the sculpture of an Apatosaurus from New Jersey native Jim Gary that is made from auto parts. They can also pretend they are paleontologists as they seek out bones in the Fossil Dig area.
Rutgers Geology Museum, New Brunswick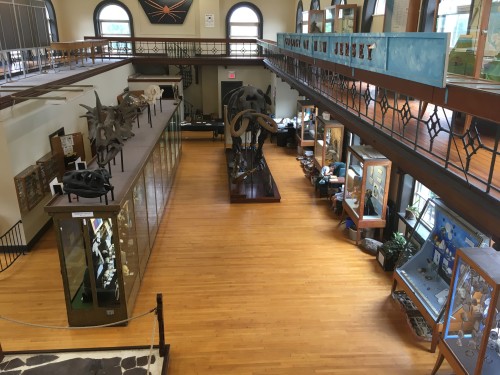 The relationship to geology and dinosaurs is strong as we have learned about dinosaurs through fossils. The Rutgers Geology Museum boasts a large fossil collection which is being used by researchers as well as to train scholars. On exhibit is a model of a small carnivorous dinosaur assumed to be associated with the Grallator footprints found in the rocks. As well, there is a fully articulated mastodon skeleton from Salem County.
Dinosaur Den at Morris Museum, Morristown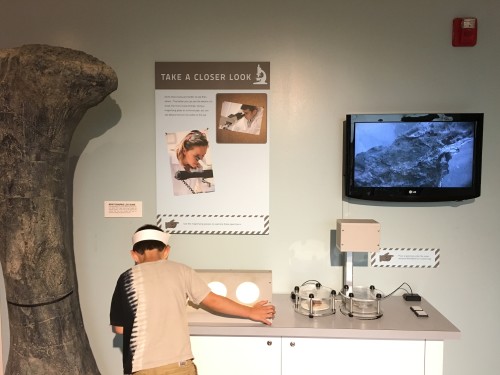 The Morris Museum located in Morristown dedicates a large portion of it's second floor to dinosaurs including the Hadrosaurus foulkii. Children can hang out in a dinosaur nest, listen to what scientists believe the sounds the hadrosaurus would make as well as stick your head in a T. Rex's mouth. Morris Museum offers plenty of engaging opportunities for children to explore, and our favorite is touching a dinosaur egg.
Garden State Discovery Museum, Cherry Hill
Dinosaurium is a space dedicated to dinosaurs which includes opportunities to dig for dinosaur bones in the excavation site, climb inside the skeleton of T. Rex, or explore the paleontologists' tent. This is just one of the many spaces available in the Garden State Discovery Museum, which means there are plenty of other educational and fun activities that will appeal to your budding scientist (or their sibling who may not be as thrilled with dinosaurs).
Hadrosaurus Foulkii Location, Haddonfield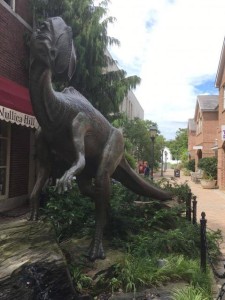 In the marl pits of Haddonfield, William Parker Foulke, a fossil hobbyist, began his search for dinosaur bones that he had heard rumors. His interest and curiosity led to the discovery of the Hadrosaurus Foulkii but more importantly the first nearly complete skeleton which transformed a hobby into a scientific exploration. At the site, there is a bronze and stone marker to commemorate this site in a small landscaped park. As well, in downtown Haddonfield is a sculpture of our favorite NJ dinosaur. For the young paleontologist, this would make a great destination.
Written in the Rocks at NJ State Museum, Trenton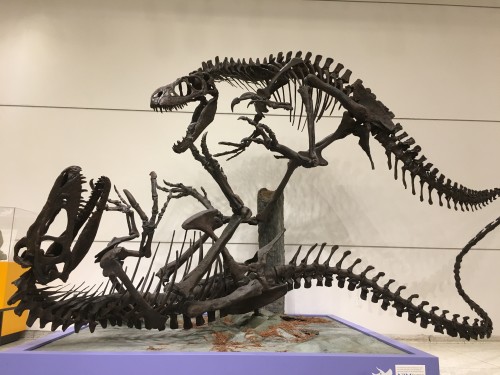 Written in the Rocks exhibit located on the fourth floor of the NJ State Museum is the perfect space for young and older children. Little ones will enjoy the Discovery Den which allows them to solve puzzles or engage in pretend play next to fossils they can touch! Older children will enjoy watching scientists working in a lab on actual fossils and everyone will be thrilled with the casts of hadrosaurus and two battling dryptosaurus. It is fun and exciting for all!
Prehistoric Dinosaur Playground at Turtle Back Zoo, West Orange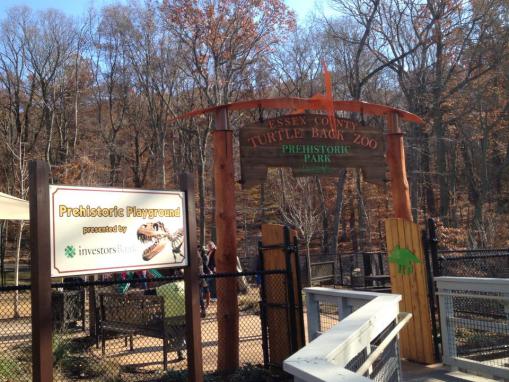 While part of this list includes spaces for academic learning, we also include places that are inspired by dinosaurs. The Prehistoric Dinosaur Playground at Turtle Back Zoo is the perfect intersection of passion for dinosaurs and a fun play space. Children can climb a dinosaur and slide down its back. Playgrounds are what children need to strengthen muscles, improve coordination and enhance gross motor skills. There is also a dig space for children to look for fossils which is an invitation for imaginative play.
Bonus: 
During the summer months, Liberty Science Center offers an incredible experience for Dino lovers of all ages! Dino Days of Summer is filled with hands-on dinosaur experiences like digging for fossils, story time and Dino themed labs. Best part is that it is included with your admission to LSC!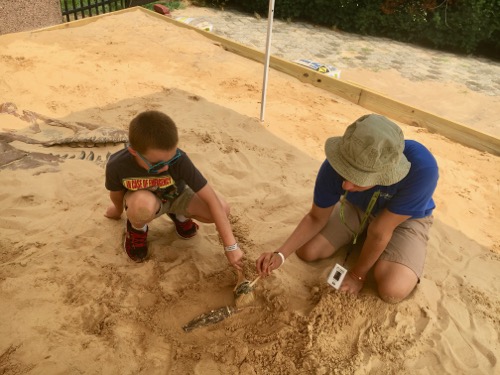 Academy of Natural Sciences is one of our favorite places to visit in Philadelphia with its massive Dinosaur Hall, animatronic dinosaurs and fossil digs. The Academy has a wonderful philosophy of incorporating learning through play which makes it a great fit for many families. You can also read our review about the Academy of Natural Sciences which includes information about Dinosaur Hall.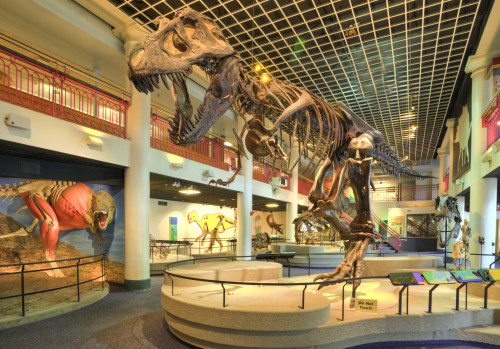 American Museum of Natural History inspires many children and adults in the Hall of Ornithischian Dinosaurs. If you have a child that is passionate about dinosaurs, then a trip to New York will make memories that your child will cherish!
I hope you have enjoyed our list of places to see and discover dinosaurs! So what are you waiting for? Get out there and start exploring!
If you like this post, you might like: