One of my absolute favorite things to do when visiting Walt Disney World in the spring is to explore Epcot's International Flower and Garden Festival. It allows families to engage all their senses in a fun and interactive experience everyone will enjoy and LOVE! Established in 1984, the Flower and Garden Festival gives Disney fans the opportunity to delve into the worlds of horticulture and gardening as well as feast on culinary delights from around the world.
As soon as you arrive at Epcot, you are swept away by the beauty and magnificence of the flowers and topiaries. Families are greeted by Daisy, Pluto and Goofy topiaries surrounded by vibrant and colorful flowers. It makes for the perfect family photo moment with Spaceship Earth as the backdrop.
Before you begin your journey through the International Flower and Garden Festival, make sure you pick up your Garden Passport. This pocket-sized book is your guide to this event as it lists all the amazing gardens, topiaries, events, activities and outdoor kitchens (including the menus). My kids and I loved stopping at each location and getting a stamp in our passport books. At the end of the trip, the Garden Passport makes a wonderful FREE souvenir you can take home.
The International Flower and Garden Festival has something for everyone. We had so much fun exploring the event as a family and taking turns deciding which area we would visit next. It was a true multi-sensory learning experience that the entire family enjoyed. In this article, I will share some of our favorite places we explored during our visit.
Disney Topiaries
Throughout Epcot, visitors can see and take pictures of unbelievable topiaries that show breathtaking craftsmanship. From Bambi to Winnie the Pooh to Belle and the Beast, there is a topiary for everyone to fall in love with. New this year were Anna and Elsa which is obviously a favorite among guests. Also new this year are Goofy About Spring featuring Goofy, Chip 'n' Dale and friends as well as Spring is in the Air (butterfly topiaries). My favorites included Peter Pan, Captain Hook and Tick Tock Croc located in the United Kingdom Pavilion. My son Trevor loved the Seven Dwarfs in the Germany Pavilion while Tyler's favorite was Woody located in the American Adventure. Another favorite of our's was Mike and Sulley located in the Monstrous Garden.
Playgrounds
Although my boys loved looking at all the flowers and topiaries, what they enjoyed the most were the playgrounds. The International Flower and Garden Festival offers two exciting and interactive play areas for kids, Cactus Road Rally and Mike and Sulley's Monstrous Garden. Located near Test Track, Cactus Road Rally has a Cars theme including topiaries of Lightening McQueen and Mater. This partly shaded playground offers a fun and safe area for kids to burn off some of their energy.
Mike and Sulley's Monstrous Garden was my kids' favorite playground as it featured 2 exciting play areas. On one side is a shaded playground with climbing features, slides, tunnels and more. The second play area is a large climbing structure that really works their gross motor skills and enhances coordination. I loved watching my boys' confidence grow each time they climbed their way through the course. Another fun feature of this park is the Mike and Sulley topiary.
Gardeners Pallette
This fun area, located near Ellen's Energy Adventure in Innovations, offers a fun hands-on learning experience for kids (and adults). During our visit, my boys were able to decorate their own planter pots. My friend shared that during another visit her children were able to make sand art. Each activity is FREE to make and can be taken home as a wonderful souvenir. Gardeners Palette is also a nice break as it offered shaded seating.
Nature Rocks
In this area presented by Nature Conservancy, visitors learn about the many benefits of enjoying the great outdoors such as nurturing the mind, boosting creativity and reducing stress. While walking through Nature Rocks, visitors can also read about different fun strategies to get out and enjoy nature. Ideas include having a picnic, looking for animals, going kayaking or taking a stroll in the sand.
Urban Farm Eats
Urban Farm Eats is fun area to walk through that offers interesting and insightful ideas on how to garden in your own backyard. While walking through the garden, visitors will see various tips and tools such as using a rain barrel to water your plants and making a compost bin to save on potting soil. You can even learn how to make a beautiful garden out of an everyday shipping pallet!
Outdoor Kitchens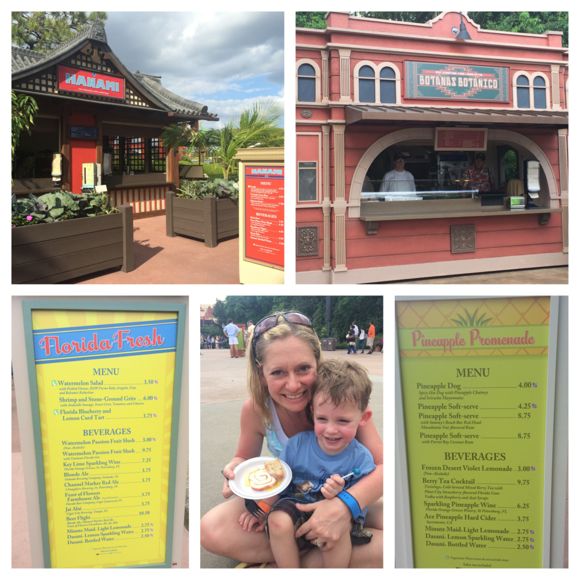 Although I love the flowers and gardens, my real love during the Flower and Garden Festival is the Outdoor Kitchens. All throughout World Showcase visitors can enjoy small portions of amazing cuisine from around the world. Not only can you try items such as seafood ceviche, duck confit and manicotti, you can also find drinks that will quench any thirst and desserts for any sweet tooth. Some of our favorite selections were shrimp and grits from Florida Fresh, prosciutto and mozzarella pinwheel from Primavera Kitchen in Italy and beef brisket from The Smokehouse at the American Pavilion. My absolute favorite, however, was the pineapple soft serve with coconut rum at the Pineapple Promenade.
So there you have it! Those were our favorite places to explore at  Disney's Flower and Garden Festival. This list of course is not exhaustive by any means as there are many more areas to explore. Many families also really enjoy the Butterflies on the Go tent presented by GoGo Squeeze which features gorgeous butterflies flying all around you while others like the English Tea Garden in the United Kingdom which provides insightful guided tours. On the weekends, you can also enjoy themed events, programs and even concerts! Last year, we were able to see the Village People!
Disney's Flower and Garden Festival is an amazing experience, and I hope you have as much fun as we did. Have fun exploring!