Facing an incredibly long Winter break from the school, we opted to escape to the warmer climate of Florida. The one small catch was that this trip consisted of being outnumbered by toddlers as I flew solo.  For various reasons, my husband  couldn't join us for this trek, so with many debates of how to handle here are a few strategies I used. Ironically, the techniques used still had educational components but my children didn't need to know that. Hopefully, you can borrow some of my ideas when faced with a similar situation. (Affiliate links are included to help you easily find some recommended products.)
Traveling Tips with Two Under Two
Preparation
Three weeks before our adventure, we read several books to help prepare my children for the trip. It is recommended to read to your children 30 minutes a day so we incorporated several travel-related books into their bedtime routine. The books enabled my children to become more familiar with what they would see, what would happen, and what the expectations were while at the airport. Here are a few books I found at my library:
Talk, Talk, Talk
Children can be overwhelmed and I find it is best to talk about expectations ahead of time. For example, before we went through security I explained what the rules were, what we needed to do and described what I was doing. The books above helped accustom them to what would occur at the airport.
Keep Them Contained
My children are great at running in opposite directions so in order to survive the two hours at the airport we invested in the Delta Double Umbrella Stroller . I was lucky to test run Jessica's single stroller (
see her review here
) and knew Delta put together a compact and light weight stroller so this was exactly what I needed. My children loved sitting next to each other which helped me.
Walk It Off
Now, here is the exact opposite of the above advice which is let them walk. If we could harness the energy of one toddler it could power an entire city or at least a small village. Children do need to get rid of that energy, so walking is a great strategy. My son helped push the stroller a few times (mostly in the big empty spaces because his steering is questionable). Before I let them walk, I would always speak to them at their eye level, explain the rules and give them a time limit to avoid meltdowns.
Tour the Airport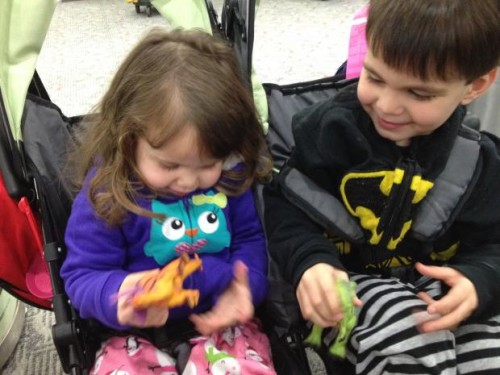 Children are naturally curious. The wait to board the plain is unnaturally long. Take advantage of this moment to walk or stroll around the airport to talk about all the objects they see and activity that is happening. If I did't know what something was, I would ask a flight attendant which models for the children how to ask questions. Since we read about airports prior to our trip there was a lot of identification occurring as we waited.
Bring Water Bottles
Each child had a Tervis water bottle. I kept the bottle empty which made it light to carry and then after we passed security, water was added. Plane rides are dehydrating and so it is good to have water available to keep hydrated.  Just be prepared as too much water eventually needs to exit the body and that can be a challenge maneuvering more than one child to the bathroom.
Keep Them Busy
Both my kids had their own backpacks with similar items inside of them. This had several purposes. My kids felt like big kids or travelers with their own luggage. It enabled them to carry their own toys. Carrying their own backpack also helps burn energy (see above) but make sure the backpack isn't too heavy for your child or yourself who might need to carry it at some point.  Also what is important is the toys and tools that are included in the luggage or backpacks that help keep them busy during the wait.  Here is a listing of a few that I included in my trip:
I was completely surprised how much my children loved playing with these books. The pen just needs water which we added after passing security with a nearby water fountain. I bought the landscape and alphabet WOW Water books which the kids exchanged regularly. They not only played with this during the plane ride to and from Florida but also throughout the entire vacation.  The books are great for developing hand-eye coordination, and the alphabet one is perfect fit for my son who is learning to write his letters.
Each child had a Squishanimal Dinosaur but I think even a tactile toy from the dollar store also gives them some opportunity for sensory play. If you have an existing toy in your arsenal, just keep it hidden several weeks before the trip and let them find it in their backpack.
My children had received a LeapPad as a Christmas gift from their grandparents which is a phenomenal educational toy. On our ride back my son spent a lot of time playing with the dragon in Pet Party including a game where he had to find different shapes. I pulled this toy out last as the ultimate reward or distraction toy depending on the situation.  Unlike the WOW Water book and Usborne Wipe Clean Books which needed a tool to engage with the books, the LeapPad has everything it needs within the device.
These books kept my kids attention throughout the trip. They are easy to use as well as clean. The books are lightweight so it is not a heavy addition to their backpacks, and they are durable. As well, the books made writing and drawing fun for my children as they developed their fine motor skills. My daughter loved The Maze Book as she was finally being allowed to trace using a marker and develop her critical thinking skills. My son has been increasing his number identification skills so we picked up the Dot-to-Dot Wipe Clean Book. If you are nervous about messes then pack hand wipes; however, I have tendency to have those on me at all times anyway.
Prior to the trip, I was apprehensive dreading the time in the airport but the experience was positive and fun. Part of my strategy was preparing my children and myself as well as ensuring that there was lightweight educational activities to keep us engaged during the wait.
What do you do to keep the kids occupied at the airport?
If you like this post, you might like: