In full disclosure, we received Crayola chalk in exchange for our honest opinion. Affiliate links are also included.
I introduced my kids to sidewalk chalk as soon as their little hands were able to hold it. They loved scribbling, writing and tracing using a variety of colors. Little did they know that they were building important academic and motor skills while having fun. Sidewalk chalk is an amazing learning took that allows for hours of learning through play!
As you already know, at Mommy University we are always looking for teachable moments. We look for ways to turn a play experience into a learning experience. Sidewalk chalk is no exception. In fact, sidewalk chalk, such as the varieties available by Crayola, offer a multitude of hands-on learning experiences.
3 Benefits of Playing with Sidewalk Chalk
Enhances Academic Knowledge
While playing with sidewalk chalk, kids develop color recognition, sorting and matching skills. The chalk can also be used to teach children shapes, numbers and letters. I love writing the alphabet on the driveway and having my kids copy it as well as identify all the letters. You can also trace their bodies and then label each part such as head, foot, hand and arm. Kids will have so much fun, they won't even realize they are learning!
Improves Fine Motor Skills
Playing with sidewalk chalk can be one of your child's first experiences with coloring and writing. It helps them learn the appropriate pencil grip as well as develop fine motor control and manipulation. Building skills in this area are needed for academic success. For little kids, sidewalk chalk can be used to draw their first picture and learn to write their name, while older kids can make elaborate designs such as race tracks and treasure maps.
Encourages a Love of Art
The world of art offers so many amazing benefits for children. By allowing them to color and create their own designs with sidewalk chalk, they begin to love art as well as appreciate its importance. Chalk drawing is an amazing art form that kids can really get involved in. Who knows? Maybe your little artist will make a famous design in Times Square one day!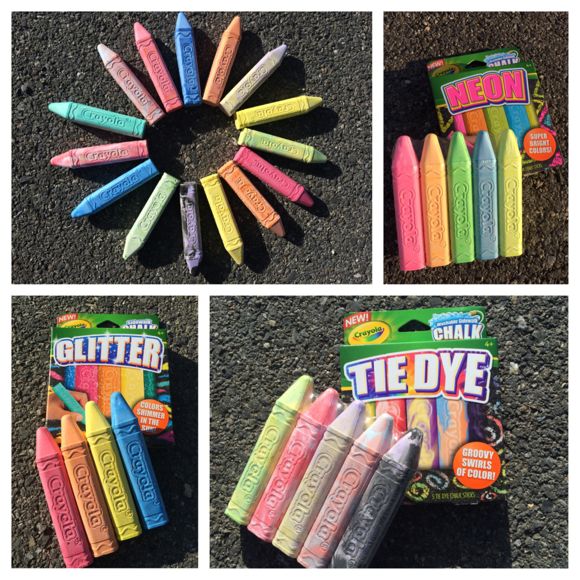 This season, explore the benefits of sidewalk chalk with your children by using the new Crayola line, Special Effects! It takes everyday chalk and adds even more spark and creativity. Available in Tie Dye, Neon, Glitter and Color Core, this chalk will offer new and unique ways to color and create!
"Sparking the creative spirit that lives in the heart of every child." That is the quote I found at the Crayola booth at Toy Fair NY 2015. This sidewalk chalk line (like all Crayola products) helps children find their creative spirit and explore their artistic side. My boys had so much fun playing with the Glitter and Tie Dye sidewalk chalk. They loved how the glitter chalk sparkled in the sunlight and how cool the colors looked on the tie dye chalk. The exciting colors also made writing their names and drawing shapes even more fun.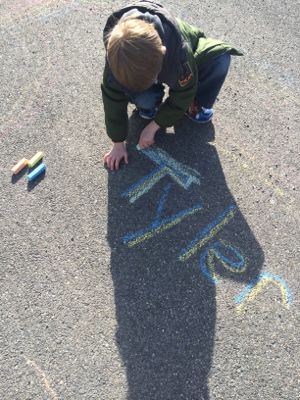 But, wait…there's more! Crayola has also come out with an innovative product to help kids color and create with 5 colors at one time! The Rainbow Rake holds up to 5 pieces of chalk allowing for endless possibilities. My son had so much fun drawing rainbows, coloring in shapes and creating a race track for his cars. The Rainbow Rake comes with 5 pieces of sidewalk chalk, but all colors such as the Glitter, Neon and Tie Dye can be used as well. Kids will have so much fun using their imagination to create exciting new designs.
So what are you waiting for? Pick up some Crayola Sidewalk Chalk today! Neon, Glitter and Tie Dye can all be found on amazon.com for around $4.99. The Rainbow Rake can also be found for $9.99.