In full disclosure, we were provided with a Little Tikes Sizzle and Serve Grill in exchange for our honest review.
I have always been a big fan of Little Tikes toys. They are easy to put together, durable and, of course, fun to play with. But did you know that they offer amazing developmental and educational benefits as well?
At Mommy University, we are always looking for toys that offer the opportunity for kids to learn through play. For me, a toy has to spark the imagination while boosting skills like problem solving, fine motor ability and language development. It also has to be fun, of course, and allow for never-ending play!
My boys love to play with pretend food, kitchens and cooking tools so when I saw the Little Tikes Sizzle and Serve Grill I knew it would be perfect for them. Although it is great for indoor play, it can also get kids excited for spring and playing outdoors. It's the perfect toy for kids who love to pretend to cook and imitate their parents. This grill can easily be placed on your deck or patio so kids can grill their own burgers and hot dogs just like their dad (or mom)!
Little Tikes Sizzle and Serve Grill is a round orange, grey and black grill that is easy to push or pull due to its built-in wheels. The easy to open and close lid makes pretend play even more engaging and fun. The set also comes with 2 burgers, 2 burger buns, 2 hot dogs, 2 hot dog buns, a bottle of ketchup and a bottle of mustard. Kids will also love flipping their burgers and easily removing them from the grill using the spatula and tongs (both of which are easily hung from the side of the grill).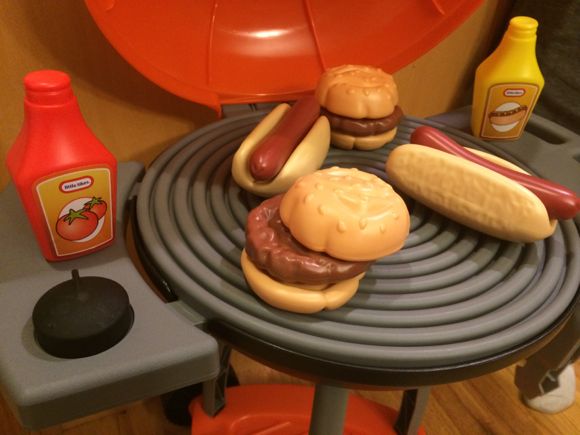 As soon as my boys saw the Sizzle and Serve Grill box, they could barely contain themselves. I was not even home from work for 15 seconds before they began begging me to open it and put it together. Since I knew this toy would provide hours of learning fun, I had to comply with their request. I was able to put the grill together myself (which means it must be easy) and the fun began!
I loved watching my boys work together to make the meals and serve my husband and I dinner. I also loved seeing how they used their other Little Tikes toys with this grill to expand the fun. For instance, they used the spatula and tongs from another Little Tikes grill this way they each had their own. They also added additional hot dogs and hamburgers so nobody went hungry!
So you may be asking yourself, "How is the Sizzle and Serve Grill educational?" Well, to answer that question, here are 4 benefits of playing with the Little Tikes Sizzle and Serve Grill:
Introduces Kids to Cooking
As I stated in my article 10 Benefits of Cooking with Kids, involving kids in the cooking process helps improve a multitude of developmental skills. By using play toys such as this grill, you are introducing your kids to the world of culinary arts. They get to imitate what they see their parents cook as well as what they see on cooking shows on television. They can be a little Bobby Flay or Giada De Laurentiis! By imitating the process first, they are more able to understand how to cook when they are old enough to do so.
Encourages Pretend and Dramatic Play
Pretend play helps spark creativity and imagination which helps boost brain development. It also helps kids in the future with writing and reading comprehension. In addition, pretend play helps kids boost confidence and enhances social interactions. With the Sizzle and Serve Grill, kids can create their own meals with their siblings and friends then serve them to their parents. This helps improve cooperative play as well!
Increases Language Development
As kids play, they learn new words and increase social communication skills. They also learn the art of story telling. For older kids, they can create their own menu then pretend to be a waiter/waitress. They are boosting their language skills by not only creating meals, but asking people what they want to order. They also have to either write down the order or remember it which boosts writing and working memory skills. Parents can also ask kids to describe what they are doing and what they will be doing next. Your child will be having so much fun, they won't even realize that you are working their communication skills.
Boosts Motor Skills
Flipping the burgers, placing them in the buns and balancing them on the plate all takes motor strength, manipulation and coordination. These skills are necessary for a successful academic career. Walking the full plate of food to the table also involves motor planning and balance. This is wonderful toy for kids who have weaknesses in these areas because it makes enhancing these skills more fun than work!
It is clear to see all the amazing benefits the Little Tikes Sizzle and Serve Grill offers children ages 2 and up. My boys (ages 3 and 5) love this grill and play with it for hours! You can learn more by visiting the Little Tikes website. You can purchase your own grill on amazon.com for only $24.99.