Everyone sees Magic Kingdom in a different light depending on your age. Regardless of age, however, there are plenty of educational observations to be had.
To prove my point I'd like to start by talking about the icon of Magic Kingdom, Cinderella's Castle. Way back when Walt Disney was buying up a truly decent amount of Florida wetlands, he learned that Florida law states that structures over 200 feet must have a beacon to help with air traffic. Now I know what you may be thinking, "Ok sure, but how is that educational?" Well if you were Walt Disney, you would put a great deal of thought into that pesky little law. You see, Walt Disney did not want to "ruin the magic" by reminding the public that they are still in the real world.
His solution you ask? Forced perspective. Cinderella's Castle is actually 189 feet tall, but when you're in the Magic Kingdom it feels much much larger. How do they do it? You may ask. Well I'll tell you. Forced perspective is an optical illusion in which as something gets bigger, proportions get smaller (hey, there's that math again!) Simply put, if you take a second to stare at the castle, you will notice that the further up you look, the windows actually get much smaller. So small, that if you were right up against them, they would look like a very awkward sized window.
So there you have it, your first math lesson about Magic Kingdom. So next time you're in the park, point out that tidbit to your kids and see if they can tell the windows are smaller at the top. It makes for a very cool "ah ha" moment that they can show off to their friends and pretend to be Disney geniuses. Here are 10 more educational experiences to be had at Magic Kingdom!
It's a Small World
No matter how old you are, if you've been to Disney at any point in your life, you've most likely been on It's a Small World which is nestled into Fantasyland. A favorite of the itty bitty babies because of the no height requirement, It's a Small World actually has some education embedded inside. As you take a ride around the world in you're awesome little boat, you can clearly see the cultures of the world. You get a sense of customs of each country and even an idea of what people wear. It can be a very educational experience for children who probably haven't visited many other countries to get that experience first hand.
The Walt Disney World Railroad
You can pick up the railroad at three locations which include: Main Street USA, Fantasyland, and Frontierland. The train is actually an old-fashioned steam train which holds history within itself. The train has been operational since 1971 when the Magic Kingdom first opened. Once on the train if you plan on riding full circle around the park, you will receive a narrative on the history of the train along with all the sights you are seeing as you ride by. This is a nice relaxing ride that you can have your little ones point out the information that is being talked about on the train. Think of it as a 20 minute "eye spy" game.
Mommy U Tip: Keep in mind that right before or during a parade is not the best time to ride the train. As the parade route crosses the tracks, you will sit at the Main Street USA platform for about 15-20 while you wait for the parade to pass. You can also further your experience on the railroad by taking the Behind the Steam Railroad Tour which is jam packed with valuable information.
Buzz Lightyear Space Ranger Spin
Over in Tomorrowland, this ride involves you and your little ones to climb aboard a space cruiser to shoot laser guns in hopes to defeat the evil Emperor Zurg. On top of the hand-eye coordination you will need to hit the targets as you spin your space cruiser, math is also embedded in this fun ride. Try having your kids find the higher points targets by looking at the screen as they hit a target. Ask them how many times they need to hit the 100 points target to get to 1000, versus the 200 or 500 points targets. At the end of the ride, what kid doesn't want to know how much they beat mom and dad by? Use those subtraction skills to have them find out exactly how much they won by.
Swiss Family Treehouse
Head over to Adventureland where you will find the Swiss Family Treehouse, which is based off of the popular Disney film, Swiss Family Robinson. Have your little ones use their gross motor skills to tackle footbridges and handmade stairs (116 to be exact so make sure your kids are up for it). Discover what it was like to live in the 19th century while visiting the kitchen and dining rooms of the treehouse. Of course no treehouse is complete without having a gorgeous lookout to view the beautiful jungle underneath. Have your kids name objects that they see in the trees, or in other parts of Magic Kingdom. At six stories high, there is plenty to look at!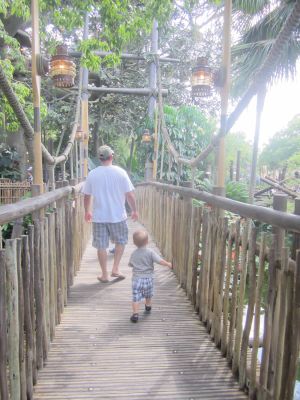 Tom Sawyer Island
Tom Sawyer Island in located in the Frontierland. It was actually carried over from Disneyland in California, which makes it special because Walt Disney himself actually designed it. In order to get to Tom Sawyer Island, you have to first board the rafts near Thunder Mountain Railroad. Once you step off the raft onto the island be prepared for lots of fun and exploring.
If your kids are under 12 years old, be sure to visit the Tom Sawyer Scavage Fort, which has footbridges and slides to enjoy. Little ones will get to practice balancing across the bridges as well as gross motor skills to make their way down the slide. There is much to discover on the island, and it can take a good chunk of time out of your day, but if you're kids are enjoying it let them explore! If it's a hot summer day, enjoy a delicious soft serve ice cream cone on the island (one of the best kept secrets!).
Carousel of Progress
Back over in Tomorrowland, created in 1964 for the New York World Fair, the Carousel of Progress is a staple of Magic Kingdom that shows people the technological advances over the years. The Carousel focuses on five time frames to showcase a "typical" American family during those years. Kids will learn what it was like to live during 1967, 1975, 1981, 1985, and 1993. As one of the oldest attractions in Walt Disney World, it is surely a must do for your family. The history alone is enough to make your kids ask, "Is that really what life was like back then?" Use this ride as a teachable moment and give your kids some prospective of what life was like before they were born.
Mickey's PhilharMagic
Jump back to Fantasyland to appreciate the arts! Mickey's PhilharMagic showcases a 3D show that also includes a sense of smell and some splashes of water! (not too much, don't worry!) Donald Duck will take you on a journey through some popular Disney films along with classic Disney songs that your kids know and love. Feel the wind on your face as Donald flies through the sky with Aladdin and Jasmine and you're sure to have a blast. After the show ask your child to describe the different senses they used while watching the show, then have them explain examples of those senses.
Enchanted Tales with Belle
Still in Fantasyland, Enchanted Tales with Belle is a newer attraction that is a must do if you have small children. Girls and Boys alike will love the interactive storytelling from characters from Beauty and the Beast. Not only will you get to spend some time with Belle, but all the children in the audience have the chance to get on stage and act out a scene from the movie! Whether you play the part of an enchanted object, or the beast himself, everyone who performed gets to have his or her picture taken with Belle. Although the lines can be long at times, it's worth the wait to capture your children actively engaged with storytelling and acting.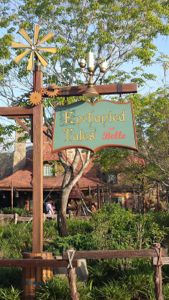 Teacups
Can't seem to stay away from Fantasyland! Although the teachable moments in this ride are more for older children, it's no reason why you can't explain the basics to your little ones as well. The spinning of the Teacups is actually an example of centripetal force (We could get into centrifugal force too, but I won't bore you with that physics lesson today.) Of course we could go very in depth with this topic, but to cater more towards the younger children, simply tell them that centripetal force is when the spinning of the teacup makes you feel like you are being "pushed away", but you don't actually fly away. This is because although the force of inertia is pushing you outward, the seat itself is holding you in causing centripetal force. Essentially, it allows you to follow the spinning motion of the teacup; as motion typically travels in a straight line, not in a circle. Pretty neat right? It is an easy observation for children to make and you can test it further by spinning the cup faster or slower. Who knew physics could be so much fun?
The Hall of Presidents
We will end our educational journey in Liberty Square where we can watch The Hall of Presidents stage show. The Hall of Presidents houses the very first Audio-Animatronics in Disney World. Modeled after Independence Hall in Philadelphia, The Hall of Presidents is one of the best history lessons you could ask for. Featuring all 43 presidents, the show talks about the construction of the constitution and the struggles of American Revolution and Civil War.
As a math person, I feel that this show taught me more about these historical events than I learned in school. Not to say I had terrible teachers or I was a bad student, I simply learn best by seeing things happen first hand rather than reading from a book. From what I've noticed as a teacher, that isn't too uncommon even for kids today. So take a walk over to the Hall of Presidents and find out what kind of learner your child is, you may be pleasantly surprised.
So there you have it! 10 fun filled educational things to do in the Magic Kingdom. I probably could have listed many more, as Disney is truly a learning experience as a whole, but let's start here. As you walk through the park be sure to be on the lookout for other educational opportunities as they are always around. Now go and enjoy the park!
If you like this post, you might like: