For as long as I can remember, Epcot has always been my favorite park within Walt Disney World. With two distinct sections covering over 300 acres, it is full of technological innovations and international culture. Who wouldn't enjoy that?
As a math teacher, the icon of Epcot that is a geodesic sphere, houses a fascination that is near and dear to my heart. You probably won't want to have a math lesson while you're in the park, but in case you were wondering, the sphere is a very interesting piece of technology. Each of the 11,250 isosceles triangles are pieced together in such a manner that you will never get wet while standing under the ball during a rainstorm. (Try it with your kids, it's fun!) If you're looking for more fun filled educational tips and ideas for your next visit to Epcot, then I invite you to come on our virtual adventure through the park!
Top 10 Educational Experiences at Epcot
Spaceship Earth
Did you know that housed inside the beautiful ball I spoke about above is a continuous ride that takes you back in time?   Spaceship Earth is a slow moving ride that takes you back to prehistoric times to learn about how human communication began. It shows you the major advancements we have taken as a species to move ourselves into the future. As you move in your ride vehicle through history, you will learn about the creation of the alphabet and Guttenberg's Printing Press. At the end of the ride, you and your kids can create their "future" by answering some fun questions on the interactive screen within the ride. Overall, Spaceship Earth is enjoyable for all age levels. It is still one of my favorites to this day!
Mommy U Tip: Try to go on Spaceship Earth during the hottest part of the day so your little ones have a chance to cool down in the air conditioning during this 15 minute ride. When you get off the ride be sure to check out the exhibits in Project Tomorrow. You can build a body in the interactive play area that is fun for all ages.
Kidcot Fun Stops
Looking for some FREE fun at the park? Kidcot Fun stops are located at every country in the World Showcase. Kids can relax and decorate a complimentary cutout of Duffy the Bear to take home with them. Cast Members of each country will teach your child how to say hello in each language so they can write it on their bear and remember what country it was from. In countries such as China and Japan, they will even write your child's name using the symbols for their language!
Ellen's Energy Adventure
This is another fun ride to do during those hot summer days in Florida. This ride is 40 minutes of learning about energy starring Ellen DeGeneres and Bill Nye the Science Guy. Featuring a Jeopardy "dream" about energy, Ellen must travel back in time with Bill Nye to learn about all the different types of energy in order to gain some knowledge before the Double Jeopardy "dream". This ride is in the dark and you will see some animatronic dinosaurs that may be frightening to little ones, but I assure you nothing will jump out at you during this slow moving ride.   So head over to Ellen's Energy Adventure to learn how fossil fuels are formed and have a good time!
Journey Into Imagination with Figment
Even as an adult Figment is one of my all time favorite Disney characters. That goofy little dragon sure knows how to have a good time and put a smile on your face. The ride itself is a carefree journey into the imagination where you will learn about sight, sound and scent. There is so much to see that you may want to ride it again! Take it all in and have your children point out silly objects that you would only find in your imagination. This ride is sure to prompt thinking skills and get those creative juices flowing! At the end of the ride, you exit into ImageWorks, where you can create your own Figment with the kiosks, take some silly pictures at the photo booth area (free to play, pay to print) and wave your hands in front of an interactive screen to make Figment play music with his instruments. This is a great ride for anytime of day, as the wait times are relatively low.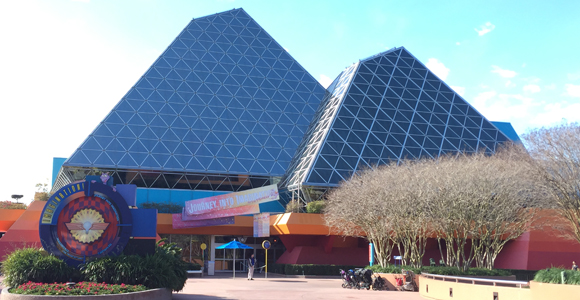 Innoventions East and West
While the wait times for Test Track and Soarin' are too much to handle, why not let your imagination run wild in these two pavilions with interactive exhibits! Most people don't know about these well-kept secrets because there is so much to do in Epcot. Even as an adult, I enjoy the hands on experiences that Innoventions offers.
In Innoventions East, you will find exhibits such as StormStruck and Habit Heroes. StormStruck is a multi-step hands-on experience that the whole family can enjoy. First you get to experience a "perfect storm" with wind included! After that, you will learn about how to stay safe in a storm, and you can even send a postcard home from the interactive kiosks. Within Habit Heroes you can play games similar to the game within ToyStory Mania (but without the lines!) all while learning about keeping yourself healthy. At the end of Habit Heroes, you get a souvenir wristband to show off your good habit knowledge!
Back over at Innoventions West, check out Where's the Fire so you can learn how to stay safe during a fire. The Great Piggy Bank Adventure will teach your little ones about the importance of saving and personal finances (on a small scale of course).  While we're on the topic of finances, during the hours of 12-7pm use your Chase Visa Card to get a FREE Character picture with Mickey and friends! (Next to Where's the Fire).
The Seas with Nemo and Friends (Formerly The Living Seas)
Start your journey by hopping into a "clamobile" at The Seas with Nemo and Friends and try to have your kids find Nemo. This slow moving singing adventure is fun for all ages and has no height requirement. Once you have spotted Nemo a few times it's time to get off the ride and enter the aquarium where you can touch, play and learn. From the observation deck upstairs, you can learn about how Disney is rehabilitating manatees and how dolphins communicate. Also, take some time to just admire all the sea creatures in one of the largest man-made environments in the world. It is sure to not disappoint as there are over 60 different species of sea creatures to look at.
Living with the Land
This is a boat ride through the green houses at The Land pavilion where you will learn about agriculture and farming techniques. Half of the tour is videos and modeled scenes such as rainforests and farms. The second half of the tour is through the greenhouses that supply much of the food to the restaurants at The Land. They will show you how to grow plants more efficiently as well as make them grow more fruit for a longer period of time. You will even learn about aquaponics where fish are used to clean the water so plants can be grown without chemical fertilizers! Bring the whole family as this too is a ride with no height requirement.
The Circle of Life an Environmental Fable
Join Simba, Timon, and Pumbaa in The Land for an educational video about the environment. Each show runs about every 15 minutes and teaches children that the planet is our home, and it needs to be protected. Simba explains to Timon and Pumbaa how they can help the environment by starting in their own backyard. This lighthearted video teaches children about eco-kindness, which is a wonderful concept.
Reflections of China
Be sure to stop in China so you can check out Circle-Vision 360 to watch a 13 minute film about China. Let your child experience the history of China in a very unique cinema. Learn why so many poets and painters are influenced and inspired by China's stunning landscapes.
The American Adventure
This 30 minute show encompasses audio animatronics, film, and music that will take you deep into American history. Narrated by famous characters in history like Benjamin Franklin and Mark Twain, your children will learn about American life and current events from each time period, including the Civil War and the Great Depression.
So as you can see, there are many educational experiences to be had at Epcot! Make sure you leave plenty of time for each attraction so your child truly gets the most out of this exciting park!
If you like this post, you might like: