In full disclosure, DJC Creations provided us with 2 custom beach pails in exchange for our honest review.
With all this snow and ice, it's hard to imagine a time of flowers, Easter eggs or even sandy beaches. Well, let this article get you excited for the warm and sunny weather!
I am sure you all remember the amazing custom Halloween bucket giveaway we had in the fall. If not, check out our article here. I am so excited to announce that we will be giving away another gorgeous custom designed product from the amazing DJC Creations. This time, you will have the opportunity to win a custom designed beach pail! It is the perfect way to get families excited for Easter, an upcoming vacation, and dare I even say it, SUMMER!
DJC Creations is a family owned company that can create an exciting custom made beach pail just for you! Not only are their buckets perfect for a day at the beach, they are also great to use for storing toys, collecting objects on nature walks and stuffing them with goodies for Easter! Who knew beach pails were so versatile?
DJC Creations started a little over a year ago after receiving tons of compliments over personalized pencil cases used as a birthday party favor. From there, they moved into personalizing just about everything from toy chests and step stools to wine glasses and beach chairs. Whatever you imagine, they can create! This season, they are thrilled to offer personalized beach pails that are sure to please children of all ages!
DJC Creations offers beach pails in a variety of colors including blue, yellow, red, green, orange, pink or purple (based on availability in stock, of course). Each bucket can be personalized with your child's name in any design you can imagine! You can even add your child's favorite character. The detail on each bucket will amaze you.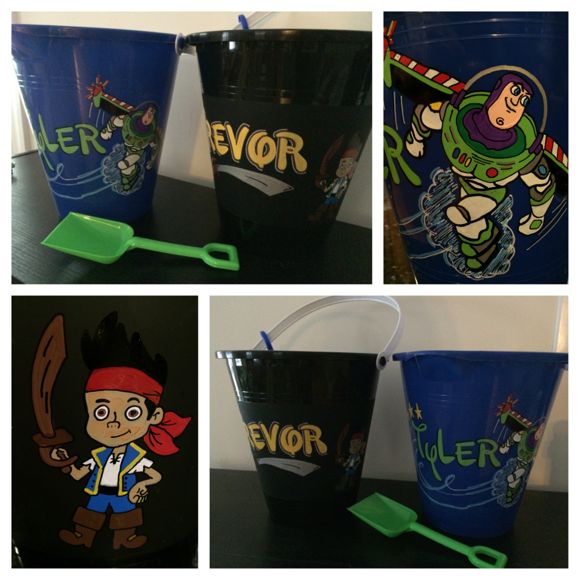 When I received my beach pails, I was amazed and in awe of the detail! As a big Disney fan, I obviously had high expectations, and I was definitely not disappointed. Buzz Lightyear was colorful and full of life on Tyler's bucket, while Jake (the pirate) was so true to his character on his show. Every detail was perfect from the lettering to each part of Buzz's space suit to Jake's sword painted under Trevor's name. Any Disney fan would be lucky to have one of these custom beach pails!
The custom beach pails I received will be used for a variety of purposes. First, they will be used as my boys' Easter baskets. I will be filling them with fun and educational goodies like bubbles, puzzles and games. Second, I chose a Disney theme because we will be in Disney World for Easter. The boys have not yet seen their beach pails because they will be a surprise gift from the Easter Bunny AND Mickey! Third, since we will be staying at 2 resorts that have a beach, the pails will be used to play in the sand while we are in Disney! Three great uses for one amazing product!
With Easter and spring break quickly approaching, don't wait, order your customized beach pail today!
The beach pails start at $18, and depending on the design, can cost up to $25. To order your buckets, check out DJC Creations website or visit their Facebook page. You can also find them on Etsy! Make sure you tell them Mommy University sent you!
Want to win your own Custom Beach Pail from DJC Creations? Here is your chance!
Here are the rules and conditions for this amazing giveaway:
Participants MUST live in the United States.
The winner will be chosen by Rafflecopter.
The contest will run from February 24, 2015 through 12am on March 4, 2015.
The winner will be announced on March 4, 2015.
Each winner will receive their custom beach pail directly from DJC Creations.
The winners must respond within 2 days or another winner will be chosen.
To enter, participants can earn entries by: visiting the Mommy University Facebook page (likes are appreciated but not required), visiting the DJC Creations Facebook page, following Mommy University on Twitter, sharing the contest with friends and commenting on this blog post by answering the required question. One FREE entry can also be given when this option is chosen (you're welcome).
No purchase is necessary to win.
Your chances of winning are dependent on the number of entries received.
Enter here: a Rafflecopter giveaway