In full disclosure, we have been provided with 2 tickets to the event as well as 2 tickets to giveaway in exchange for our honest opinion.
If you are expecting a baby or have a newborn at home, then this is the event for you!
The Mother of All Baby Showers will take place on Friday, March 6, 2015 from 6pm – 9:30pm at Home & Kidz Furniture Gallery in Paramus, NJ. There will be excitement around every corner as parents learn all about the world of parenthood. Presented by Englewood Hospital and Keurig, this is an event you won't want to miss!
Here is what you can expect to enjoy at the Mother of All Baby Showers:
Tasty Treats: Everyone loves delicious food and drinks, especially expecting moms. Couples will enjoy tasty treats from local eateries as they peruse the event.
Educational Sessions: Couples will have the opportunity to attend sessions to learn about Planning and Preparing for Baby and What to Expect (and not to) From Infancy Through the Toddler Years. Jaime Primik Sullivan, star of Bravo's Jersey Belle and digital series Cawfeetawk, will also be speaking.
Spa Treatments: Expectant and new parents will enjoy mini spa treatments from Fountain Spa. Massage, hand, feet and skin specialists will be available to help attendees relax and enjoy this adult-only evening.
Try It Before You Buy It: Attendees will have the opportunity to interact with over 50 maternity, juvenile and family-focused local and national companies. Parents will get to see, touch, smell, try out and ask questions about products before buying them. From strollers to furniture to clothing, parents will get to see it all!
Giveaways: There will be over $20,000 worth of giveaways available. Don't miss your chance to win photography sessions, furniture, strollers and more!
Tickets are only $10/person or $20/couple. VIP tickets are $50/person or $75/couple. VIP tickets include: 1/2 hour early admission, Keurig 2.0 Brewing System, one month membership to Gymboree and a swag bag valued at $300! A portion of the proceeds will help build the new Family Birth Center at Englewood Hospital and Medical Center. For more information visit the Mother of All Baby Showers website.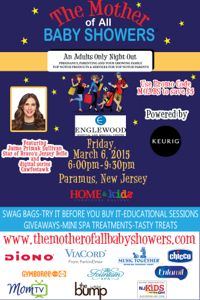 Want to win your own tickets to this event? Mommy University is excited to be giving away one set of couple admittance tickets ($20 value).
Here are the rules and conditions for this amazing giveaway:
Participants MUST live in the United States.
The winner will be chosen by Rafflecopter.
The contest will run from February 23, 2015 through 12am on March 3, 2015.
The winner will be announced on March 3, 2015.
The winner will receive an emailed ticket directly from the event planners.
The winners must respond within 1 day or another winner will be chosen.
To enter, participants can earn entries by: visiting the Mommy University Facebook page (likes are appreciated but not required), visiting the MOABS Facebook page, following Mommy University on Twitter and commenting on this blog post by answering the required question. One FREE entry can also be given when this option is chosen (you're welcome).
No purchase is necessary to win.
Your chances of winning are dependent on the number of entries received.
This giveaway is over. Please check out our other fun giveaways.