In full disclosure, this is NOT a sponsored post but it does contain affiliate links.
As stated in my article Build, Create, Play: The Benefits of Playing with Building Toys, construction/building toys have significant cognitive and academic benefits for children of all ages. Not only are they fun and exciting, but they help kids develop a wide variety of skills and abilities. Through building, kids increase fine motor, problem solving, spatial awareness, visual and language skills, just to name a few!
When looking for the perfect building toy, it can get overwhelming. There are so many options out there, and it is hard to say what will be best for your child, and better yet, what they will WANT to play with. After reviewing what is out there along with my own experiences and observations, I have developed a list of 10 Brain Boosting Building Toys. These toys vary in size, shape, color, price and age recommendations. An affiliate link is provided for each building set so you can easily purchase the ones you like the most!
10 Brain Boosting Building Toys
Mega Blox First Builders
Mega Blox is a perfect building toy to start with. The large bricks are perfect for little hands to manipulate making it easier for them to build, create and play. The bright colors are also great for reinforcing color recognition. Mega Blox First Builder sets also offer opportunities to build academic skills with their products such as the 1-2-3 Count set, Learn My Animals set and ABC Spell set.
Squigz
Squigz by Fat Brain Toys is a fun and unique new approach to building. Winner of the Best Toys for Kids Award in 2013, Squigz consists of various plastic toys with suckers on it. Kids can attach them to each other using the suckers to build creative and exciting designs. This toy allows for great sensory stimulation and fine motor development as well as increases creativity. For your first Squigz experience, I recommend the Squigz Starter Set.
Blocks
Another great starting point for building is the use of blocks. My boys have always loved playing with their Melissa and Doug Alphabet Blocks as they are bright and colorful and also introduce them to various objects through the use of pictures. Alphabet blocks are also great for language development as well as color, letter and number recognition. Barclay Wood Blocks, on the other hand, are great for building towers, cities and more. A great option for little ones or those with sensory needs are B. One Two Squeeze Blocks. My boys loved these when they were little as they offer a great multi-sensory play experience. Large soft foam blocks like ECR4Kids Softzone Foam Big Blocks are fun for building life size forts and tunnels which helps build gross motor skills along with spatial awareness and creativity.
GoldieBlox
"More than just a princess!" is their motto, and that is exactly what GoldieBlox building sets are all about. The designer wants to encourage girls to become future innovators, not just the expected roll of the princess. GoldieBlox offers fun and creative building sets that use story telling to get girls excited about building. Each set comes with a book about Goldie, an inventor, and her problem solving adventures. These construction sets help kids increase spatial skills and develop a better understanding of basic engineering principles. GoldieBlox and the Movie Machine as well as GoldieBlox and the Dunk Tank are great kits to start with.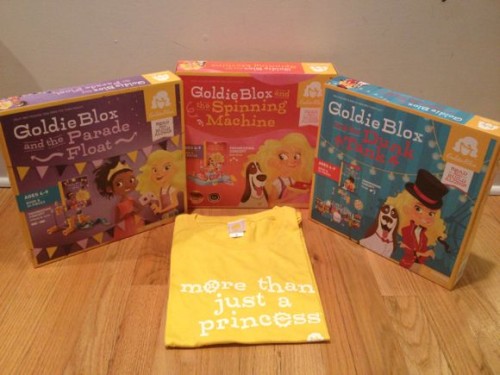 K'Nex Building Sets
Many of you have probably seen the ferris wheel made from K'Nex at a toy store or toy fair, but did you know that your kids can make their own fun creations at home too? Using the K'Nex connectors, rods and bricks, kids can make exciting designs such as towers, roller coasters, robots, planes, dinosaurs and more! I recommend the 521 Building Set for endless adventures and building fun.
Gears! Gears! Gears!
Gears! Gears! Gears! by Learning Resources offers hours of building fun and entertainment for kids. This product is the perfect way to introduce your children to engineering concepts. It teaches kids about cause and effect as well as encourages thinking and reasoning. Gears! is a great toy for tactile and visual learners and offers sensory stimulation. The Gears! Gears! Gears! Super Set is a perfect set to start with!
SmartMax
SmartMax is a fun and exciting building toy that uses magnets to let kids build, create and play! The durable and oversized pieces are perfect for small hands making SmartMax a wonderful first building toy choice. These fun building toys introduce kids to early scientific concepts while also reinforcing color recognition and boosting creativity and fine motor skills. I recommend starting with the SmartMax Basic 25 set. For the kids that love cars and trucks, check out the SmartMax Power Vehicles – Rescue Team that we recently reviewed.
Lincoln Logs
Invented in 1916, Lincoln Logs offer a great opportunity for kids to learn and grow while building. When using Lincoln Logs kids must use spatial-organizational, fine motor and problem solving skills. Kids also use their creativity and imagination. Language skills are enhanced as kids describe their building and towns. Lincoln Logs combine the use of wooden logs and plastic pieces to build, create and play! The Lincoln Logs Classic Edition Tin is a great option for kids ages 3 and up.
Roylco Straws and Connectors
My son absolutely LOVES playing with this building set. Straws and Connectors offers hours of fun and endless building possibilities. My son has made a rocket, the Eiffel Tower, roller coasters and more! Kids boost their fine motor, spatial awareness and visual skills when they build with this amazing toy. It's also a great introduction to architecture and design! I recommend the Roylco Straws and Connectors Building Kit with 230 pieces.
Magformers
Magformers is a fun and exciting building set that uses a magnetic design allowing for endless building possibilities. These building sets foster brain development through visual, motor and tactile exploration. This award winning toy also encourages creativity and imagination. I recommend starting with the Rainbow 30 Piece Set.
You might also enjoy!