At Mommy University, we love art! From music to dance to paintings which is why we published "Kids & Art: What Does Art Teach Our Children?" as well as a follow up on "Drawing the Line: 5 Ways to Encourage an Appreciation of Art". We believe that The Arts offer amazing opportunities for positive growth and development.
So, where can your family get crafty in NJ? After reviewing all that NJ has to offer families, we compiled a list of places we are sure your family with LOVE. The locations vary in price and purpose and fit a variety of personality types, but there is sure to be something for everyone on this list! We leave it up to you to explore to find the perfect place for your family.
10 Places to Get Crafty in New Jersey
The Messy Artist
The philosophy at The Messy Artist, located in East Hanover,  is that children learn through play and self-exploration. Through classes by trained staff, children can investigate art using all their senses  Children can also enjoy camps and drop in play. Due to the owner's extensive background in Special Education and as an Art Teacher, don't be surprised if there is some creative classes that are fueled by a stellar curriculum.
Ceramics/Pottery Studios
Pottery Studios help tap into your child's inner artist and allow them to enhance creativity. So how does it work? The child (with parental guidance) chooses an already made ceramic piece. The child then chooses how they want to paint it, and when complete, it is "fired" by the studio. The child then takes home their master piece to display proudly or give as a gift to mom, dad or a grandparent. Here are some Pottery Studios you may enjoy: Brushes and Bisque (Denville), Fire Me Up Studio (Cranford), and Fun Creation Studio (Wayne). Color Me Mine is also a wonderful option as there are 7 locations throughout NJ.
Local Craft Stores
At Mommy University, we love the accessibility of local craft stores. Michaels offers Saturday workshops for a low cost of $2.00 to participate, and during the summer, they offer workshops several times a week. AC Moore also offers workshops including several low-cost summer workshops. Our favorite included painting a Thomas train one year.  We have yet to participate in a Joann's workshop, but we have seen them advertised.  These workshops are simple and do not always require pre-registration. Schedules vary by company and stores so check online to see when these classes are being offered.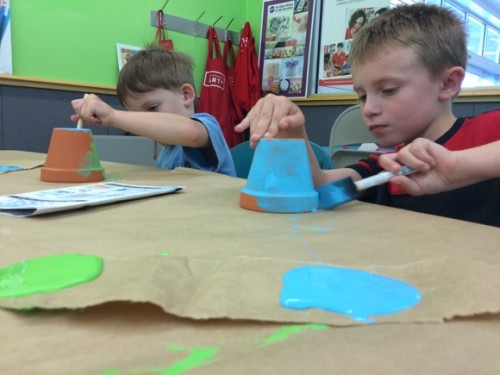 Imagine That Musuem
Trains, instruments, a pirate ship, indoor gym, fire engine and so much more can be found at Imagine That Museum. The reason it made our list of crafty places, however, is because the first room you encounter when you enter the space is dedicated to painting and creating crafts. Children can put on a smock, grab a paintbrush and throw some color on paper. Imagine That also features a special craft each weekend based on the season or upcoming holiday. Special events also include great crafting opportunities. It is certainly a place that the writers of Mommy University have enjoyed bringing their children to.
Local Hardware Stores
Our favorite crafting locations, believe it or not, are Lowe's and Home Depot. Both offer monthly kids workshops where children can learn to build a fun project. Home Depot Kids Workshops take place the first Saturday of every month. Although you can register online, it is often not required (check with your closest location for their requirements).  They offer a wonderful opportunity for kids to build fine motor skills, increase attention and bond with family members.
Glassworks
Glassworks, located in Morristown, is a glass fusing studio where  no painting is involved. All the amazing colors come from the variety of glass pieces chosen by the artist. Participants can make coasters, picture frames, jewelry boxes, different shaped dishes and more.  So how does it work? Each artist selects different types of glass accessories which is then melted and shaped. A project can take up to two hours.
Just Bead Yourself
Looking for something a little different? Just Bead Yourself is a unique beading store that allows children to create their own jewelry or home made accessories.  At Just Bead Yourself, in Westfield, you can take classes or call ahead to see if you can do a workshop. They also host special events so if you are looking for a fun Mommy and Me event, this might be a place to consider.
Learning Express
Learning Express is not only a toy store that offers brain boosting toys that we love, but each store also creates their own calendar of events which often times include craft activities. If you are looking for craft supplies, they also sell some fun and creative kits. There are close to a dozen locations throughout NJ.
The Art Place
The Art Place, located in Englewood, offers a welcoming atmosphere that helps foster imagination and self-expression. Offering beginning to advanced level courses for children and adults, there are plenty of options at The Art Place. From the basics of drawing to more specific interests such as Fashion Illustration, Comics and Cartooning, or Cake Decorating and Yummy Art, they have a catalog filled with many options.
The Young Rembrandts
The Young Rembrandts is a course that children as young as three years old can take that teaches a specific method developed over 25 years ago by Bette Fetter. It is promoted that this method has helped young children to draw while developing visual learning skills that helps them be successful in school. These classes can be found throughout NJ at places such as Kidville, the YMCA or even your local charter or Catholic school!
Bonus: This is a great list of locations where you can take your children (or even yourself) but don't overlook the hidden gems such as your local library.  The library in my town has a monthly art project on a Saturday in addition to a half dozen other projects for different aged students. Other libraries offer drop-in craft sessions every day after school or special crafting events. Check your local library for fun crafting events near you!
We hope you have enjoyed our list of 10 Brain Boosting Places to Get Crafty in NJ. Where do you bring your children to get crafty? Tell us in the comments section below!
If you like this post, you might like!