Do you have a train table in your house but your kids no longer play with trains?
If your answer is yes, then you are probably thinking of selling it or giving it away. I am here to tell you, "Don't do it!" There are so many uses for a train table that do not involve the trains and tracks it came with. Besides being great for storage (you have to love the big drawers on the bottom), it can also serve many fun and exciting purposes for your kids.
I have had a train table for about 4 years now, and I have used it for so much more than just trains. My kids' interests change like the wind so I am constantly switching up the toys. This is when I discovered that my train table can serve so many new purposes! Here are some ideas I have come up with: (affiliate links are included to make planning easier!)
Ways to Use (Reuse) Your Train Table
Vtech Smart Animals and Cars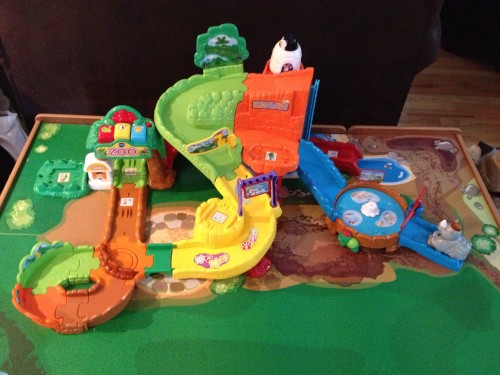 Our train table was perfect for setting up our Go Go Smart Animals Zoo Explorers Playset. You can also use any of the Go Go Smart Playsets including Minnie, Farm Animals, Police Station and more.
Pirate Adventure
This summer, my boys turned their train table into a pirate adventure. The background on our table was perfect for this as it has land and water features. We added our pirate ships, palm trees, characters and volcanoes! They had a swashbuckling good time!
Game Night
The train table is perfect for family game night. Family members can easily fit around the table while board games sit nicely on top. There is plenty of room for games like Monopoly and Scrabble!
Dino Land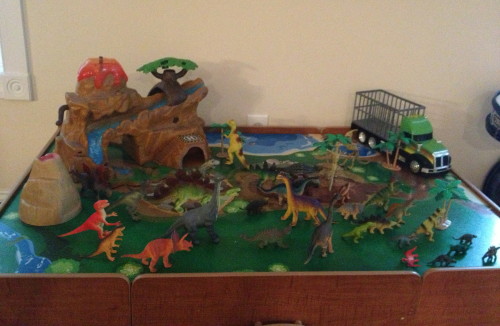 This summer my boys also turned their train table into a an exciting Dino Land. They covered the table with all their dinosaurs, volcanoes and palm trees from their Animal Planet Dinosaur Tub along with their Volcano Island Kingdom. The boys had a blast!  If you want ideas to make a Dinosaur themed day check out our Create Your Own Dino Day!
Arts and Crafts
Put out the paper, crayons, glue and scissors and the kids will have a blast making creative master pieces on their train table. The table is big enough to invite friends over for an art play date too!
Dominos
The flat and smooth surface of the train table makes it ideal for setting up dominos. Make sure you don't have a little one running around though because they will be knocked over before you even get started!
Other Train Sets
Don't feel that your train table is only for the trains it came with. Train tables are great for a variety of train sets. We had a blast setting up our Chuggington and Polar Express train sets on our Imaginarium table.
Play Doh
A train table offers the perfect space to make fun play doh creations. The flat surface allows kids to roll the dough easily and use cookie cutters to cut out fun shapes! The drawers are perfect for storing all the play doh and supplies.
Building Toys
If your child has moved on from trains and is now obsessed with Lego building sets (or any building toy) then you're in luck! Turn your train table into a building table! It's perfect for making Lego cities, log cabins, roller coasters and more! You can also store all the pieces in the drawers. You can read about the Benefits of Building Toys here!
Holiday Display
Use your train table this year to set up your holiday village! It's the perfect height to let your kids help too. This year, you can even make your own little houses with your kids and add in all those Frozen toys they made you buy!
Bonus:
The other day I saw an amazing idea for the train table drawers. Just pull out the drawers, cover them with a sheet and fill them with sensory materials! Now your drawer is a sensory bin!! You can use sand, rice or even pine cones! Check out our sensory bin articles for some more ideas.
So I hope I have convinced you to not get rid of your train table. I have been able to find endless uses for mine! Be creative and think outside the box, and you may be able to find another use that is perfect for your family!
You may also enjoy: