In full disclosure, this is not a sponsored post, but we did receive some products at Blogger Bash NYC as well as one item to review. Affiliate links are included in this article.
Ever since I was a little girl, my favorite part of Christmas morning was digging through my stocking to see what treasures Santa (a.k.a. mom) had left me. Don't get me wrong, I loved opening the presents under the tree too, but there was just something exciting about looking through a stocking.
This season, fill your kids stocking with toys that are not only fun but also educational. As I stated in our Play and Learn Holiday Gift Guide, toys should serve a purpose and encourage growth and development. What you put in your child's stocking should be no exception! Here are some suggestions for brain boosting stocking stuffers!
Play and Learn Stocking Stuffers
Bananagrams is an addictive word game that stimulates the mind. Kids and adults have a so much fun creating words that they don't even realize they are enhancing their reading, writing and spelling skills! Players also learn to think quickly and problem solve. You can play anywhere from 2 to 8 players making it perfect for family game night. Bananagrams Wild Tiles cost around $20 and can be found on amazon.com.
**Bananagrams can also be purchased in Spanish. It costs around $18 on amazon.com.
Tiggly Shapes is a fun and interactive learning toy recommended for children ages 18 months to 4 years old that works with 4 great iPad apps. Tiggly comes with 4 colorful shapes: circle, triangle, square and star. Parents download all 3 FREE apps or the Christmas app for $1.99, and the fun begins! While playing, kids will learn valuable skills that will enhance their growth and development. Tiggly Shapes can be purchased on amazon.com for around $29.95.
Creativity Can comes in 8 designs: Motion, Music, Art, Critters, Stories and Build along with the original Creativity Can and the Big Creativity Can. Each can comes with anywhere from 30 to more than 100 pieces that kids can use to develop their own creations. Creativity Can not only sparks the imagination but it also boosts children's knowledge in engineering, science, literacy, architecture and much more! Creativity Cans vary in price with the Big Creativity Can costing around $25 on amazon.com.
Go Go Smart Animals are great additions to your Go Go Smart Animal Playsets like Zoo Explorers. Each animal will take kids on a unique journey through the world of that animal while teaching them valuable academic and language skills. Smart Animals include: elephant, lion, rhino, hippo, alligator, giraffe, monkey and more. A Safari Animal 3-pack sells for around $20 on amazon.com. Other 3-packs are also available!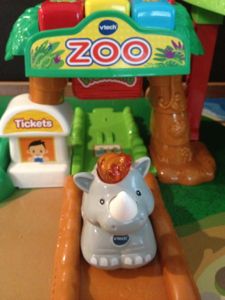 Play-Doh is one of the best sensory learning toys around! It allows kids to use their imagination and creativity while boosting their fine motor skills. It also allows for great sensory input needed by so many children. Play-Doh comes in a variety of colors and sizes. I recommend the box which you can open and place the individuals containers in the kids' stockings! The Play-Doh Case can be purchased for $9.99 on amazon.com.
Crayola Washable Products are perfect for your child's stocking. They are amazing art products that kids can use year round. Art helps kids increase imagination, boost fine motor skills and enhance visual-spatial awareness. I recommend the Crayola Washable Markers, Glue Stick, Crayons and Paint. All items can be found on amazon.com (just click on the item above).
Puppets on a Stick by Educational Insights are the perfect addition to any stocking. These adorable and durable puppets provide hours of fun while boosting kids imagination and creativity. Language skills are also enhanced as kids create their own stories and imaginary worlds. The Sea Squad Puppets (4 included) sells for around $35 on amazon.com. Puppets on a Stick are also available as pens for around $6 on amazon.com. All puppets come in a variety of colors and designs including dinosaurs and unicorns.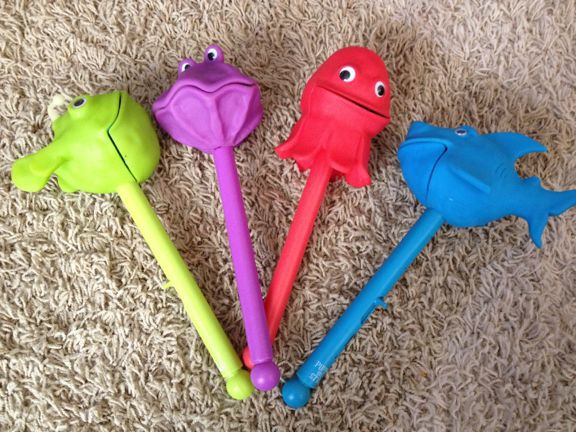 IQ Twist by SmartGames is an exciting thinking and reasoning games that will keeps kids (and adults) entertained for hours. It is a multi-level logic game that helps boost cognitive development while having fun! IQ Twist is perfect for traveling or even just playing in the shopping cart. IQ Twist is only $9.99 on amazon.com.
LeapPad and LeapTV Games are great stocking stuffers to go with the new LeapPad 3 and LeapTV system Santa put under the tree this year. LeapFrog games are geared to work each child's unique needs which helps kids improve skills AND confidence! Tutorials are also available to help children know how to correct their mistakes. If your kids want to play video games, this is the way to go! LeapPad games such as Jake and Never Land Pirates Math game sells on amazon.com for around $12.50. LeapTV games like LeapTV Sports sells for around $23 on amazon.com.
Learning Resources Pop Games make wonderful stocking stuffers with amazing educational value! Pop Games are fun and interactive games that help boost various academic skills like math, color and number recognition, rhyming and sight words. Pop Sight Words Game is only $9.99 on amazon.com. Pop Word Families also sells for $9.99 on amazon.com. Have little ones? Preschool Pop for Colors, Shapes, Rhyming and Counting are also available for $9.99 on amazon.com (click on each game for the link).
So there you go! My list of 10 amazing brain boosting stocking stuffers! Happy holidays!