In full disclosure, this post in not sponsored; however, some toys were provided at no cost in exchange for honest reviews. Affiliate links are also included. (Above Photo Credit: Luna Blue Studio)
Since even before I was a parent, when I purchased a toy for a child, I made sure it had a purpose. For me, a toy has to encourage learning, development and growth in some way otherwise what is the point? Toys and games should stimulate the brain, make kids think and reason and/or spark the imagination. Children learn through play so we have to make sure that play is meaningful!
After careful consideration, and several Mommy University reviews, we have come up with a list of 17 toys that you are sure to LOVE this holiday season. This list is broken down into 5 categories: Academic Development, Sensory Play, Cognitive Development, Imaginary Play and Motor Development. Since EVERY toy chosen also encourages growth in the area of language development, a separate category is not needed for this area.
Play and Learn Holiday Gift Guide
Academic Development
Go! Go! Smart Animals Zoo Explorers Playset is a new fun, interactive and exciting learning toy by VTech for kids ages 1 – 5. It takes a multi-sensory approach to play allowing kids to explore their creative side while learning all about animals, shapes, colors, sounds and more! The SmartPoint technology adds to the adventure as it provides ongoing opportunities for new songs, phrases and sounds. Zoo Explorers Playset costs around $39.99 and can be found at local retailers and amazon.com.
LeapTV is an exciting new gaming system that is designed specifically for kids ages 3 – 8 years old. Just like all LeapFrog products, the goal of the LeapTV is to create the best first experience for kids so they can reach their true potential. LeapTV has 3 unique ways to play: Classic Control – using the new child friendly controller; Pointer Play – where simple twists and turns of the wrist can create an exciting new adventure; and Body Motion – with the use of the motion sensing camera, the child can jump, wiggle, spin, dance and more to play games. LeapTV sells for around $149 and can purchased at local retailers as well as on amazon.com.
VTech Lil' Speller Phonics Station helps kids learn how to build and learn words through a multi-sensory learning approach.  Kids discover letters and letter sounds through the use of games and 30 letter blocks. Kids are enhancing their basic reading skills while also boosting their confidence. VTech Lil' Speller Phonics Station can be purchased at local retailers and amazon.com for around $24.99.
Tiggly Counts offers an innovative and exciting new way to learn and reinforce math concepts using your iPad. It comes with 5 colorful and durable pieces that can be used to play 3 different math based apps: Cardtoons, Chef and Addventures. Each game offers a multi-sensory approach to learing and reinforcing basic math concepts. Tiggly Counts is suggested for children ages 3 and up. It costs only $29.99 and can be purchased at Tiggly.com or amazon.com.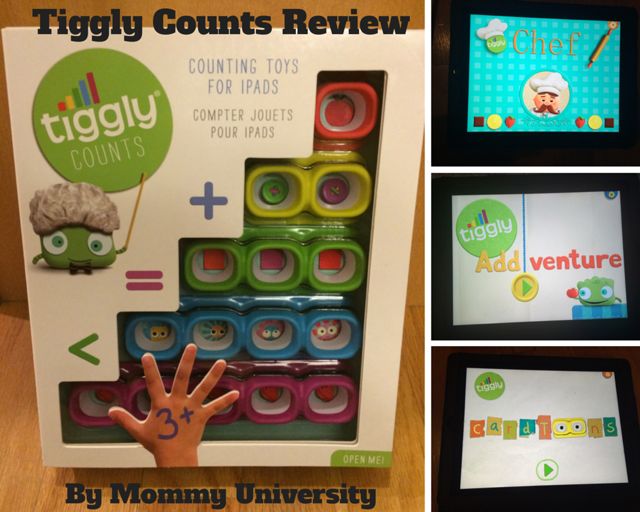 The Wonderfoam USA Floor Puzzle is a great way to enhance your child's awareness and understanding about American geography and history. This puzzle includes 57 pieces that pictorially represent the United States including the 5 Great Lakes. Kids will also boost their problem solving and visual-spatial skills while solving this puzzle. Wonderfoam USA Foor Puzzle can be purchased for under $30 on Classroom Direct or amazon.com.
Motor Development
The Original 8.5 eWriter by Boogie Board is a light-weight, eco-friendly way to take and keep notes in and out of school. It weighs only 4 ounces and is only 1/8 inch thick so it fits easily in your purse, backpack or diaper bag! It's small size and light weight also makes it perfect for kids to carry around in school, sporting events or in the car. The Boogie Board is perfect for practicing writing skills and boosting fine motor control. Boogie Board – The Original 8.5 retails for only $29.99 and can be purchased at local retailers as well as on amazon.com.
Uncle Milton Dino X Team T-REXcavator Dinosaur Excavation Game is a fun, exciting and interactive game that offers a great learning experience for kids ages 5 and up. This game allows them to explore and learn all about dinosaurs while also enhancing important developmental skills such as fine motor development. You can purchase this fun game from local retailers as well as amazon.com. Prices vary but I have not seen it for more than $19.99.
Just Play Mickey Mouse Mousekadoer WorkBench is the perfect first tool bench for kids. It's bright and colorful tools are easy to manipulate and maneuver which is great for small hands. This toy is great for enhancing fine motor skills and encouraging pretend and imaginary play. Kids also increase their hand-eye coordination and visual-spatial skills all while having fun! This tool bench sells for around $39.99 and can be purchased at local retailers and on amazon.com.

LeapBand by LeapFrog is an amazing new product that encourages kids to stay fit and healthy while also boosting their gross motor skills including coordination, motor planning and balance. LeapBand also fosters imaginary play and creativity as kids perform various challenges. As kids play, lessons and facts about healthy eating are also presented. Parents can also monitor their child's progress online! LeapBand can be purchased at local retailers and on amazon.com for around $24.99.
Cognitive Development
GoldieBlox offers 3 fun and creative building sets that use story telling to get girls excited about building. Each set comes with a book about Goldie, an inventor, and her problem solving adventures. These construction sets help kids increase spatial skills and develop a better understanding of basic engineering principles. Sets range in price from $19.99 to $29.99 and can be purchased at local retailers and on amazon.com.
Lego Building Sets are the perfect brain boosting toys for kids of all ages. They help enhance spatial awareness and problem solving skills while also building confidence. There are a wide variety of Lego toys available from Lego Duplo sets for little ones to Master Builder sets that include over 600 pieces. For detailed information visit the Lego website. Lego building sets can also be purchased on amazon.com, local retail stores or a Lego Store near you.
Imaginary Play
Uncle Milton's Frozen Olaf Wall Friends is a fun new toy that sparks the imagination, encourages children to communicate and fosters independence. It is a toy, a night-light and a friend! Olaf is hung on your child's wall and controlled using a simple remote. Frozen Olaf Wall Friends can be purchased at your local retailers as well as online at amazon.com or unclemilton.com. Olaf sells for $34.99 and up.
Step2 Lil' Chef's Gourmet Kitchen is the perfect play set to encourage imaginary and pretend play. With 3 realistic electronics, a chalk board and various cooking supplies, kids will have a blast creating special meals for their friends and family. Kids build their social skills while learning to play and work together to make creative meals. Language skills are also enhanced as kids learn to label various kitchen items. The Chef's Gourmet Kitchen can be purchased at your local retailers or amazon.com for around $129.99 and up.

School Smart Durable Play Kitchen Dishes Pack is a great gift to go along with your play kitchen. This set comes with 55 colorful pieces including plates, cups, utensils, pans, teapot and more! Kids will enhance their imagination and creativity while pretending to be a chef and making elaborate meals for their friends and family. This Kitchen set sells for under $50 through Classroom Direct or amazon.com.
Sensory Play
Sands Alive Let's Go Learn is a great product for children (and adults) as it offers little hands plenty of opportunity to explore, create, and imagine. The tactile feedback makes it fun for kids to squeeze and shapes into the various molds. As they create different shapes, they are beginning to use their imagination. This product also has a therapeutic component. Since this Sands Alive toy comes with it's own carry case, it is great for travel. Sands Alive Let's Go Learn sells for about $59.99 and can be purchased on amazon.com.
Fisher Price Laugh and Learn Puppy Smart Home is an adorable house created for kids ages 6 – 36 months. It allows babies and toddlers to explore and discover new sounds, sights and phrases all while having fun. This exciting learning toy has two sides of interactive play where kids can push buttons, peek through windows and learn shapes, colors, letters and sounds. With Smart Stages technology the toy will "grow" with the child. Each level is created for a specific age range and revolves around the needs of the child at that age. The Smart Home can be purchased on your local retailer or amazon.com for $79.99 (and up).
b Kids Play with Me Laptop is an interactive lap toy for children ages 6-36 months. The screen makes bright and happy facial expressions which engages little ones and it's cute and bubbly voice encourages little hands to keep exploring it's keypad. My children enjoyed carrying this laptop with them and is often times used for trips in the car.
For more gift ideas, check out our favorite brain boosting toy companies as well as fun Disney toys we love!
Also check out our Play and Learn Stocking Stuffer Guide for fun and education stocking stuffer suggestions!