It's finally here! The day you have been planning for weeks (even months). You picked out the perfect outfits, got the perfect haircuts and even bought new make up! That's right…
It's Family Photo Day!
Many people put a great deal of time and energy into choosing the perfect location, the perfect photographer and the perfect clothes. You may have even been saving for months to afford your epic family photo shoot. So how upset would you be if NOTHING goes your way? The kids are crying, your husband is groaning and (gasp) the location is under construction!
After having mini sessions with my sister who owns the amazing Kristina Britt Photography, I got to thinking about how to make family photos as successful as possible. As parents, we know anything can happen, but being proactive and planning effectively can help make the day run more smoothly. With a little extra planning, family photo day can be a great success!
I am extremely lucky that I have family to take my pictures so my kids are comfortable and VERY used to smiling! For others, family photos are a dreaded day that comes once or twice a year.  Knowing how important pictures are to so many people for so many reasons, I have come up with 5 tips to help make family photo day successful!
5 Tips to Make Family Photo Day Successful
Choose Your Photographer Carefully!
It is so important to choose a photographer that will mesh well with your family. If possible, meet with the photographer first or have a conversation over the phone. As a parent, you know what kind of person will click best with your kids. Choosing the BEST photographer in the world will mean nothing if your kids don't like them!
It is also important to choose a photographer with experience with families and children of a certain age. Just because someone is amazing at weddings, it does not mean they are the right family photographer for you. Also, the person you had for your newborn shots may not be the person you should use for family photos in the park. Each photographer has their own specialty so choose wisely.
Make sure the kids are well rested and fed!
There is nothing worse than a cranky, tired and hungry child, especially when you are trying to get them to cooperate AND smile! Make sure you pick a photo time that works with your child's eating and sleeping schedule. Never schedule during nap time or a meal time. You are just asking for trouble if you do! (One exception is newborns because sleeping babies make for the cutest pictures!) You know your child best so choose a time that they are the most lively and awake.
Now we all know as parents that no matter when or how much you feed your child, they will inevitably be hungry. My advice is to pack some snacks. Stay away from anything messy or sticky like yogurt or peanut butter, and choose carrot sticks or goldfish instead.
Dress Comfortably!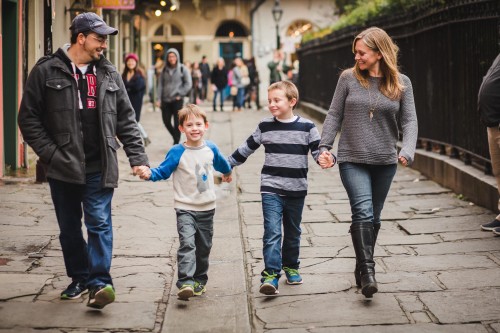 I know what you are thinking, but they have to look cute! There are plenty of outfits out there that are cute AND comfortable. Imagine a photo shoot when your child keeps itching himself or, better yet, he starts undressing because the tag is bothering him. You can avoid these meltdowns by trying on the clothes beforehand and making sure the child can move freely and is comfortable.
When a child is comfortable in their clothes, they are more active and playful. A child laughing and playing with his parents and siblings is a photographer's dream. A child that is uncomfortable is the one that will throw his body on the floor and refuse to get up or rip off the matching hat you bought the whole family. Take my advice choose comfort first!
Make a Day of It!
Many times the reason the kids (and your husband) are cranky is because they feel the entire day is dedicated to pictures, and there is nothing else to look forward to. When booking your family photos, pick a place that your family loves and can enjoy for the remainder of the day. For example, pick your favorite park, and when the shoot is over, have a picnic or enjoy a small game of football. You could also choose a location that is near your favorite restaurant so the kids know they will get their favorite meal or dessert if they behave!
Family photos are supposed to be a fun and memorable experience. Choosing a location the entire family loves will make it more meaningful for everyone. You can even let the kids help choose a location so they feel more involved. Maybe your son has a favorite tree he likes to climb that would make for a perfect backdrop!
Prepare, Prepare, Prepare!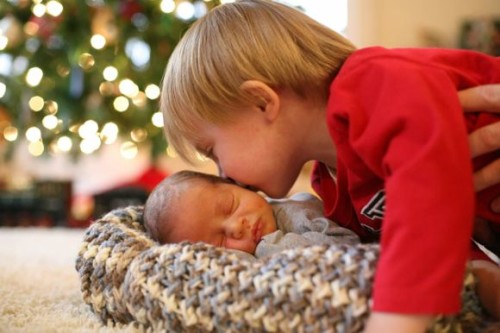 The best advice I can give as a parent and a photographer's assistance is to make sure you prepare your kids for the photos. Let them know photos are coming up and where. Set clear expectations and rules regarding behavior and following directions. You can even set up a reward system such as if they cooperate, then they can watch a movie that night or go out for ice cream.
Many kids need and want structure. Preparing kids lets them know what to expect so they are less overwhelmed or confused when the event occurs. This is especially true for a child with special needs. It is also important to prepare the photographer for any issues that may arise based on the needs of your children. If the photographer is aware of any specific needs, she can be prepared with back up plans.
So there you go! Those are my 5 Tips for Making Family Photos Successful! I hope you have found them useful. Enjoy your next family photo shoot because remember photos are our way of capturing special moments in time so they can live on forever!
If you like this, you might enjoy!