This is not a sponsored post.
Crayola is not just a brand but an icon in childhood and creativity! Most of us had Crayola products as part of our childhood homes or used it to create our initial artistic endeavors and so will our children.
As a resident of New Jersey, I have easy access to New York. However, most of us can forget all the rich history and opportunities Pennsylvania has to offer. One sunny Friday in August, my family and I crossed the border to visit the Crayola Experience. We knew we would have fun, but who knew what an amazing educational experience we would have!
Here are 5 Educational Benefits For Visiting The Crayola Experience:
Enhances Motor Skills
It is easy to identify playing with crayons as a strategy to improve a child's fine motor skills; however, at the Crayola Experience there is so much to explore that goes beyond the traditional. For example, children can explore crayons in their liquid form. In our favorite space, "Meltdown", which contains oversized crayons that hold various colors of liquid wax children, kids can draw on paper using q-tips. While I attempted to channel my inner Eric Carle, my children channeled their inner Jackson Pollok.
Located on the fourth floor, "Meltdown" is surrounded by other areas as well as a view of the children's playground located in the center of the third floor. I do appreciate that this facility is here as my son has a lot of energy and sometimes he needs breaks in between the other stations. Children can build their muscles and gross motor skills as they climb, jump and slide down the jungle gym.
Encourages Academic Growth
Teachable moments are all around at the Crayola Experience. In "Melt & Mold" children can create a crayon shaped like a dinosaur or fish which helps enhance language and object recognition. It is also a fabulous lesson in science. Since this is located next to "Meltdown" you can have great conversations about how the material changes its shape based on the temperature. Children can also learn about how crayons are made at the "Crayola Factory" which includes a small animated presentation. They will not only cover the creation of this childhood staple, but they will also share unique trivia about crayons.
My son really enjoyed the "Water Works" which has visitors put a crayon boat in the water display and explore aqueducts, canals and locks. At first, I thought this was an interesting space until I started reading out loud all the panels listing information. What I learned as well as my son was about gears and devices. He was exposed to basic engineering principles as well as cause and effect.
Stimulates Imagination
Crayola is about fun and creativity. Playing with crayons allows children to reimagine their world and express themselves. I liked the Crayola Experience because my children opened themselves up to new avenues for self-expression as well as enabled me to challenge them with new textures and media. "Doodle in the Dark" offers a dark room with large doodle boards where you can draw with glow in the dark markers. It really does invert how you think about colors (remember most times a canvas is white).
If you have little ones "Drip Art" offers them the opportunity to create artwork by dripping melted wax on a canvas. Children will love to experiment with the colors to create unique pieces. You can ask them beforehand what they think the artwork will look like and discuss afterwards how the design emerged based on how it was created. There are plenty of other spaces that offer additional imaginative benefits.
Sensory-Based Learning Activities
The Crayola Experience offers a wide variety of opportunities to learn through all the senses. Children can touch, smell, see and hear all about crayons and the world of art. The "Modeling Madness" section contains oversized tables, molds and plastic cutting tools to create three-dimensional shapes out of Modeling Clay.  Both my children really enjoyed this sensory-based activity and creating their own sculptures.
Family Bonding
If your family is laughing together, it is a positive and memorable experience. In the Crayola Experience, there are so many opportunities for children to share a moment with their parents. Whether it is at the "Colossal Caddy" where you color sheets underneath oversized crayons or each of you are making up your own crayon wrapper or even just hanging out in the "Toddler Town" and letting little ones explore the oversized Lite Brite wall. For us that day it was a photo of my mom, myself and my two children converted into a coloring sheet. In "Be a Star" a photo taken of you can be converted into a coloring sheet which is a unique family memento. Most importantly, we are all genuinely smiling.
Here is what you need to know to visit The Crayola Experience:
It is located at: 30 Centre Square, Easton, PA 18042
Facebook page: https://www.facebook.com/crayolaexperience
Website: http://www.crayolaexperience.com/
Cost of attendance was $19.99 per adult.  Click below for special prices for Mommy University readers!
Children under 2 years of age are free.
An Annual Pass is available of $31.49 per person.
Each individual who purchases a ticket is provided tokens which can be used to purchase the crayon wrapper, modeling clay, rainbow markers and other items. Please note, you can purchase more tokens or items if needed.
Parking: There is a parking garage across from the Crayola Experience; however, we parked on the street at metered parking for $1 for each hour. Unfortunately, the meters vary by maximum time permitted.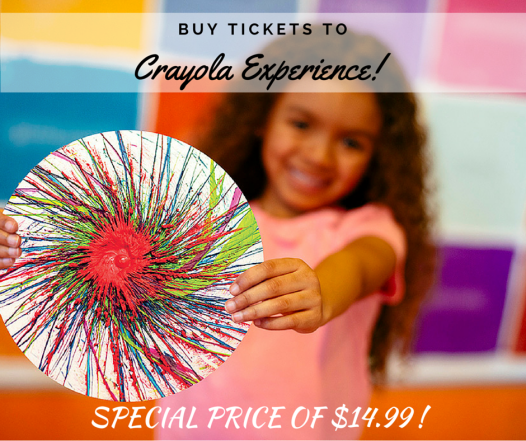 We hope you enjoy your road trip to The Crayola Experience!!
This is not a sponsored post.