In Jessica's article, "Kids & Science" she mentioned that science is everywhere. Growing up in a family that emphasized the humanities, I believe art is everywhere as well. It is great to write for Mommy University to explore these topics individually as well as a collaborative team. Art is not isolated rather it can intersect and overlap with science, literature, and yes, even math.
As adults, we have our own perception of art which can range from the Mona Lisa to Monet's Water Lillies to Jackson Pollok's paint splattered canvases. Children do not need to be bogged down with the intricacies of art history or technique. Encourage them to participate in art activities and let them enjoy through their own exploratory process. There are extensive lists which discuss all the possibilities of why art is beneficial to children which we could detail but we preferred to offer a select few that we find important!
Mommy University Presents
10 Benefits of Art
Engages All the Senses
Art offers opportunities for kids to use all of their senses. Playing with various materials provides children with diverse tactile information which is especially important for little ones as they learn primarily through touch. The smell of the paints and crayons gives children olfactory information. The visual input enhances basic knowledge as well as provides children so much to talk about. While painting, drawing, sculpting and coloring, children can also pay close attention to all the sounds they hear and create. Our favorite is integrating books the children are reading with art projects.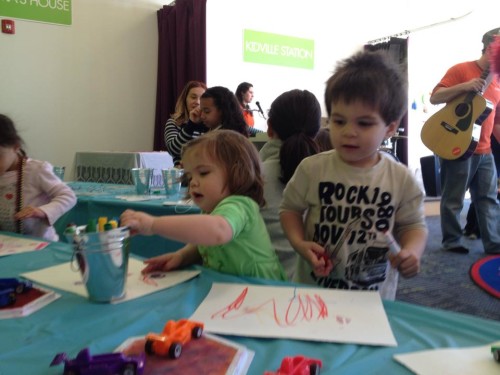 Develops Fine Motor Skills
By using scissors, crayons and glue children are developing their fine motor skills. At first, they may not be able to hit their mark but they are learning every time they play and engage with art. It also increases fine motor strength and coordination which is important when learning to write!
Enhances Visual-Spatial Awareness
Playing with finger paints, cutting with scissors and pasting objects together increases a child's visual spatial awareness. It teaches them to examine the world around them as well as discriminate between various colors and shapes. This is a critical skill kids need to learn to read!
Increases Academic Knowledge
Art projects can introduce young children to academic concepts such as colors and shapes. While creating, you can ask your child label shapes and colors. You should also ask them to show which is smaller and bigger as well as what is on top and what is on the bottom. For older children, art can involve exploring the historical influences that surround the various artists as well as learning about different cultures.
Develops Critical Thinking Skills
According to the National Art Education Association, the arts teach children there is more than one answer to a question. By the same token, there may be more than one solution to a problem.
Increases Cultural Awareness and Understanding
Artistic expression can be influenced by cultural history and background. By looking at different art pieces and by creating art pieces that reflect a specific artist, our children are exposed to the world around them. They begin to learn about different cultural beliefs and learn to embrace diversity.
Starts a Dialogue
I fondly remember visiting a coffee house and listening to a group of teenagers argue over Jackson Pollok and whether he was actually an artist or a conman. Art stimulates conversations and progresses the world forward to think in creative ways. While this point might be more applicable to older children, think of a little child and all the interesting conversations you can have by attempting to find hidden images in Bonnard's paintings or Finding Waldo. It is that simple. This also helps expand vocabulary and enhance language development!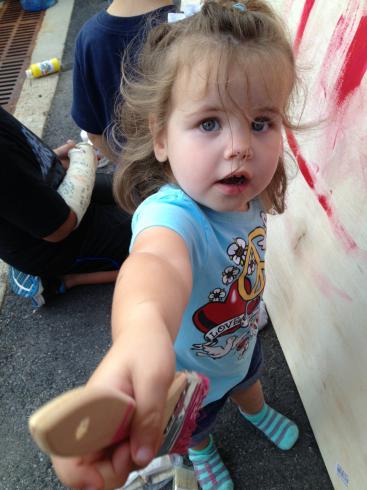 Allows for Self-Evaluation
Through art we can learn to self-evaluate. Through our drawings we begin to explore ourselves and the world around us. Through the artwork created by others we begin to look at the world through a different lens and thus evaluate ourselves in that world.
Increases Creativity and Imagination
I find this an interesting benefit that art increases creativity when art itself is a creative expression. The more children can play with paints, markers and crayons, the more they are feeding their imagination. The book "The Day the Crayons Quit" takes the reader on the journey of different colored crayons who are quitting. Some crayons are quitting because they are tired of being ignored and suggest to the boy who uses them to color differently, for example a pink dragon. Thinking outside our traditional definitions increases creativity.
Calming and Therapeutic
If your child finds comfort in artistic expression, this can become an outlet during times of stress or tension. It is not surprising to see grown adults coloring sheets as a method to relax. For some children, art can serve as an avenue to express their emotions before they are able to vocalize them.
We are going to explore this topic in more detail with upcoming posts. Some will offer suggestions on how to encourage your children to explore art while others may discuss various artistic activities available to the families in New Jersey.
If you like this post, you might like: