This is NOT a sponsored post.
Are you looking for an amazing vacation destination that provides more than the traditional pool and game room?
Crystal Springs Grand Cascades Lodge located in Sussex County, NJ is not only a vacation paradise, it is also a resort full of adventure and excitement! Grand Cascades allows families to bond while also providing numerous opportunities for kids to grow and develop.
How can a resort boost child development?
I have made it my mission to find the academic value in everything, and if it isn't there, then look harder! At Crystal Springs Grand Cascades, you don't have to look very far to find the cognitive and academic value in their programs, grounds and activities.
I have stayed at Grand Cascades several times over the past 2 years. Each time, I found a new and exciting adventure waiting for us.
How to make your stay at Grand Cascades a learning and growing adventure (while still having time to relax):
The Pools
Grand Cascades Lodge offers several areas for swimming. It is a known fact that swimming is beneficial for children at all ages. Not only is swimming fun, it also increases coordination, gross motor skills and endurance. It also helps reduce stress. Swimming together as a family is also a great way to bond and develop stronger relationships.
What I LOVE about the Biosphere Pool Complex is that there is an aquarium next to the pool. What a great way to learn about fish! My kids loved naming the fish and watching them while they swim themselves.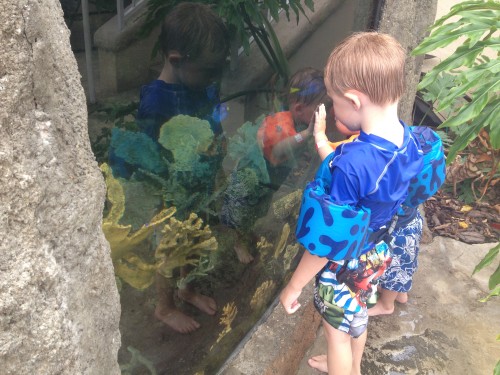 Events/Activities
Crystal Springs Resort offers a wide variety of free and low-cost activities during your stay. They include:
Hiking
Outdoor games such as billiards, ping-pong and foosball
Pool games
Child and adult fitness classes
Marshmallow roasts
Face Painting
Bingo nights
And more!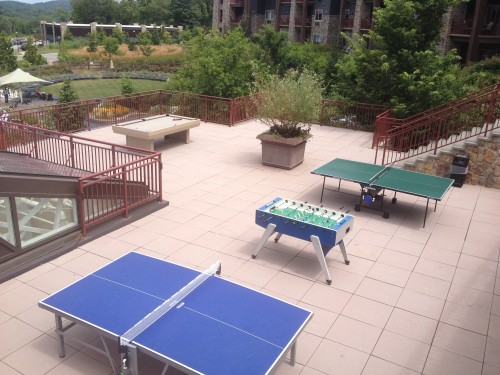 Each activity promotes different areas of development from increased communication and social skills to enhanced motor skills. Many activities also encourage healthy living and eating. During our most recent trip, we were able to see a FREE show by Rizzo's Reptiles which my son LOVED! We learned all about reptiles including seeing and touching spiders, cockroaches and snakes! What a great learning program to experience poolside!
Chef's Garden
Chef's Garden is an amazing restaurant at Grand Cascades Lodge that offers "garden to table" dining. What I love is next to the restaurant, families can walk around the garden to see all amazing vegetables and gorgeous flowers. This teaches kids about healthy eating and the importance of gardening. Families can watch as the chefs pick ingredients right from the garden which motivates youngsters to make their own garden at home!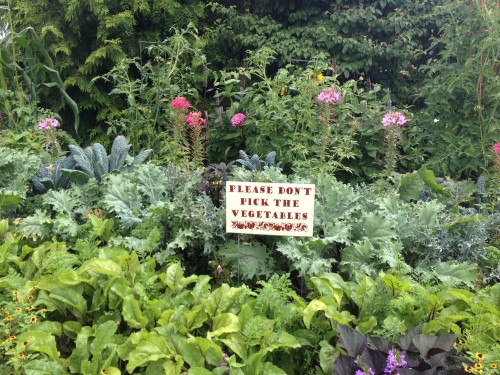 The Amazing Grounds
The views from Grand Cascades Lodge are breathtaking and inspiring. It teaches families to really appreciate nature and motivate them to take care of our environment. Around the resort, families can enjoy family walks while learning about various flowers and plants. During our last trip, we had a great time walking around the resort and reading all the little plaques stating the type of flower or plant we were looking at. Without even knowing it, the kids were learning about nature and science.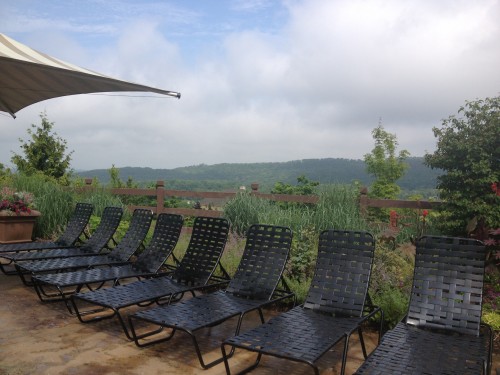 Chess
Chess boards are found on almost every floor of the Grand Cascades Lodge. A life-size Chess board is located at the pool as well. Playing Chess is great exercise for the brain and helps improve cognitive functioning. When playing Chess children enhance their problem solving skills, memory and focus. It also fosters thinking and reasoning abilities. Lastly, playing Chess is great for family bonding and encouraging friendly competition.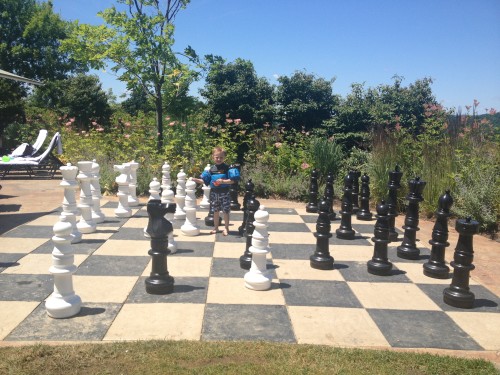 The Natural Grass Putting Course
Although there are golf courses all around Crystal Springs Resort, I find this adorable and gorgeous putting course to be my favorite for children and families. This 18-hole course is perfect for kids of most ages. My 5-year-old LOVED it, while my 2.5 year old had fun, but did not make it quite to the end.
The Natural Grass Putting Course is offered FREE to guests at Grand Cascades Lodge. Participants each get their own golf club and ball. As you putt around the course, you can see fish and frogs in the beautiful water cascading through the course. The developmental benefits of playing golf are that it enhances eye-hand coordination, patience, visual-spatial awareness and reasoning skills. It can also help boost kids self-confidence!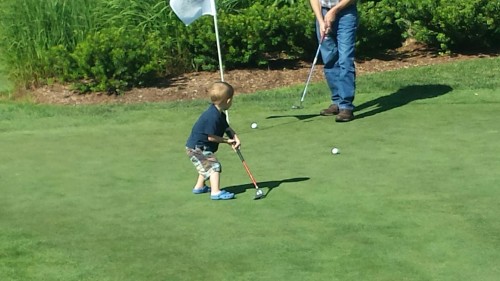 So if you are looking for an amazing getaway (for any season) then head on over to Crystal Springs Grand Cascades Lodge! You will have a blast while your kids enjoy experiences that will help build skills that will last a lifetime!
If you like this post, you might like: