Mommy University is excited to partner with Fun & Function to bring you this exciting holiday giveaway!
Empowering different is a theme that Mommy University believes is a wonderful motto! Fun & Function is a company that produces tools and toys that can help support your child especially if they have special needs. As the parent of a child who has sensory needs, I have always sought out gifts that meet my child's needs in addition to the "big toy" presents that typically accompany the holiday season. Children have fun with toys by Fun & Function but they serve a developmental benefit that meets their unique needs. The website is easily organized so that you can locate recommended items based on need and most items have informative videos to help explain how to use.
This year, we reviewed the Jumping Board which is perfect for a child that is a bundle of energy while improving their balance and strength. It is a sturdy device which actually means it can travel with you especially due to its compact size. This is a great big present that helps with your child's motor skills. You can read our review here!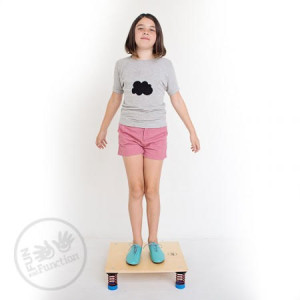 Last year, I had the opportunity to observe how my son used the Dog Tag Chewie. He quickly became happy to use the necklace on a regular basis, and I have been telling everyone where they can locate them. My child's Occupational Therapist was so impressed by the quality and design of the Dog Tag Chewies, she made a point to ask us where she can recommend others to buy. You can read our review here!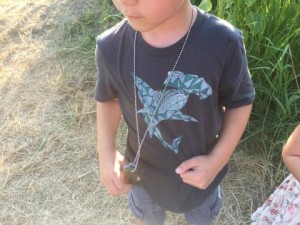 These are just two of the options available each offering a benefit to your child. We believe in the products sold by Fun  & Function which is why we are so excited that they compiled the Holiday Gift Guide for 2017! The guide offers several suggestions based on age range and include some phenomenal toys like Emotion Cushions or the Penguin Weighted Blanket.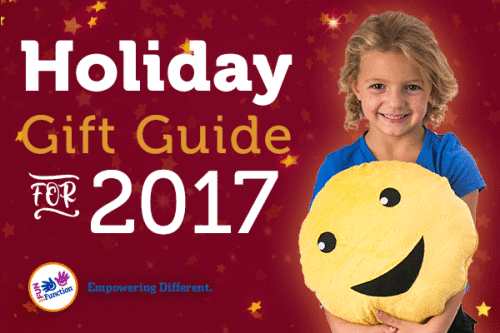 Now you can win a $25 gift card to Fun & Function where you can have fun shopping for your child or loved one!
Here are the rules and conditions for this amazing giveaway:
Participants MUST live in the United States.
The winner will be chosen by Rafflecopter.
The contest will run from November 20, 2017 through 12am on December 1, 2017.
The winner will be announced on December 4, 2017.
The winner will receive the $25 Gift Card from Fun and Function. We cannot guarantee that the gift card will arrive prior to December 25th.
The winners must respond within 1 day or another winner will be chosen.
To enter, participants can earn entries by: visiting the Mommy University Facebook page (likes are appreciated but not required), following Mommy University on Twitter, sharing the contest with friends, sharing our Play and Learn Gift Guide, entering another MU giveaway, commenting on this blog post by answering the required question and providing an email address.
No purchase is necessary to win.
Your chances of winning are dependent on the number of entries received.
Enter here: a Rafflecopter giveaway

If you like this post, you might enjoy: