Mommy University is excited to partner with Mindware to bring you this exciting holiday giveaway!
At Mommy University, we truly believe that involving children in cooking promotes developmental benefits as well as family bonding. When we think of family meals around the holidays or Sunday afternoon, they are warm memories of laughter and special meals. As a Learning Partner, we have loved the toys and tools that Mindware sells including the Playful Chef collection.
One of our strategies for encouraging children to develop an interest in cooking is to include pretend play toys; however, as they mature and their skills improve, it is time to equip them with their own cooking tools. This step is perfect and aligns with another step which is to include them in cooking. Let them help!
The Playful Chef collection is designed for smaller hands and promotes a love of cooking. In addition to the Playful Chef Deluxe Cooking Kit, Mindware offers a Chef Coat, Apron, Knife Set and Baking Kit. They even have a Chocolate Studio!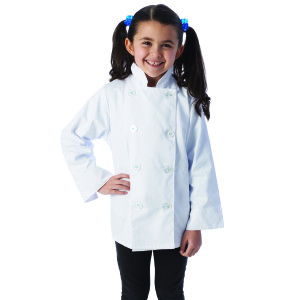 For all these reasons we included The Playful Chef Deluxe Kit in our 2017 Play & Learn Holiday Gift Guide! We are even more excited to partner with Mindware to offer this giveaway!
The Playful Chef set is an entire kit to inspire your budding chef with an apron, color coded measuring cups and spoons as well as cooking tools sized for their smaller hands. The valuable life skills they learn will be priceless as they grow with healthy eating habits. Designed in a beautiful blue that appeals to all children ages 4 and older, the set is valued at $40.
Here are the rules and conditions for this amazing giveaway:
Participants MUST live in the United States.
The winner will be chosen by Rafflecopter.
The contest will run from November 7 through 12am on November 21.
The winner will be contacted on November 21.
The winner will receive the Playful Chef Coat and Baking Set from Mindware. We cannot guarantee that the prize will arrive prior to December 25.
The winners must respond within 1 day or another winner will be chosen.
To enter, participants can earn entries by: visiting the Mommy University Facebook page (likes are appreciated but not required), following Mommy University on Twitter, sharing the contest with friends, providing an email address, sharing a Cooking with Kids article and commenting on this blog post by answering the required question.
No purchase is necessary to win.
Your chances of winning are dependent on the number of entries received.
Enter here: a Rafflecopter giveaway

If you like this post, you might enjoy: