Volcano Bay is the newest theme park to open at Universal Orlando Resort. As part of our Family Forward vacation, we were lucky enough to experience all it has to offer including an early entrance to the park. Beautifully themed, you will feel as if you have walked onto an island as soon as you enter. From the bold island colors to the crystal clear water to the sandy "beaches," Volcano Bay will whisk you away on an amazing family adventure!
Volcano Bay does a wonderful job catering to individuals of all ages. At first, I was a little concerned as most of the rides appeared to be too intense for my kids; however, once we arrived, I was incredibly surprised at how much there was for my boys (ages 5 and 8) to do. Although Volcano Bay offers incredible experiences for thrill seekers, it also offers endless water play for little ones too!
5 Must Do Experiences with Little Kids at Volcano Bay
Interactive TapuTapu Spots
Upon arrival, guests are provided waterproof TapuTapu bands that are to be worn throughout their day at Volcano Bay. The bands have been promoted as ways to hold your place in a virtual line so you can enjoy more waterpark fun instead of waiting for rides. These bands, however, offer so much more! As we walked around the park, my kids discovered new and exciting ways to use these bands that offer endless learning through play.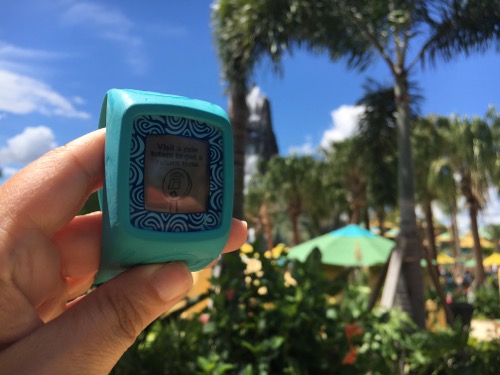 Throughout Volcano Bay, guests can find interactive TapuTapu stations that offer tons of fun. When guests tap the band at the station, a fun water action will take place. For instance, we spent a good 15 minutes standing on a bridge tapping our bands to squirt water on unsuspecting lazy river riders.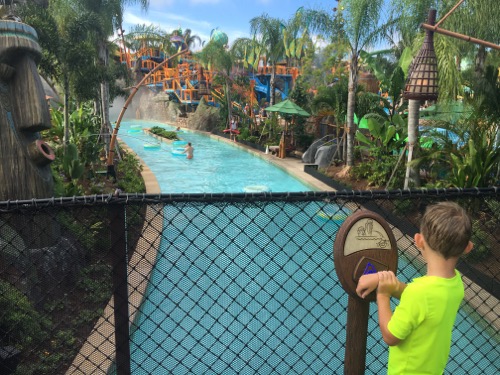 There are also stations located within two pools: Puka Uli Lagoon and The Reef. Each station teaches kids all about cause and effect. As they tap their bands, various water actions take place. From squirting water to spinning windmills to making the water bubble up beneath them, the kids can play for hours at these interactive stations.
Krakatau Aqua Coaster
In my opinion, Krakatau is the BEST ride at Volcano Bay. Guests 42 inches and taller can experience this amazing aqua coaster. You can use your TapuTapu to hold your space in line; however, if you arrive early, you can get on with little to no wait. Guest will climb aboard an inflated canoe and embark on an amazing adventure that takes you through the volcano. It was a thrilling but not overly scary ride making it a perfect choice for kids who meet the height requirement. My 5-year-old said this was his favorite ride in the park!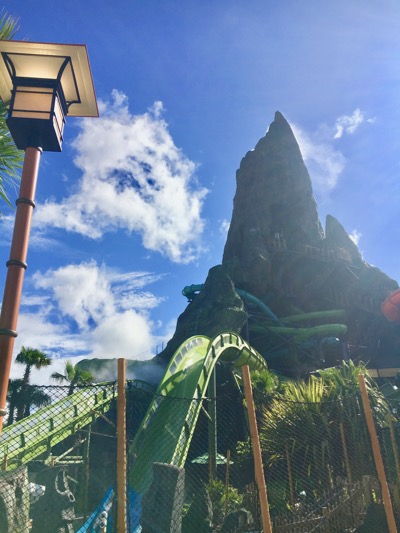 Explore the Volcano
While walking around the waterpark, we stumbled upon a walkway that took us through the volcano. It was amazing to see the details up close and realize what craftsmanship and artistry that went into creating such a magnificent volcano. As we walked along the path, we went through caves and enjoyed interactive TapuTapu spots. There is also a little splash area the kids will love. It is important to note that you will get wet while walking along this path, but not soaked.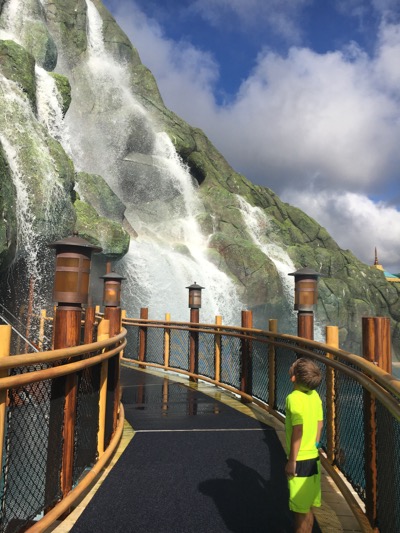 Lazy Rivers
Volcano Bay is unique in that it offers not just one but TWO lazy river experiences. For a nice relaxing ride, check out Kopiko Wai Winding River. Located in the River Village section of Volcano Bay, this lazy river is perfect for the entire family. Guests of all ages can rest in a tube and coast along the river.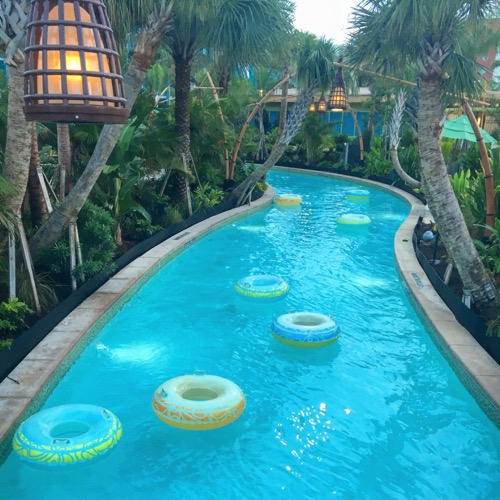 For a more adventurous river ride, head over to Rainforest Village to ride TeAwa The Fearless River. Guests 42 inches and taller will climb on tubes and float along a river, however, more excitement will be had as they experience whitewater rapids along the way. This was our favorite lazy river as we rode it around several times. It added an extra element of fun while still offering a family friendly adventure!
Runamukka Reef
Volcano Bay offers two splash areas for little ones: Runamukka Reef and Tot Tiki Reef. Runamukka Reef was my 5 year old's favorite area in the park. In fact, he could have played there all day if we let him. With multiple water slides, splash areas, dumping buckets and water blasters, kids can have hours of fun playing.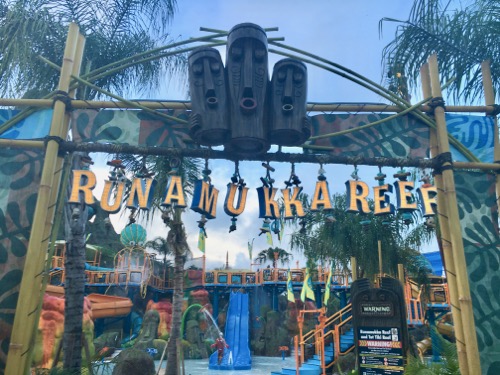 As kids explore, parents can relax in the seating area or play along with their kids! Guests will have a picture perfect view of the volcano as they explore the bridges and try out the various slides. This is also a great space for kids to make new friends!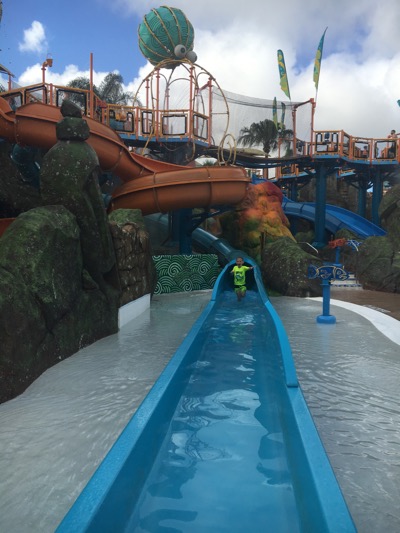 For the smaller Volcano Bay guests there is Tot Tiki Reef. This area offers tot sized slides and water play areas. Both areas are carefully watched by trained lifeguards.
Volcano Bay is located next to Universal's Cabana Bay Beach Resort and is open daily. You can purchase tickets for just this theme park or multi-park passes that include Islands of Adventure and/or Universal Studios. You can bring towels into the park but they are also available for rent for $5/towel. There is also an abundance of life jackets available throughout the park which is just another way Volcano Bay caters to little ones!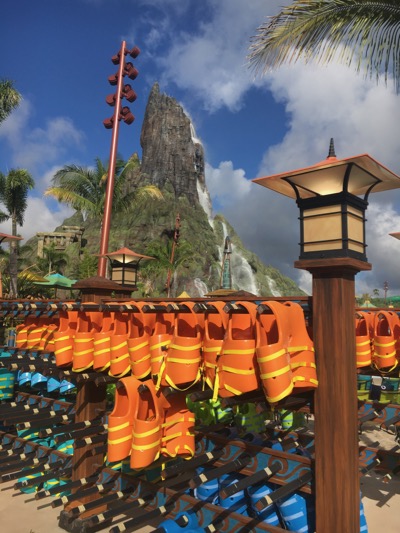 To learn more about Volcano Bay and to purchase tickets, please visit the Universal Orlando Resort website! For a closer look at some of the amazing experiences mentioned above, check out our YouTube video:
We were so excited to be a part of the Family Forward adventure this year which worked closely with Universal Orlando Resort to bring us the best possible experience. All opinions expressed are my own.
You may also enjoy: