Mommy University is so excited to partner with LuLaRoe consultant Melissa Phelps to bring you this amazing giveaway.
Chances are you have heard about the clothing brand LuLaRoe and their soft leggings available in patterns that show off your unique personality. I am a little ashamed to admit that until recently I had not owned my own pair of these iconic leggings. I have complimented my friends at work with their cute styles and "liked" hundreds of pictures on Facebook and Instagram, but for some reason I had not yet purchased them for myself.
As moms, we tend to spend our money on clothes, shoes and toys for our kids before buying something for ourselves. We grab that shirt off the rack or put the LuLaRoe order in the virtual shopping cart then realize our kids need new cleats or a costume for the dance recital so that "me" purchase gets pushed aside. This is why I am so happy my childhood friend Melissa Phelps reached out to me to offer moms just like me a chance to own their own LuLaRoe leggings!
Melissa is a mom of 5 kids and knows all too well what it means to sacrifice her needs for the needs of her children. She is an amazing mom who always puts her kids first and makes sure they have the best life has to offer. That is why Melissa wanted to celebrate moms this spring by giving away not one, but TWO pairs of LuLaRoe leggings. She will also give each winner an additional $25 to spend in her online store.
If you haven't heard of LuLaRoe, let me tell you that this company makes the softest leggings EVER! Melissa sent me my first two pairs and I could not believe how comfortable they were. I want to wear them ALL the time. Did you know that LuLaRoe doesn't just make leggings? I had no idea that they also made tops, kimonos, skirts and dresses. Each piece of clothing allows women of all ages and sizes to show off their unique personality while taking on the world.
The founder of LuLaRoe and all the amazing consultants believe that "every individual is powerful, important and has an amazing story." Show off your story with your first, 3rd or 23rd pair of LuLaRoe leggings!
LuLaRoe is sold only by its consultants and cannot be found in stores. Melissa is a wonderful LuLaRoe consultant who stocks a variety of LuLaRoe styles with sizes ranging from XXS-3XL. She runs a Facebook Group where she posts her LuLaRoe inventory for members to browse and shop. You can also book your own party with her where she will bring all her stuff to your house and set up what they call a Pop-Up. This will earn you FREE clothes! Who doesn't want that right?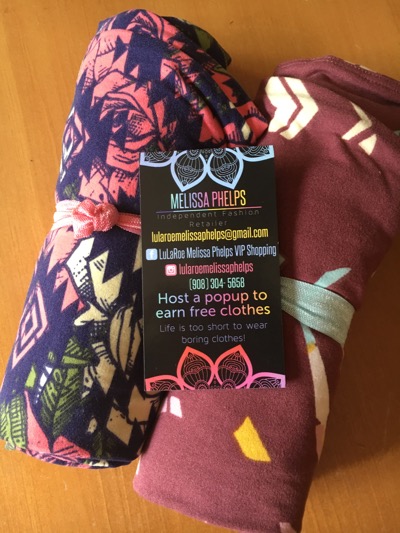 Melissa is giving away one pair of One Size (fits a 0-12) and one pair of Tall and Curvy fits a (10-22) plus $25 LuLa Cash with each pair for you to spend in her online store!
Here are the rules and conditions for this amazing giveaway:
Participants MUST live in the United States.
The winner will be chosen by Rafflecopter.
The contest will run from May 30, 2017 through 12am on June 14, 2017.
The winner will be announced on June 14, 2017.
Two winners will be chosen and each winner will receive the prize directly from Melissa Phelps.
The winners must respond within 1 day or another winner will be chosen.
To enter, participants can earn entries by: visiting the Mommy University and Melissa Phelps LuLaRoe Facebook pages (likes are appreciated but not required), following Mommy University on Twitter, sharing the contest with friends, share another MU post, providing your email address and commenting on this blog post by answering the required question.
No purchase is necessary to win.
Your chances of winning are dependent on the number of entries received.
Enter here:a Rafflecopter giveaway