Part of the Mommy University Family Game Night Series
Often times we think of children playing board games when they start elementary school or even a handful of games in kindergarten, but Peaceable Kingdom brought game night to my home when my kids turned three years old. From Sunny Day Pond to Hoot Hoot Owl, games focused on collaborative play as well as some basic educational concepts like numbers and colors. Peaceable Kingdom is a leader in cooperative games which removes the competition between players and focuses on players working together to achieve a common goal.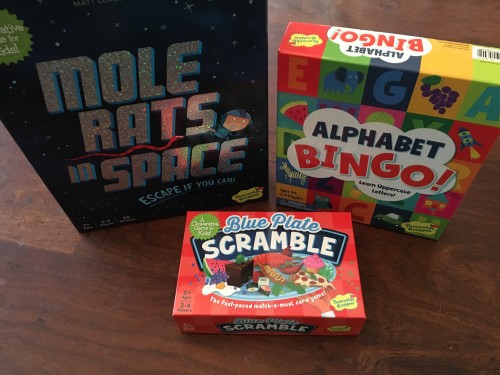 We are thrilled to look at three new games that Peaceable Kingdom has released this year that continue to promote fun as well as learning through play. Each game is intended for a different age group and serves different learning opportunities for your family. Any of them will make a great addition to your family game night. We have included Amazon affiliate links to make it easier to get game night started!
3 Games to Bring FUN-damental Learning
to Family Game Night
Alphabet Bingo
As the parent of a child who is struggling to learn the alphabet, we have been looking for fun and innovative methods for her to identify the letters. The Alphabet Bingo set consists of six double-sided game boards (easy=green, red=hard), 26 alphabet tokens, 72 chips, and one game bag. The included instructions are wonderful since there are multiple ways to play this game which challenge your preschooler.
While we started playing the game by pulling chips out of the bag to play the basic BINGO game, we followed up with another version which focused on the sounds. Since I have two preschoolers at different levels, it was fascinating to see how one child was perfect with letter recognition while the other was stronger at letter sounds. It made understanding letters engaging for the children, and it is definitely a game that has been pulled out multiple times. Priced at $12.99 on Amazon this is the perfect game for children ages 4 and older to add to your family game night or as a gift.
Blue Plate Scramble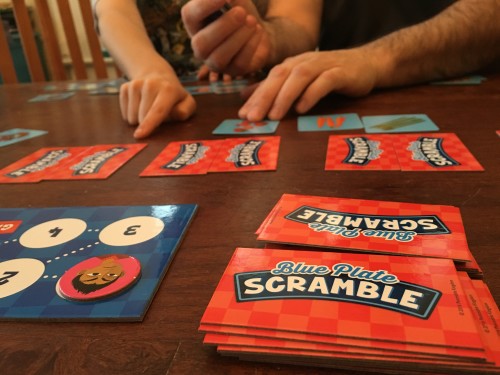 At the Blue Plate Diner the plates served to customers contain some unusual food combinations. Players are invited to have 30 seconds to memorize the plates ordered then they flip the cards and have another thirty seconds to find the matching plates. The goal is to work together so that every customer is satisfied with their orders; however, if you reach five angry customers you have lost the game. There are 36 plate tiles, 36 food cards, 1 score board, 30 second timer and 5 customer tokens.
This game was an immediate hit and we quickly learned several ways to play. Since this is a cooperative game it was easy to include additional players. For younger players, we completed less plate orders, and to make it more complicated, we added more plates in the game. It was great for language development as we talked about foods the kids hadn't tried yet as well as shared decision-making. Priced on Amazon at $12.99, this memory game designed for ages 5 and older will bring family bonding and laughs to game night.
Mole Rats in Outer Space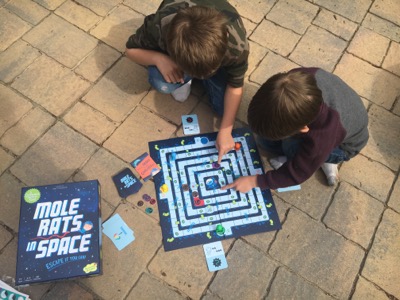 While I reviewed the above games, Jessica and her family enjoyed playing this game. Here is her take on Mole Rats in Outer Space:
I love games that offer opportunities for cooperative learning, and that is exactly what Mole Rats in Space does. The object of the game is to help the mole rats collect their equipment and get to the escape pod before other obstacles halt their mission. Each player draws a card that instructs them on what to do such as moving their mole rat or a snake. This game involves a great deal of strategic thinking and reasoning as players must decide which way to move and where to place the snakes so that it helps ALL players reach the pod.
This game is recommended for individuals ages 7 and up but can be played by younger children when guided by parents. My 5 and 8 year olds loved this game, and after only one game, were able to play it without my assistance. This game not only helps build basic skills such as color recognition and one-to-one correspondence, but it also builds skills in teamwork and problem solving. Players must also think ahead and use strategy to succeed. This game is a wonderful addition to our family game collection. It can be purchased for under $20 on Amazon.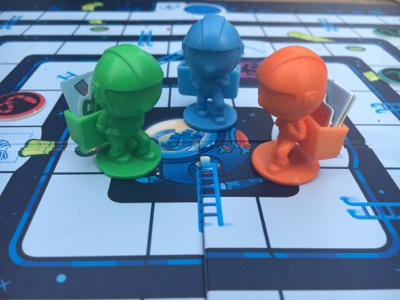 The bold colorful designs and well made product match the care and educational intention behind the Peaceable Kingdom products. The release of these three board games are wonderful to integrate into family game night as your children are forging family bonds, participating in cooperative play and learning through play.
You may also enjoy: