Over the summer I was given the opportunity to test out the Baby K'tan Baby Carrier and I fell in love with it instantly. I have always used bulky traditional baby carriers, and I never thought about getting a wrap because I found them to be time consuming and intimidating. However, the Baby K'tan is exactly how it is described, "A wrap without all the wrapping."
The Baby K'tan Baby Carrier is a wrap without wrapping and includes no buckles. It fits like clothing and can be worn in a variety of ergonomic positions. The Baby K'tan provides support not just for the child but for the parent too as it evenly distributes weight over the parent's shoulders and back. Baby wearing also offers amazing developmental benefits for kids which are highlighted nicely on the Baby K'tan website. Here are some more reasons I love the Baby K'tan Baby Carrier.
3 reasons Why I Love the Baby K'tan Baby Carrier
Durable
The Baby K'tan Baby Carrier is made of 100% natural cotton fabric. It is a lightweight material that is perfect to use during warm summer days or on vacation. It is strong and durable enough to carry your baby hands-free from 8-35 pounds. Since the Baby K'tan Baby Carrier is simply a fabric, it is machine washable and dryer safe.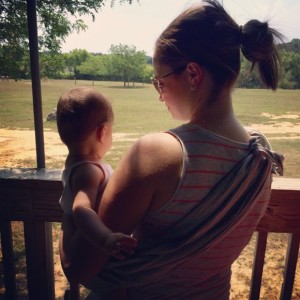 Versatile
The Baby K'tan Baby Carrier can be worn in a variety of positions based on the child's age, size and comfort level. The owner's manual provides visuals on all the different ways this carrier can be used. There is a newborn kangaroo position, hug position, adventure position, explore position, and hip position described in the manual. My favorite position to use is the hip position. For me, it is the fastest one to set up and I love all the hugs I get from my baby girl. However, it is important to note that the hip position may only be used when your child is able to sit up unassisted.
Another way in which the Baby K'tan Baby Carrier is versatile is the variety of designs they offer. Besides the Original that we were provided, they also offer Breeze, Active and Organic. In addition, they come in a variety of colors as well as a Print style which offers additional style and design. The carriers come in sizes XS-XL which are based on the size of the mother, not the baby. A sizing chart can be found on their website.
The Perfect Size
My third favorite thing about this baby carrier is that it is small enough to carry in your diaper bag. As we all know, we have enough things to bring with us when traveling or even on a day trip when there is a baby or a toddler. It also comes with its own little bag that turns into a sash, which is also part of the carrier.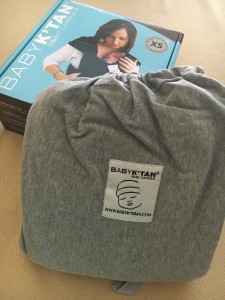 I absolutely love my Baby K'tan Baby Carrier. It allows me to play with my son and explore new places while bringing my baby with me too. I love being able to bond with both of my kids and continue to expose them to amazing learning experience while being comfortable. Thank you Baby K'tan for this wonderful opportunity to review your product.
The Baby K'tan Baby Carriers can be purchased on the Baby K'tan website and Amazon. Prices vary based on style.