This past summer I was introduced to the most fabulous bra I have ever tried. My sister had been telling me for a while to try bralettes (or seamless bras) but it wasn't until I learned about Coobie Seamless Bras at a blogging conference that I became inspired to make the switch. Then when they offered a few samples to try so I can share my experience with all of you, I of course said YES!
For those that don't know, Coobie Seamless Bras are wireless bras with no straps or hooks. They are also the most comfortable bras you will EVER wear! They come in a wide variety of styles such as scoopneck, V-neck, lace snd comfort. They also offer strapless bandeaus, camisoles, nursing bras and sports bras. Most Coobie Bras are one size fits all which comfortably fits sizes 32A to 36D (some styles are offered in 4 sizes), but some styles also offer Full Size options (38A to 42D-DD). The fabric is made from ultra soft nylon and spandex blend making it a bra you could wear ALL DAY comfortably!
From the moment I put my first Coobie Bra on, I fell in love! I can honestly say that I don't ever want to wear regular bras again. As a mom of 2 boys, I am always on the go and going on some adventure. That means I need to be comfortable. The Coobie Bra makes hiking, exploring a playground and running around after my boys an even more fun experience because I don't have to worry about my annoying bra straps or the pain of the wire digging into me. Here are some more reasons I LOVE Coobie Bras and so will you!
5 Reasons to Shop Coobie
Comfortable
I can honestly say that Coobie bras are the most comfortable bras I have ever worn. The fabric is soft yet durable, and the straps don't dig into my skin like most straps do. The bras also make my clothes more comfortable as they provide full coverage for low-cut shirts and dresses. I also LOVE the strapless bra! I don't know anyone who says they love their strapless bra but the Coobie Bra provides support without sacrificing comfort. They also come in fun colors like purple!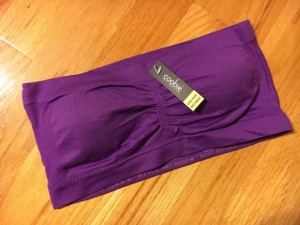 Versatile
There are so many ways to Shop Coobie. From scoopneck to V-neck to lace, there are so many options to choose from. There are also many ways to wear your new bra. You can show off the lace under a low-cut shirt, add a pop of color to an outfit and even switch the straps to racerback style. Being able to change the straps makes the bra perfect for all styles of shirts. It also eliminates those pesky straps from showing.
Feeling Pretty (in Pink)
The bra that I instantly fell in love with at the blogger conference was the pink lace back bra. It was so pretty that I walked by it at least 5 times. By the end of the conference, the representative could see the sparkle in my eyes and, to my delight and pure happiness, gave me the pink bra. The lace is beautiful and adds a little something special to outfits. It will make any woman feel pretty (in pink)!

Makes the Old New Again
What I love about Shop Coobie's lace front bras are that they can make an old shirt or dress new again. This summer I wore a blue lace front bra with a dress I had not worn in a while. It completely transformed the dress. Not only did it make the dress more comfortable, it also made it pretty again! I loved it so much that I even wore it for dinner and professional pictures on our Disney Cruise!
Workout in Style
The Coobie Store also offers a wide variety of sport bras. If you workout then you low how important it is to have a good sport bra. If you don't workout, this bra will inspire you to get fit and get active. I was provided the blue seamless sport bra to try out. I fell in love with it the moment I put it on. It was so comfortable that I wore it ALL DAY! The Coobie sport bras come in a variety of colors even tie-dye! They also offer Yoga Bras!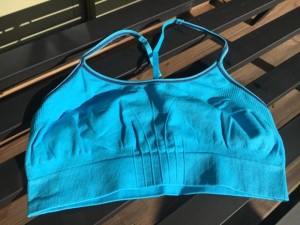 Don't waste another minute in your old, boring bras. Buy a Coobie Bra right now! Coobie Bras can be found online at The Coobie Store.
*In full disclosure, I received a strapless bra and sport bra in exchange for my review. I received the sample lace bras at Blogger Bash NYC.