Pajamas and hot cocoa feels magical when you are sitting on a steam locomotive listening to Christmas music waiting to meet Santa Claus. Thus, our tradition began several years ago to travel on all the holiday trains in New Jersey. At Mommy University, we love trains. Since we are enchanted with everything involving holidays, we can tell you that riding on a special holiday train is a unique experience that the entire family enjoys!
There are holiday train options throughout New Jersey that offer different qualities that make each train ride special and unique. Don't be surprised if you see families with matching pajamas as even Scrooge can jump on this bandwagon  train. We strongly advise you to purchase tickets as soon as possible since most locations sell out quickly and in some instances the tickets are sold out right after the ticket sales begin. There is no room for Bah Humbug on this holiday adventure!
Mommy University Presents
2016 Amazing Holiday Trains in New Jersey
In November, the Delaware River Railroad is transformed into The Polar Express! It is a 90 minute train ride where families can meet characters similar to the movie including Santa. This train ride is full of holiday spirit as musicians and jugglers walk throughout the colorfully lit train. There are many magical moments including the ticket punched with the word "BELIEVE" as well as hot cocoa and cookies for all the kids! The tickets for this train go on sale in the summer and sell out quickly.
2016 Dates: Nov. 25,26,27 Dec. 2,3,4,9,10,11,16,17,18
Fares: Adult $39.00, Child $29.00 (ages 3 to 12), Lap Sitter $5.00 ( 2 and under- no child carriers allowed- child must sit in your lap)
Times leave: 2:00 PM 4:00 PM 6:00PM & 8:00 PM on Sat, 2:00PM 4:00PM and 6:00PM on Sunday, 6:00PM & 8:00PM Friday!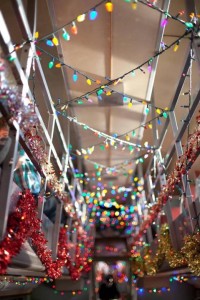 Black River & Western Railroad has been known for its excursion trains for years; however, they have three different types of holiday trains that celebrate Christmas! The Candy Cane Limited is the shortest train ride at 90 minutes and includes brief visit from Santa Claus, Mrs. Claus and the elves. The North Pole Express includes a 120 minute train ride that serves hot cocoa and cookies and longer time with Santa, his wife and the elves. The last holiday train option is the Victorian Christmas Special that runs a 120 minute train ride without Santa and his companions, but rather includes a nativity scene and Victorian carolers. Each option has other specific offerings and costs vary based on the ride.
2016 Dates: Nov. 19, 20, 25,26,27 Dec. 3, 4, 9, 10, 11, 16, 17, 18, 23
Fares: Candy Cane $20/ages 3+; North Pole Express $27/ages 3+; Victorian $30/ages 3+
Times leave: Times vary for each train
The Santa Express takes riders on a train with Santa Claus with the options of three different cars (Coach, Cafe and Lounge). For those in the Cafe and Lounge car, you will enjoy light refreshments as you wait for Santa Claus! Saint Nick will walk through the cars visiting each child.
2016: To Be Announced
The Christmas Express with Santa Claus has been running for over 35 years by the New Jersey Museum of Transportation. Tickets go on sale in the fall and this special event is sold out every year. Santa rides on the train and talks to each child individually.
2016: Trains leave every half hour.
Daytime Rides: November 25, 26 & 27 and December 4, 11 & 18: 11:00 AM to 4:00 PM, December 3, 10 & 17: 11:00 AM to 4:30 PM
Fare: $6.00
Nighttime Rides: December 3, 10 & 17: 5:30 PM to 8:30 PM, December 9 & 16: 6:00 PM to 8:30 PM
Fare: $6.00
Offered on one special date, the Santa Train departs from the Wayne station. This special ride includes not only a special visit from Santa but there are also surprise guests each year. The ride lasts an hour and Mommy University has learned a special snowman may appear this year!
2016: December 10, 2016 at 8:45 AM, 10:45 AM, 12:45 PM, 2:45 PM (more information to be updated when available).
Morristown and Erie Railway, Whippany
The Polar Express Train Ride will begin service to the North Pole onboard THE POLAR EXPRESS™ Train Ride offered by Morristown and Erie Railway. The magical story comes to life when the train departs Whippany Station for a Five Week round-trip journey to the North Pole with daily trips.  Upon arrival at the North Pole, Santa will greet the children and each child will receive their own sleigh bell, just like in the movie, to those who BELIEVE. Experience the joy of caroling and holiday entertainment that will surely encourage you to join in and take part of the whole experience.
2016 Update: November 25th to December 30th on select dates. Exact dates, pricing information and excursion times are available by calling (877) 987-6487. Ticket prices for children (ages 2-11) range from $39.00 to $49.00. Ticket prices for adults from $49.00 to $75.00, depending on the class of service.  Tickets are on sale NOW!
If you want to cross over to the edge of Pennsylvania for a Holiday Train, then we highly recommend the New Hope & Ivyland's North Pole Express! Departing from the New Hope train station, guests sit in a classic car with wood paneling as the other riders sang Christmas songs. Santa visits each child and hot cocoa is served. A highlight is receiving a bell inspired from the film  Polar Express.  
2016: November 19 until December 31, price ranges Coach or First Class.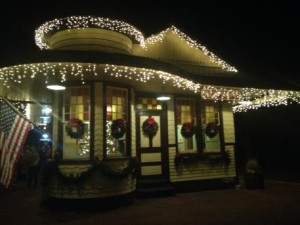 You can also stop by Peddler's Village for some hot cider and amazing outdoor lights and last-minute shopping.
While we continue to explore holiday trains in New Jersey, we want to know which trains are your favorites?
If you like this post, you might like: