We are very excited to partner with Ravensburger to bring you some of their latest games that offer wonderful opportunities to learn through play.
Do your kids LOVE HEXBUGs? Are you looking for a fun bug game? If you answered yes to either of those questions or just have lots of HEXBUGs crawling around the house, then I have the perfect game for you! Ravensburger BuggaLoop Board Game featuring HEXBUGs is a fun, thrilling and interactive game for kids and adults. If you don't happen to know about HEXBUGs, they are small robotic creatures that can be very fast! Don't worry they have an off button.
BuggaLoop is for ages 6+ and with 2-4 players it can easily be completed in 10 minutes. The BuggaLoop Game comes with 1 game board, 1 three-dimensional yard with loops, 1 HEXBUG and 12 Bugs. Players take turns rolling the die and moving their bugs peacefully across the game board, until the HEXBUG emerges from the tunnel and tries to bump them off. Stay standing and continue down your path – get bumped and you'll have to start from the beginning again. The first player to transport all of their bugs to safety wins this surprising buggy scramble!
How to Play
First player rolls the die and moves one of his bugs the corresponding number of spaces.
Watch out for that crazy HEXBUG! When he emerges from one of the colored tubes, you have to stop playing the game and watch him wander around the board causing crazy chaos. If he bumps your bug off of a space, you must return to start.
The first player to move all of his bugs to safety wins the game!
This fast paced game will keep everyone on their toes, and at the same time there are several things children are learning as they play.
Mommy University Presents
3 Benefits of Playing BuggaLoop
Increases Problem Solving Skills
As we played,my son had to decide which direction on the path would be the best way to travel in order to avoid the HEXBUG. We also had to pay close attention to the HEXBUG because it moves so quickly. As kids play, they are building important thinking and reasoning skills as well as the ability to think ahead and plan.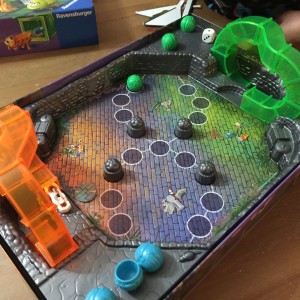 Encourages Turn Taking
Since the game moves so quickly it helps your child's ability to shift attention and engage in a shared process. It makes taking turns very simple and fast because each player must pay attention.
Promotes Simple Math Skills
Dice games are such a fun way to practice math skills. Since this is a fast pace game, you have to count the dots very quickly or the HEXBUG may find you. This helps build counting skills along with one-to-one correspondence.
Look out! There's a HEXBUG in the house and it's coming after you! My son loved playing the Ravensburger BuggaLoop Board Game. He would laugh every time that crazy HEXBUG shot out of one of the tubes. It would knock over all the game pieces and then run down a tube. It's a very fast pace, silly game and is great for both boys and girls. Buggaloop is available using our affiliate link on Amazon for only $25.99.
*In full disclosure, Ravensburger provided us with the BuggaLoop Game at no cost to us in exchange for our honest review.